También puedes leer este artículo en:Español
After a rather sparse Winter that really only gave us Akiba's Trip for ecchi with forced ecchi in Fuuka and Rewrite for a harem, the anime gods have answered our prayers. We have a total of SIX shows here to tease us, mess with us, give us some and then take it away making us whimper for more. Whether it be the harem around an OP male character as he dominates the school, a guy surrounded by girls as he calls the shots, or sexy demons having it out while wearing next to nothing at the same time, spring anime is here to not only revive the Earth, but our spirits, minds, and urges as well.
So put on something sultry or something liberating and let's dive into the following six ecchi and harem anime. Get a box of tissues ready just in case and let's go.
6. Busou Shoujo Machiavellism (Armed Girl's Machiavellianism)

Episodes: TBA
Air Date: April 5, 2017
Yes, we are aware that Machiavellism is misspelled. Fudou Nomura is a bit of a bad body. After getting into fights at his previous school, this smart-ass was kicked out of the school and had to transfer into Aichi Kyousei Gakuen. There, the school is dominated by sexy girls with weapons who rule over the boys. Fudou will have nothing of the sort of bow down and grovel, so he decides to challenge the order of the school as well as the "Supreme Five Swords" of the school. The Supreme Five Swords consists of five girls; each increasing in power as specializing in some form of combat. They are led by Rin Onigawara who has made it her mission to get Fudou expelled. Fudou has got to beat each of the swords into "submission", while not getting expelled. Can he become the new ruler of the school?
Busou Shoujo Machiavellism is the harem, and with some good luck, ecchi answer to Rokudenashi Majutsu Koushi to Akashic Records. We don't even start the show before it is revealed that character Kirukiru has a past with Fudou. This show could certainly go either way as we could get a new Hundred or we could get another action school anime. Either way, Fudou has gotta find the way to "dominate" these girls in more ways than one potentially. The true harem of the season, this is not one to miss!
Busou Shoujo Machiavellism PV:
---
5. Renai Boukun (Love Tyrant)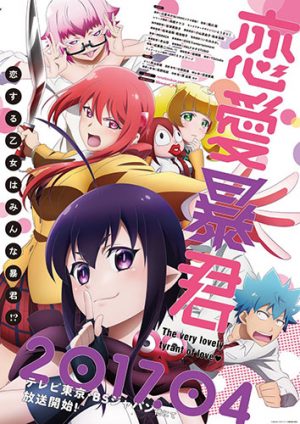 Episodes: TBA
Airing: April 7, 2017
"If you don't kiss, you'll die!" In order not to die, or rather thanks to the Kiss Note, if two people's name is written in this book, they must kiss each other. There is no way to avoid this. So Guri, the angel, screws up one day and accidentally writes Seiji Aino's name in the Kiss Note. He covers for her after her blunder and Guri is interested in him. She writes her own name down and forces him to kiss her. The problem is though, is that there are other people that he wants to kiss, like Akane. Akane just happens to be a yandere though and is ready to stab those who get close to Seiji. Her boobs help her keep Seiji nearby. And then, of course, there is Yuzu, Akane's sister who wants to make out with her sister. She too throws in her lot and before you know it, everyone is having to make out with everyone else to stay alive.
This ecchi harem anime is sure to leave you laughing as well as in other states. Guri seems like the total idiot angel while Akane is a yandere but not as out there as Gasai Yuno. Either way, everyone is going to be locking lips (and maybe more!) in this ecchi romcom this season. If you like your ecchi with some laughs, then this is the series for you!
Renai Boukun PV:
---
4. Saenai Heroine no Sodatekata ♭ (Saenai Heroine no Sodatekata Flat)

Episodes: TBA
Air Date: April 14, 2017
The ecchi romcom harem is back! After otaku Tomoya Aki meets Megumi Katou and decides that it is time to make her the heroine of his next galge. He enlists Eriri Spencer Sawamura and Utaha Kasumigaoka. Both unique in their own ways, Eriri a fujoshi and Utaha verbally abusive, are roped in to do this. Forming a new doujin circle, they have one goal, using Megumi as a base for the heroine, make a game that touches hearts as well as some other places and succeed. However, everyone is different and their personalities may clash hilariously.
Saekano is the perfect setup for a romcom harem. Poor Megumi has no idea what is going on, but that is not a problem as she just needs to serve as inspiration. If there was one thing that we could say about this new season, it would be getting ready for lots of thigh and panty shots! However, Tomoya could certainly end up with his own girlfriend if he is not too careful!
Saekano 2nd Season PV:
---
3. Sin: Nanatsu no Taizai (The 7 Deadly Sins)

Episodes: TBA
Air Date: April 15, 2017
If you came here thinking that this is connected to Nanatsu no Taizai the series, you should turn away now. Watch the PV below. Lucifer has been cast out of heaven because of her Pride. The seven deadly sins have now come together to battle and what looks like reside together. Watch the PV Below again. Clearly, the beautiful demons of sin, pride, envy, wrath, sloth, greed, gluttony, and lust are going to lead humanity down a path of indulgence and depravity.
Fanservice! Titties! Revealing Clothing! More titties! What looks like some sort of tentacle scene! This looks just like it could be Queen's Blade 2.0 and we are A-OKAY with that. Be prepared for girls rubbing up on others, shameless actions, and more as these seven demons tantalizingly tease us and make us beg for more while we worship them.
Sin: Nanatsu no Taizai PV:
---
2. Ero Manga Sensei

Episodes: TBA
Air Date: April 9, 2017
Masamune Izumi is a busy high school student. No, it is not for the sake of grades or a part time job that he is busy. He actually writes light novels! The dirty, raunchy kind that you need to be over 18 to purchase. Masamune also lives with his shut-in sister, but she is not really important. He writes faithfully and sends out his wordporn every month to his publisher. He has no idea who illustrates his books though. The artist is only known as "Ero Manga Sensei". After some mishaps, it turns out that his sister is illustrating his depraved novels of erotic tales untold. Suddenly his cute sister many not be so innocent and cute after all. She's the perverted artist?!
Get ready to watch the story of a brother and sister cross a boundary that should not be crossed among family members! Does this sound familiar? That is because this series comes from the Oreimo creator! So instead of playing games, this time around the sister is into drawing dirty images. Be prepare for plenty of humor, drama, romance, and what will most likely be hilariously compromising situations! Check out the PV below.
Ero Manga Sensei PV
---
1. Souryo to Majiwaru Shikiyoku no Yoru ni...

Episodes: TBA
Air Date: April 3, 2017
Here is the final entry on our list! Souryo to Majiwaru Shikiyoku no Yoru ni... follows Mio Fukaya who is at a party. She enjoys drinking and runs into her high school crush named Kujou. However, he is now bald and a priest? Her expectations and understanding are thrown into a tizzy and she drinks more. Stumbling on the way home, Kujou appears out of nowhere and helps Mio home. He then draws her close to him in her bed and says "Before I am a priest, I am a man." After this night of passion ends, she suddenly has to pretend to be his fiancée and lives with him?! She doesn't really understand why but she is also not complaining either!
The title of this series should just be called porn the anime. Watch the PV and you will see what we mean. Thankfully though, it does get raunchy fast and quick. Short, sweet, and to the point is what keeps us entertained in what is clearly going to push the lines of ecchi and get close to hentai this season. It has to work fast though as this is a short anime with the episodes only being about 3 minutes long. In the meantime though, enjoy the PV!
---
Final Thoughts
Souryo to Majiwaru Shikiyoku no Yoru ni... wraps our list up and brings us to a close. Which of these harem and ecchi anime are you looking forward to? We have our shows already picked out and somehow have made it to the end of this list… somehow… in the meantime though, it is time for us to go as we need to be excused. So please do excuse us, but let us know below what you are looking forward to! Till next time.