As we come towards the end of Spring 2016, it's time to look forward to the new series starting in July for the Summer 2016 season. It seems like there won't be too much fan service about, and a definite lack of ecchi on the horizon with just Shokugeki no Souma: Ni no Sara and Mason Gakuen HxH waving that flag. On the other hand, catering to the fujoshi out there, we've got a couple of reverse harems on the way, which are certainly becoming a more common sight.
Regardless of the specifics, though, the Summer 2016 season is looking to be another great one, with plenty of hyped shows in the line up. To introduce some of the ecchi and harem series that you'll be seeing in the coming months, we've created a list of the main five, that will give you a brief teaser as to what you can expect.
5. OZMAFIA!!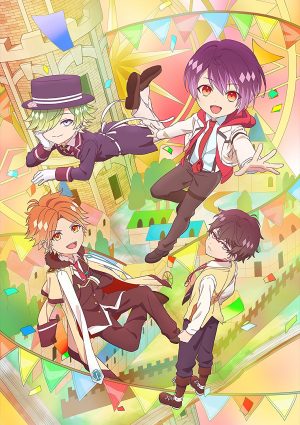 Episodes: ?
Aired: July 7th, 2016 - ?
Based on a visual novel by the same name, OZMAFIA!! is themed around both the Wizard of Oz and the mafia, a rather unusual combination. In the original story, the heroine finds herself in a city at war with itself, as the various different mafia groups that inhabit it are constantly at odds with each other. Upon arrival, her life is immediately threatened, but saved the next second by a handsome gentleman from the house of Oz. With so much violence and fighting, it's down to her to work out who she can trust, who she must avoid, and who she can fall in love with.
The anime version of OZMAFIA!! is stated to be an original story based on the visual novels', so this is likely to be a show made for the fans as service, but also an introduction to the series for any newcomers. This original story will be set at Oz Academy, where one of the main heroes Scarlet has just enrolled and already gotten himself into some trouble. At 5 minutes per episode it's unlikely to get particularly in depth, but be enough to offer some laughs, some interesting tidbits of information regarding the characters, and hopefully some pretty visuals.
Though saying this, currently we know very little about the show's art style, with no trailer and only a couple of key visuals released. However, it's currently looking to be a chibified version of the original bishounen style art and retains the bright-and-faded color palette that otome games are so well known for. Any fans of otome games or pretty boys, in general, should definitely check OZMAFIA!! out, as at only 5 minutes per episode, there's no excuse not to!
As mentioned, there are no trailers for the OZMAFIA!! anime as of yet, but check out the trailer for the game below if you're hungry to find out more.
---
4. Rewrite

Episodes: ?
Aired: July 2nd, 2016 - ?
Kotarou Tennouji is a meddlesome high schooler and resident of the beautiful city of Kazamatsuri. Being as he is, Kotarou has no trouble accidently getting up in other people's business, of which one encounter leads to him reviving the school's Occult Club with the help of some of the school's pretty ladies. But the world they live in is much more complicated than it first seems, with an excellent example being Kotarou himself, and his ability to permanently rewrite any part of his body, enabling him to become faster or stronger. So with the girls assembled and the stage now set, Kotarou's journey into the supernatural begins.
Rewrite is one of Key's most recent and famous visual novels, so it's safe to say that the creation of an anime version was inevitable. Like many of Key's previous stories, you can expect the harem/slice-of-life façade to fade into something much more complex and meaningful as the plot progresses, so look forward to some twists, tears, and drama. With no confirmation as to how many episodes Rewrite will be yet, it's anyone's guess as to quite how they'll be handling the story's various routes. However, the anime's director Tensho has stated that it will follow a "6th route" that was left untold in the original game.
From the PV alone it seems that the series will feature the visual novel's excellent music, a soundtrack featuring the works of several composers including the well-known Jun Maeda. As for the art and animation, with the studio 8bit behind production hopefully, we can look forward to something that matches The Fruit of Grisaia's quality. Rewrite is looking to be one of the big names next season, so regardless of your interest in harems, we'd recommend keeping it on your radar.
---
3. Scared Rider Xechs

Episodes: ?
Aired: July 6th, 2016 - ?
When the blue world came under attack from the red world, a unit was formed to counter their onslaught: Scared Rider. But as the Nightfly O'Note kept coming from the red world through the crimson Scared barrier, the Sacred Rider units were wiped out one by one. Now our heroine Akira Asagi has been put in charge of the sixth and latest unit, Scared Rider Xechs. But when the Nightfly O'Note's attacks suddenly come to a halt, the men of the Xechs unit are quickly left without a purpose.
Another reverse harem for the list, this looks to be the show where any bishounen lovers can get their fill next season as, compared to OZMAFIA!!, Scared Riders Xechs will be a standard series with full-length episodes. It's also our third visual novel adaptation on the list, so as with most visual novel based shows we can expect some decent characters and plot development. An anime original character, Hako Salome Sakura, will also feature in the adaptation. It's unusual that they decided to add another female character to a reverse harem show, so we'll have to wait and find out how big her role is in the story.
It's worth mentioning as well that Scared Riders Xechs will feature action and fighting as is evident in the PV, and so would be worth checking out for any fans of those genres as well. Overall Scared Riders Xechs is looking to be a decent show that knows exactly what its audience wants: pretty boys doing manly stuff.
---
2. Masou Gakuen HxH (Hybrid x Heart Magias Academy Ataraxia)

Episodes: ?
Aired: July 6th, 2016 - ?
To combat the invaders from another world that are currently attacking, young people possessing the Heart Hybrid Gear ability are sent to schools where they are trained to fight the menace. Kizuna Hida, a seemingly ordinary HHG user, has been called to the Ataraxia defense academy by his older sister to begin training there. What he doesn't know however is the real reason he's been called there, his true special ability: to power up other users via erotic methods. With a school full of cute and busty girls, you can see where this is leading.
Sorry Shokugeki no Soma, but Masou Gakuen HxH is looking to be THE ecchi title of the season, possibly reaching Shinmai Maou no Testament levels of ero. The show has actually had two main PVs released: one with censoring and one without. So we can only hope at this point that the anime Gods grace us with quality streams of the uncensored version.
The story and setting are fairly standard at this point, looking a lot like Infinite Stratos and numerous other series since then, with the skin tight "battle suits" and mysterious invaders only our protagonist can help defeat. But honestly speaking as long as the ecchi scenes are good, the girls are cute, and the fights hold up, we wouldn't say a generic story is really that big of a concern. If you like ecchi and fanservice, Masou Gakuen HxH is an absolute must watch for next season.
---
1. Shokugeki no Souma: Ni no Sara (Shokugeki no Souma 2nd)

Episodes: ?
Aired: July 2nd, 2016 - ?
They're back for the next round, let the food wars commence once again. A brief summary for those who didn't catch the first series: for years Souma Yukihira helped his father run the family's restaurant as the sous chef. But one day, after a bizarre incident leaves the restaurant in tatters, his father closes up shop and sends Souma to the Tootsuki Culinary Academy, an ultra-elite cooking school, where only 10% of students graduate. There he, along with his new friends, face off in some of the most insane food battles the world has ever seen, and it's safe to say that losing is not an option.
With the first series sitting at 24 episodes long, we're fingers crossed that the second season ends up with the same two-cour run. For anyone who has seen the first series, we can look forward to more of the same: excellent animation and art quality, intense cooking, and hilarious ecchi scenes. If we're fortunate enough to get another 24 episode run, fans predict the story will cover up to the introduction of the Elite 10, Tootsuki's top students.
The new series' opening "Rough Diamonds" will be performed by SCREEN mode (Musaigen no Phantom World), with the currently unnamed ending performed by nano.RIPE (Non Non Biyori, Hataraku Mao-sama), so look forward to a quality soundtrack. Much like Rewrite, Shokugeki no Souma: Ni no Sara is set to be one of the big names next season, so be sure to check out the first series if you haven't already.
---
Final Thoughts
We still don't know how many episodes many of the upcoming shows will offer, but regardless there are some great series to look forward to. Shokugeki no Souma: Ni no Sara is reassuring to see as we can pretty much guarantee that it'll make for some quality viewing, and Rewrite has been a long time coming now for Key fans. As for the rest, we'll have to wait and see, although Scared Riders Xechs and Mason Gakuen HxH are bound to keep most otome game and ecchi lovers, happy.
So what are you looking forward to most next season? Mashi Gakuen HxH and it's onslaught of breasts? OZMAFIA!! and Scared Riders Xechs' cuties? Or maybe the twists of Rewrite's plot have you intrigued? Let us know your thoughts in the comments below!
---