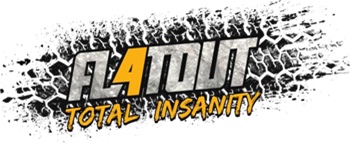 What You Need to Know:
Fans of the FlatOut franchise will be happy to know that FlatOut 4: Total Insanity is now available on PlayStation 4 and Xbox One! It will retail at $49.99.
Some really wild features to look forward to are:

・Customizable Cars: Unlock 27 cars to customize and race, including tributes to fan favorites and new additions to the garage;

・Dynamic Tracks: 20 tracks including traditional derby racing, time trials, arenas, assault levels, carnage levels and much more;

・Destructible Environments: Vehicular havoc and destruction return to the world of racing with high speed collisions and wild destructible environments;

・The Legendary Stunt Mode: Six new stunts and six re-imagined classic stunt mini-games await fans in search of epic collisions and death-defying maneuvers;

・Arena Mode: Three gameplay styles including Death Match, Capture the Flag and Survivor;

・New Assault Mode: An arsenal of deadly weapons slow or destroy opponents;

・Single Player Campaign: Experience Race, Destroy and Stuntman modes offline before showing off your skills in multiplayer races;

・Hot Seat Mode: Players take turns in hot seat competition of Stunts;

・Multiplayer Mayhem: Competitive local and online modes allow up to eight players to master destruction arenas, race courses and set traps.

For more details on FlatOut 4: Total Insanity, be sure to visit the official website, and also check out our latest review on it down below!
Source: Official Press Release
FlatOut 4: Total Insanity reveal trailer

---
FlatOut 4 literally is total insanity once you load it up and play. Nothing but chaos and destruction everywhere!
It was really fun just using the nitro and wiping out the competition, plus the hillarious stunt mode was a blast.
---