También puedes leer este artículo en:Español
The gaming industry as we know it has evolved far beyond our expectations, and has now become a goliath in the world as a whole. While many genres exist that cater to a particular set of tastes such as the puzzle or trading card game, one genre has somehow managed to become omnipotent in the industry for the past decades and that is racing. Going as far back as the early 90's with classics like Outrun for the Sega Genesis, or the hype that came from Need For Speed in the mid 2000's, the racing genre has always somehow managed to stay afloat and create titles that cater to just about anyone. Whether you're a Nintendo fan who's in love Mario Kart or a true enthusiast with the likes of Gran Turismo and Forza, there's a plethora of racing options to choose from. Lets strap ourselves in and throw our shift into gear to see which title passes the finish line first.
10. Drift Girls

System/Platform: Mobile
Publisher: Hangame
Developer: NHN BlackPick
Release Date: June 8, 2015
Drift Girls drifted its way onto the mobile scene not too long ago, and has its own little following to go along with it. While it's certainly not a game changer in the racing market by any means, what it has implemented are two genres that you'd never expect to merge at all. Drift Girls is a half racing half dating sim experience where players earn prizes for racing, while getting the benefit of chatting it up with the attractive girls in the game.
It truly is very anime indeed, as the dialogue and cutscenes feel almost like watching an anime episode, while the gameplay is satisfying enough to keep you coming back for more. For a mobile title, the graphics are quite sharp and vivid, with great detailing to not just the girls but to the cars themselves. If you don't own a console or perhaps would much rather prefer a mobile game to play, then download Drift Girls and race your way not only through the finish line but to your favorite girls heart.
---
9. Crash Tag Team Racing

System/Platform: PlayStation Portable, PlayStation 2, Xbox, Nintendo Gamecube
Publisher: Vivendi Games | Sierra Entertainment
Developer: Radical Entertainment
Release Date: October 19, 2005
Nintendo really knew what they were doing when they released Mario Kart years ago, because now everyone has hopped in the karts to see who comes out on top. Crash Tag Team Racing was Sony and Radical Entertainment's response to the incredibly popular Mario Kart franchise, and while it did manage to pass the finish line it still couldn't keep up with Nintendo's momentum. Crash Tag Team Racing is everything you'd expect from any kart racing experience, but then throws in a few cool features such as the clashed vehicle, where two karts merge into one and allows players to take out the opposing side as a duo.
That was certainly one of the reasons why the game really felt fresh and responsive, because it took everything you enjoyed from past iterations and refined it down to the point where the racing felt very smooth. While the story isn't something you'd buy a racing game for, Crash Tag Team Racing came with a very humorous narrative that at times was very crude, but managed to maintain its integrity to create a very entertaining title that Sony fans could enjoy.
---
8. Sonic & Sega All-Stars Racing Transformed

System/Platform: Multi Platform
Publisher: Sega
Developer: Sumo Digital
Release Date: November 16, 2012
Sonic just wasn't having anymore of the whole Mario Kart thing, and so he decided to finally take on the challenge of creating his own team of Sega heroes in a kart racing environment. Sonic & Sega All-Stars Racing Transformed is Sega's own rendition of the popular Mario Kart series, throwing in every possible Sega mascot they could find to create a very thrilling experience. Everything was fast paced, invigorating, and truly satisfying as you tore through the raceway knocking out any enemy that tried to get in your way.
It felt a lot like Mario Kart which was the great point about it, so for fans of the Sega brand this was their crowning achievement to match the likes of Mario Kart on a commercial level. Sonic & Sega All-Stars Racing Transformed really brought out the nostalgia in a lot of ways, since Sega was the brand we grew up with and still love to this day. If you're looking for a racing thrill that incorporates Sega characters in a kart racing theme, then definitely this one out.
---
7. Snowboard Kids 2

System/Platform: Nintendo 64
Publisher: Atlus
Developer: Racjin
Release Date: February 19, 1999
For some reason the late 90's straight through into the mid 2000's, the snowboarding genre really took off. Before SSX there was the very cute and fun Snowboard Kids series, that took everything you loved from past snowboard titles, and gave it a very 'Mario Kart-esque' type of feel which made it a timeless classic. While other more realistic titles like 1080, Cool Boarders, and Twisted Edge were in the spotlight more at the time, Snowboard Kids 2 really brought it down a notch and created this very imaginative world that truly made you feel like a kid again.
Snowboard Kids 2 was wacky in character design but it made sure to maintain the same appeal that made the original such a hit among Nintendo 64 owners. We can remember quite vividly playing this game well into the evening with our friends, as we dashed through the snow hoping to avoid obstacles and not get whacked by opposing weapons. If only Nintendo and Atlus revive this fun game, it would truly be a dream come true. Sadly we think that may not happen anytime soon.
---
6. 1080 Snowboarding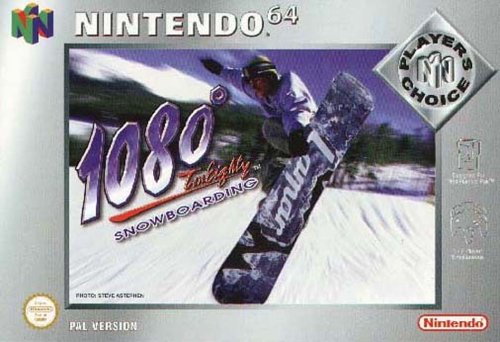 System/Platform: Nintendo 64, Nintendo Wii
Publisher: Nintendo
Developer: Nintendo EAD
Release Date: February 28, 1998
If there was any era that really took off with extreme sports, it definitely had to be the late 90's to 2000's because it was the time when the X Games had become a thrilling experience for any fan of the genre. 1080 Snowboarding made its debut in 1998 and has become a staple title in the snowboarding landscape, because it took all of the fundamental aspects about the sport and created a dream-like experience for anyone to enjoy. You'd have to thank Nintendo EAD for helping to yet again paving a new snow path for new snowboard titles to rise up, because it truly revolutionized the way we played snowboarding games.
While Sony had Cool Boarders, another title that was wicked in its own way, 1080 just had something magical that you couldn't get anywhere else. Whether you're ripping down the slopes at high speeds or catching some serious air in the halfpipe section, 1080 Snowboarding took snowboard simulation to a whole new level of awesomeness. To this day, the opening theme for 1080 is still a highly regarded classic by many fans, while the very versatile soundtrack is enough to keep your head bumping as you make your way down the hills in record time.
---
5. Wangan Midnight Maximum Tune 5DX Plus

System/Platform: Arcade
Publisher: Bandai Namco Entertainment
Developer: Bandai Namco Entertainment
Release Date: December 2016
Despite Takumi and his friends hogging all of the spotlight in the arcades and anime scene in Japan, Akio and his famed Fairlady Z still manage to amass a large following all around the world. Spanning across different platforms from manga, anime, to the more recent arcade scene, Wangan Midnight is seen as the more "arcade" style of car simulation titles. The gameplay is very fast paced and in your face, as you rip through the streets of Tokyo's Bayshore (湾岸-Wangan in Japanese refers to Bayshore) well over 100mph in your favorite JDM racer.
One thing that separates Wangan Midnight Maximum Tune from its Initial D rival is that while both games incorporate the same car makers and vehicles to choose from, Maximum Tune just has this very rugged appeal to it that feels very much a street race more than just drifting up and down mountains. It takes inspiration from games like Tokyo Xtreme Racer for the Dreamcast, and implements a more refined feel along with a very cool story that gives it a very seamless approach to gameplay. If you need a break from Initial D then definitely watch and play Wangan Midnight Maximum Tune.
---
4. Initial D Arcade Stage 8

System/Platform: Arcade
Publisher: Sega
Developer: Sega
Release Date: July 17, 2014
Ever since Takumi took to the mountains with his AE86 with the help from his father Bunta, Initial D has been drifting its way to the top spot as being the go to racing anime game for any JDM enthusiast. Whether you're a huge die hard fan of the anime or just simply looking to pick up a game that truly exhibits an extensive library of JDM cars, Initial D Arcade Stage 8 is just that game that satisfies all of your cravings.
Initial D Arcade Stage 8 is certainly an arcade title in every aspect, but when you compare it to that of Wangan Midnight Maximum Tune, it definitely feels a lot more like a simulation than anything. The steering and gear control isn't something anyone can just jump right into, it certainly does take some practice to get the steering down along with drifting at just the right time to overtake your opponent. The other major selling point aside from the Youtube memes you'll see, the eurobeat music is something to admire because it truly makes the experience so much more gratifying as you speed down the course at 160, bobbing your head along to 'Gas Gas Gas' by Manuel.
---
3. F-Zero GX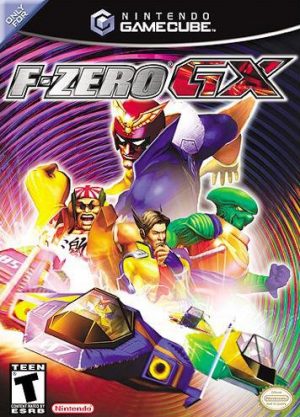 System/Platform: Arcade, Nintendo Gamecube
Publisher: Nintendo
Developer: Nintendo | Amusement Vision
Release Date: July 25, 2003
Nintendo was a trailblazer back in the late 80's and still is to this day, and F-Zero is one of those titles that helped to drive the company's popularity through the roof and beyond the stratosphere. F-Zero is a futuristic racing game that stars everyone's favorite pilot Captain Falcon, as you race through an array of vibrantly colored maps clinging to the edge of your seat praying that you don't die before you hit the finish line.
F-Zero is one of the most challenging racing titles out there because everything moves at such a rapid pace that one small mishap can turn into a disaster within mere seconds, and time just isn't on your side so staying focused is imperative. F-Zero GX took it to the next level by throwing in more challenging elements into the fray, along with an impeccable soundtrack that you'll most likely hear in games like Super Smash Bros. for the Wii U. While titles like Mario Kart have surpassed F-Zero in terms of attention grabbing, the title still carries a heavy reputation as being one of the game changers in the racing scene and will go down in history as one of the best of all time.
---
2. Diddy Kong Racing

System/Platform: Nintendo 64, Nintendo DS
Publisher: Nintendo | Rare
Developer: Rare
Release Date: November 14, 1997
If you haven't noticed already, a lot of the games mentioned on our list have come from none other than Nintendo. Nintendo has had an amazing track record ever since the late 80's and well into the present day, simply because their games strike a chord with everyone whether you're new to the genre or a long time veteran. The N64 era was one of Nintendo's most lucrative moments because that system helped to revolutionize how we played platform titles, with the release of Super Mario 64.
Not only did Nintendo help to pave the way for new titles, it also created a ton of racing classics that many still continue to play to this day. Diddy Kong Racing is such an exciting game for so many reasons, particularly because it took everything Mario Kart did well and threw in characters from the Rare franchise to make it stand out on its own. Rare and Nintendo were the unstoppable force back in the N64 era, and Diddy Kong Racing raced its way to the forefront to ensure that no one could overtake it. Whether you're speedrunning your way to take out Wizpig and collecting all of your balloons, or simply battling it out with your friends at home, Diddy Kong Racing is a golden achievement for Nintendo without a doubt.
---
1. Mario Kart 8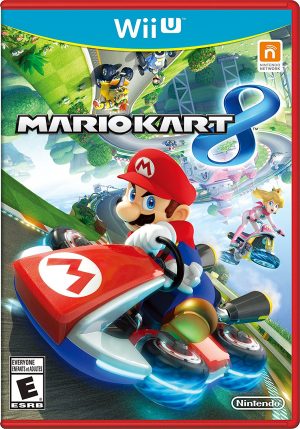 System/Platform: Nintendo Wii U
Publisher: Nintendo
Developer: Nintendo
Release Date: May 29, 2014
There's simply no other racing title out there that can surpass the immense popularity that is Mario Kart. It is the one title that has stood the test of time ever since it's initial release on the Super Nintendo, and has evolved into a game that boasts a large following while still continuing to set new trends in the genre. Every other kart racing game that you can fathom has stemmed from that of Mario Kart's creative genius, and the library of titles is so extensive that you can't even count them on one hand.
What makes Mario Kart such a legendary title is that it takes everything you love in a racing game, its competitiveness, adrenaline rush and thrill, and throws in everyone's favorite Nintendo characters right into that very potent mix. Mario Kart 8 took everything was great from Double Dash and Mario Kart 64, mashed every other title together to create an incredibly exciting and satisfying game that not only can be played on the Wii U, but also in the arcades here in Japan with its own dedicated arcade version. So if you grew up in the 90's and loved tossing shells at your opponents, or dodging incoming rockets from those trying to overtake you, then Mario Kart is the one title that will stay cemented as the go-to racing title for anyone of any age.
---
Final Thoughts
We can't forget to mention Auto Modellista 2 for PS2 by Capcom, which uses anime style graphics in a very 'Gran Turismo-esque' approach. While Gran Turismo isn't anime by any means, it most certainly deserves mention along with the likes of Daytona USA, San Francisco Rush, Midnight Club, Need For Speed, Forza, Sega Rally, and many more. With VR gaming now becoming a trend in the gaming market, we can't wait for these titles to take advantage of that first person experience to truly create an immersive racing experience. Which anime racing game did you find the most thrilling? Let us know down in the comments below, and always be sure to share, like, and tweet out our articles to ensure that the Honey's community is always buzzing!
As always, if you want to know about all the latest buzz straight from the bee's nest in Japan, be sure to keep it locked here at Honey's Anime.
---