This week you're going to have to be a little athletic to complete these challenges. Expect an extended stay in the new desert biome trying to complete the kill challenge, and don't forget to frantically scavenge for that last ammo box before you get sniped in the back. As usual, the map locations and Hidden Battlestars will be discussed in our follow-up guide, so if you need help just hold tight!
Free Tier Challenges
Deal damage with Assault Rifles to opponents - 5 Battler Stars
Search 7 Ammo Boxes in a single match - 5 Battler Stars
Eliminate opponents in Paradise Palms - 10 Battler Stars
Battle Pass Challenges
Score a basket on different hoops - 5 Battler Stars
Search Chests in Loot Lake - 5 Battler Stars
Search between an oasis, rock archway, and dinosaurs - 10 Battler Stars
Sniper Rifle eliminations - 10 Battler Stars
Deal 1000 damage with Assault Rifles to opponents

This is the easiest of the challenges, as you have a wide variety of weapons to choose from. Burst, Scoped, and regular ARs are all in your toolset. If you have a more reserved play style, pick up a Scoped AR and pester enemies from a distance. The Scoped Thermal is especially useful for this. You can also finish off enemies downed by anyone by spraying them down. Easy.
Search 7 Ammo Boxes in a single match

Just playing regularly may not be enough to get this done depending on your play style. If you tend to get your loot from your kills rather than searching buildings, you'll find that someone will wind up "looting" you before you can finish. Luckily people tend to overlook most ammo boxes as they're underneath stairs and on top of shelves. If you go out of your way to get this done, it'll work out.
Eliminate 3 opponents in Paradise Palms

Whatever you do, don't land at the apartments right off the bat. That chest might be tempting, but you're more than likely going to die right off the bat if there are no other guns around. Find a quiet house with a gun out in the open and keep moving. The longer you sit and loot the more time you're giving your potential kills to get ready for you, so push them. There are a lot of angles to push from so stay in cover and farm up.
2 Sniper Rifle eliminations

Either knock someone with a headshot or just end a downed kill with a sniper. The Semi-Auto Sniper was recently buffed, and it now does enough damage to headshot an enemy outside of full health and shields. It's the slowest projectile sniper, meaning that bullet travel will be longer, so if that's an issue you may prefer the Hunting Rifle or Bolt for a faster shot.
---
Final Thoughts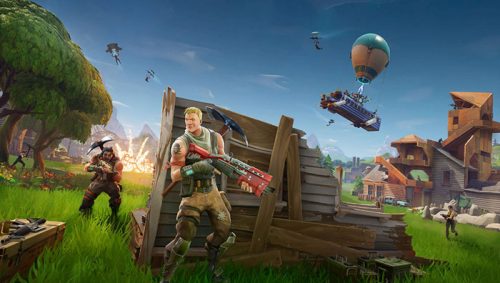 If you've got time to loot then make sure you've got time to shoot this week. Have any funny stories on how you complete any challenges? Let us know in the comments!
---