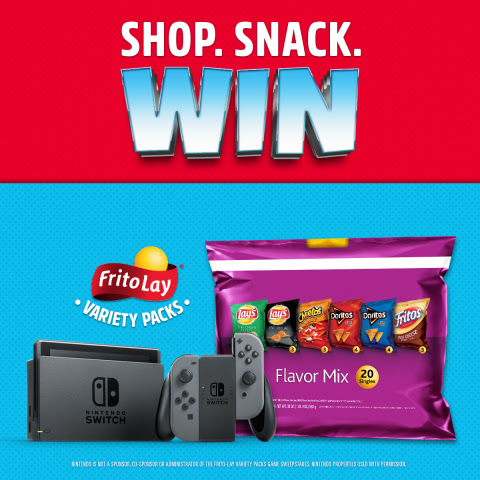 What You Need to Know:
Do you like Frito-Lays? Do you like winning things? Perhaps a Nintendo Switch? The next time you pick up a Frito-Lay Variety Pack, one of the flagship brands from PepsiCo's Frito-Lay division, you also might pick up a Nintendo Switch gaming system. Between now and July 8, Frito-Lay is giving away one Nintendo Switch system and a game every single hour! Specially marked Frito-Lay Variety Packs contain information about how U.S. residents can enter for a chance to win
Frito-Lay Variety Pack includes pre-portioned bags of everyone's favorite Frito-Lay snacks, such as: Cheetos cheese flavored snacks, Doritos tortilla chips, Fritos corn snacks, Funyun's onion flavored rings, Lay's potato chips, Rold Gold pretzels, Smartfood popcorn and SunChips multigrain snacks.
Variety Packs are available at retail stores nationwide for a suggested retail price of $3.60 - $8.99. For additional details about the Frito Lay presents the Nintendo Switch Giveaway, visit http://www.flvpgamegiveaway.com.
Source: Official Nintendo Press Release
---
Hopefully someone isn't dumb enough to eat one of the instructions on how to win. That would really blow.
I pray that doesn't happen to anyone. Let's just be optimistic and hope someone wins without harming themselves.
---