If there's one article of clothing that we all need to wear every day - it's underwear. That's right; we are going to talk about underwear today! But not just any underwear; otaku underwear. After all, it's not always appropriate to have your otaku pride on display. Whether you're at work, a formal event, or just not the kind of fan that likes to show their love of anime to everyone, underwear is always a safe, secret place where you can go a little wild. Only you will know about your otaku secret and that little secret might just make your day better.
Today we have two different new underwear sets to check out that just released in July in Japan - and they're available online, so don't worry if you want to snag them! And they're from two of the most internationally beloved stories of all time.
Something for All Underwear Types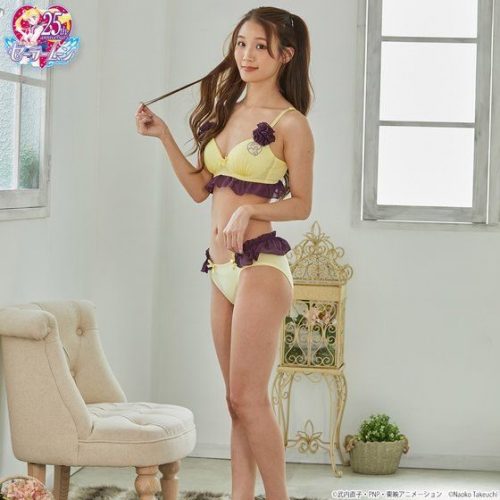 Without further ado, let's have a look at the underwear! Let's start with what's been made for people who wear a bra and panties. These underwear sets are inspired by one of the most famous magical girl anime of all time - you guessed it, Sailor Moon! But while all of the Sailor Scouts have been featured on underwear sets and pyajams for years, there's something very special about these two new sets from Premium Bandai. The first set is actually inspired by Luna, one of the most famous cats in the series. But its actually not Luna's cat form; rather, it's based on when she turns into a woman for a limited time. This lingerie set is a pale yellow with deep purple frills based on the dress Luna wore in that episode, and also has a small embroidery of Luna's cat form.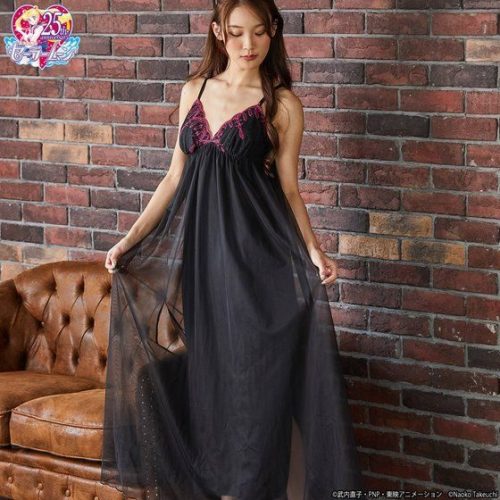 The second lingerie set being released is based on Chibiusa, but not her cute pink child version; rather, this one inspired by the Dark Lady, Chibiusa's adult form. This sexy underwear set is black with the Black Lady's crescent moon earrings as a pink pattern across the top and bottoms. Both the Luna and Dark Lady lingerie sets are advertised as being comfortable enough to sleep or relax in, and they both also have matching camisoles since both characters are always wearing formal dresses in the anime. They both also have matching "room shorts," which are short skirt-like shorts for wearing around the house over the panties.
Now let's see what's available for people who wear boxers! These are also a collection inspired by one of the world's most well-known otaku symbols - Pokemon! And they're all original Pokemon from the first 150, too, so fans of all ages can enjoy them and name the characters. These boxers are being made by Japanese underwear brand Hipshop, and each design features one of six iconic Pokemon's faces across your bottom. The front has the full character, along with their number, name, type, and size. They also have the Pokemon's Japanese name along the waistband, which is a cool feature in-and-of-itself because you can learn a few different names!
The Pokemon available to choose from are the original starters; Charmander, Bulbasaur, and Squirtle, along with Mew, Eevee, and of course, Pikachu! Which one will you choose?
Take My Money!!

Luckily for otaku fans around the world, both of these underwear lines are available online. Be aware that both websites are entirely in Japanese, but with a simple browser translator they should be easy enough to navigate and complete an order. Shipping might take some time if you live outside of Japan in today's global climate, but these underwear will be worth the wait!
You can check out the Sailor Moon collaboration here:
https://bandai-fashion.jp/character/list/?character=c000725
And here's the site for the Pokemon collaboration:
https://www.hipshop.jp/fs/hipshop/c/pokemon2
---
Final Thoughts

Now no matter what the day or occasion may be, you can have awesome otaku underwear to make it a little more special! Putting on these sexy Sailor Moon bra and panty sets is nothing short of empowering, and the Pokemon boxers can make the day a lot more fun. Whichever set you want to go for, you won't be disappointed. Whether you keep your new otaku underwear a carefully guarded secret or not, we are sure you'll enjoy them.
Are you interested in ordering one of these underwear sets? Do you have any questions about how? Which ones would you get if you could have any of them? What other otaku underwear would you love to see? We would love to hear from you in the comments!