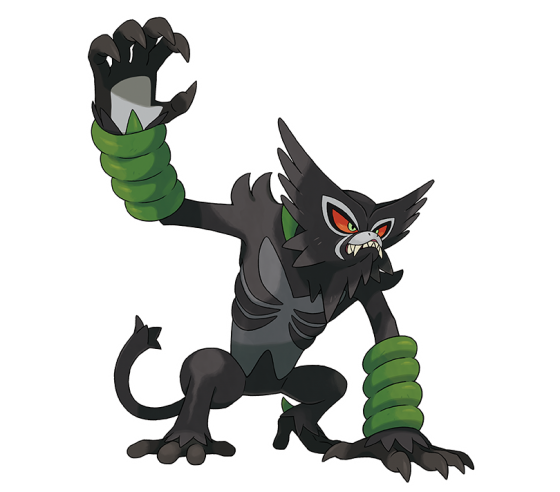 What You Need to Know:
Pokemon Day in Japan has come to an end but much of the excitement behind what unfolded yesterday, still resonates in the hearts and minds of Pokemon fans around the world. Last night at around 11pm, the official Pokemon YouTube channel released the results for the Pokemon of the Year through a video, with Greninja taking home the 1st prize with over 194,000 votes. One of our favorites, Sylveon, was in the top ranking along with Lucario, and Mimikyu which had everyone pretty shocked and excited at the same time.
That wasn't all however, as shortly after the credits wrapped up, a brand new Mythical Pokemon was uveiled to the world, and had us pretty hyped up as well. Officially called Zarude, this Dark/Grass type Pokemon looks pretty darn cool, with its swift ape-like strikes and wolverine-like hairstyle!
Grass types have notoriously carried a bad rep in the world of Pokemon for not being particularly strong, amidst a plethora of incredibly powerful fire types to burn them down. However, Zarude's dark typing could create some interesting possibilities pertaining to its movepool, getting moves like Crunch and Dark Pulse to deal heavy damage. Its Leaf Guard ability may also be of worthy use, but we'll have to wait and see since Zarude will likely see its release when the new Pokemon movie drops in July.

For now, all we can do is simply enjoy the quick little tidbit of information that we do know, and start to theory craft team building around this cool looking Pokemon! Keep it locked here on Honey's Anime for more Pokemom news! For those who missed the top 10, peep the video below!
Pokemon of the Year Official Announcement

---
I'm genuinely happy to see Greninja take home the prize yet again. Truly a memorable Pokemon, especially in the anime!
I'm more hype for Zarude! It looks sooo freaking cool!
---