Welcome back to another installment of Honey's Anime Hotspot, where we take a closer look at some of Tokyo's more popular locations and match them up with our favorite anime. Shibuya is one of Tokyo's most popular areas because it is known for having one of the busiest railway stations, and it's incredible variety of fashion outlets for everyone. The area has developed drastically over the years catering more to a mature audience, but it is generally known for being a destination for the younger crowd. In this article we will be taking a look at some of the best spots in Shibuya while providing you with interesting details with how it all relates to popular anime. We will start things off by focusing on the very popular landmark of Shibuya 109, then finishing off with a few additional hotspots for you to check out. Without further delay let's hop right in and discover the finer aspects of the Shibuya lifestyle through anime.
For more information on Shibuya 109, visit the website: http://www.shibuya109.jp/en/
Shibuya 109 shopping center
| | |
| --- | --- |
| Location: | Address: 2-Chome 29-1 Dogenzaka, Shibuya, Tokyo 150-0043 |
| Nearest train lines: | Shibuya Station: 5 Minutes on foot from Shibuya Station (JR East Yamanote Line) |
| Cost of Admission: | Prices will vary depending on where you decide to visit within Sunshine City. |
The Experience

Shibuya 109 - 1st experience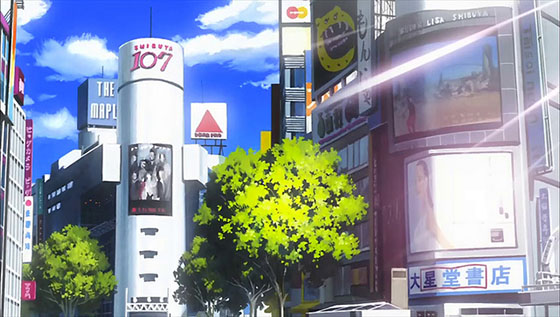 Situated just 5 minutes outside of Shibuya station, Shibuya 109 has become not only an iconic landmark for Japanese but many tourists who visit the ever popular Shibuya district. Shibuya 109 is a multi level shopping center that caters to both men and women with their respective locations. The store is centered around a younger demographic with eclectic styles to choose from, such as t-shirts, skirts, jeans, and more. The name Shibuya 109 stems from Japanese wordplay based on the pronunciation of the numbers "To" and "Kyuu" which is the name of the company which owns the building (Tokyu), and also the operating hours are 10 to 9. In the anime Chaos;Head, we can see the iconic building being shown quite frequently as the anime takes place predominantly within Shibuya and its corresponding area. Chaos; Head is a psychological thriller which is part of the science adventure series consisting of Steins;Gate, Robotics;Notes and soon to be aired Chaos; Child. Takumi hears about new murders called 'new gen' as they have been occuring a lot throughout the city. Information had circulated quickly and have caused a stir as more mysterious events take place around him, such as receiving horrific photos while on his PC. He begins to struggle with the events and finds it hard to determine whether it's all real or just a delusion, so his goal is to uncover the truth behind the new gen who is also attempting to know more about Takumi.
Another sight of Shibuya 109 takes place in episode 14 of the romantic comedy Nisekoi which is a story of two heirs who are in constant battle with rivaling yakuza syndicate groups. As you'll see in the episode, Shibuya 109 is now "Shibuya 105" much like the changes made to Chaos;Head. Shibuya has a large handful of landmarks which play major roles in other anime, and Shibuya 109 is just one of the more prominent of them all. From now we will move onto another very popular spot for anyone who ventures out into the Shibuya area.
---
Hachiko Exit -2nd experience
This iconic and very special location in Shibuya is one of the most popular spots for friends to meet up and hang out. The minute you exit the station, you're immediately surrounded by hundreds of people who are just sitting, walking, and talking around the famous Hachiko statue. Hachiko is a story about a dog who is remembered for his exceptional loyalty to his owner which lasted a decade after his death. He waited at Shibuya station hoping that his owner would return to pick him up. In Japanese culture Hachiko is revered as the dog who represents loyalty and fidelity, and is still highly regarded in popular culture.
In the anime Idolm@ster: Cinderella Girls, Shibuya Rin was scouted by idol company 346 production talent agency to take part in the cinderella project. Rin at first showed reluctancy to join as the producer of the company displayed signs of creepiness, but as she began to know Uzuki who is an aspiring idol, she began to show interest and eventually joins the project. In the 4th episode of Idolm@ster: Cinderella Girls, the producer suggests that the girls do a PR video of the entire group, interviewing one another. They all travel to Shibuya and record their footage just in front of the Hachiko statue, using it as their backdrop for the video.
In the very first episode of Strike the Blood, two high school girls are seen seated around the area of Hachiko. While you don't necessarily see the statue, the famous area is known for its metal structures surrounding Hachiko which function as benches for any passerbys who decide to rest their legs. Another great landmark located at Hachiko exit is the green train car named "green frog", which is part of a Tokyu 5000 series which shares the same name. As you'll see in one episode of Yama no Susume, which is a slice of life story about mountain climbing, the two female protagnists go on a trip to Shibuya and stand directly in front of the green frog to discuss their plans for the day. This particular destination in Shibuya is a very commonplace for young citizens, similarly to the two young girls in the series. We highly recommend checking out the Hachiko Exit as it is a wonderful place to take lots of photos, and see the hustle and bustle of the Tokyo lifestyle.
---
Scramble Crossing - 3rd experience
One of the best opportunities that you have to experience is taking a walk through the horde of citizens in the very jam packed Scramble Crossing. As mentioned earlier in the article, Shibuya is widely regarded as the second busiest station in Tokyo and throughout the day the Scramble Crossing is littered with people who are going to work, or just gallivanting around for shopping purposes. Once you manage to make your way to Japan to truly experience this, you'll definitely understand why they call it a scramble. In the 2008 anime Skip Beat, Kyoko realizes that her life had been taken advantage of by her crush Shou who is a rising pop icon.
Due to this heartbreak and shock, Kyoko vows to take revenge on him by becoming a pop icon herself, and so she travels out into the big city of Tokyo to seek out a newly found career. In one of the later episodes, Kyoko is seen venturing out to Shibuya and experiences the overwhelming number of people walking past her at Scramble Crossing. Coming from the countryside to Tokyo was a new feeling for her, and we can clearly see that when Kyoko arrives in Shibuya. Her feeling of excitement can be seen all over her face, and if you ever visit Scramble Crossing you'll most certainly experience that same euphoria that Kyoko had when she arrived.
---
Additional Info

Shibuya is packed with landmarks that stand out in their own unique way making the city a wonderful place to take photos or just wander around like a big kid in a large overpacked candy shop. While we can't provide every single landmark in one article, we can certainly enlighten you with some extra locations that still resonate within the minds of the many travelers who traverse through the city landscape. Center Street or as its known by many Center-Gai, is a pedestrian only road that is saturated with bars, restaurants, and other forms of entertainment to please your consumer needs.
Bakemono no Ko is one of the other anime that features this very popular street as well as other very popular spots in Shibuya, since majority of the film takes place in the area. Once you venture down this street you'll see plenty of posters which reference the Bakemono no Ko series, as it was one of the very few films that truly gave most a glimpse of what Shibuya truly looked like in animated form.
Marui City is yet another fantastic spot which was featured in anime, and is a great shopping center for anyone who loves clothing, memorabilia and more. Gatchaman Crowds Insight is the second season of the hero's versus villian series of Gatchaman Crowds, which features the heroic G-Crew who are a group of gatchaman out to protect Tokyo by using their special powers. Enemies called MESS have invaded the city, scaling buildings and causing commotion around everyone. Marui City shopping center became a scene when a group of MESS were seen sprawled over the building entrance, trapping citizens inside. It became a responsibility of the G-Crew to exterminate the MESS and bring peace back to the minds of the community. This fantastic anime is a treat to watch not just because of the many references pertaining to Shibuya, but because of the great action that takes place with Hajime and her gatchaman squad.
---
Concluding paragraph
The city of Shibuya is full of experiences that we just can't seem to pack in one article. With popular shops such as ABC Mart and Uniqlo to choose from, Shibuya is an assortment of flavors that you can taste and take with you. Other great anime that feature more hang out spots are Blood C which shows off the center-gai, Angel Beats! Ore-tachi ni Tsubasa wa Nai and many more! With a plethora of things to choose from, we highly recommend that you save up your money and make your way to Shibuya for a once in a lifetime experience that you can't get anywhere in the world.
If you'd like to know more about the many finer aspects of Shibuya, but sure to leave your questions down below, and we'll make sure to share some other hot spots with all of you! As always, for anime culture and more from Japan, keep it locked here on Honey's Anime for your needs.