The season of summer usually connotes pleasant images bright and sunny circumstances. The blossoming of new love, the beginning of a wonderful friendship, and generally the start of new ideas which are mostly correlated with the concept of summer. In the anime world, this concept rings true as well, evidenced by the number of uplifting, feel-good titles that are set to be released this summer.
Anime however, is never one-dimensional. This subculture that we have all fallen hard in love with has proven itself to have many facets; so many in fact that if there's anything that we can be certain of, it is that anime will never fail to surprise us. This summer is no exception, with some interesting titles coming our way from the Suspense/Horror genre. Now I understand that this genre is the last thing that comes to mind when one thinks of summer, but I'm pretty sure that these titles will give us something that is definite for anime: these surely will be a pleasant surprise.
Here are three Suspense/Horror Anime worth of mention in this summer's anime lineup!
1. Gakkou Gurashi! (School Live!)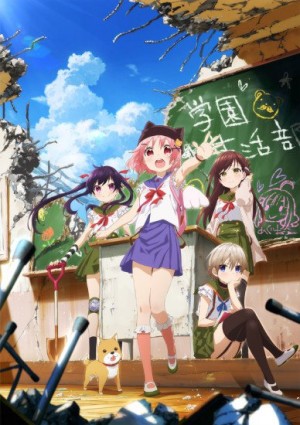 Episodes: Unknown
Aired: July 9, 2015 - ?
Mixing the slice of life and horror genre may seem a bit unorthodox, but this particular work seems to have nailed the perfect balance thus far. Based off a manga by Norimitsu Kaihō, the plot of this anime is something that has rarely been done before. The story centers on Yuki Takeya, a bright, cheerful young girl who loves her school and her friends. Together with her best friends Kurumi Ebisugawa and Yūri Wakasa, as well as their young, likeable teacher Megumi Sakura, the members of the Campus Life Club seek out fun activities that make their stay in the school memorable and precious.
The only problem is, the activities of the club that Yuki holds so dear are all in her mind, for in reality, they are the last remaining humans in the city after a massive zombie outbreak overruns the city.
The blending of the slice of life aspect of the series as well as the plot's progression towards its more grim, suspense/horror aspects is something that is really unique with this title. Produced by Lerche, the same company behind the anime incarnations of Persona 4 and the OVA Fate/Prototype, this entry into the summer 2015 lineup is looking to offer quite a lot. Personally, I am rooting for this title. Unique stories, with original elements and just a tinge of psychoanalysis thrown in, usually make really good literature.
TV anime "School Gurashi!" 30 Second Edition CM
---
2. Ushio to Tora (Ushio and Tora)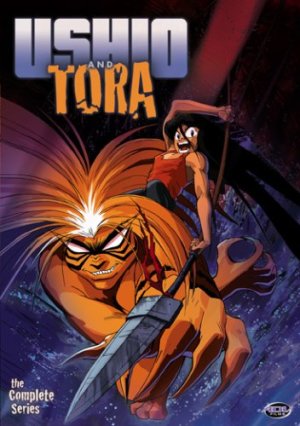 Episodes: 26
Aired: July 3, 2015 – December 2015
This entry is yet another mix of popular anime genres. This time, the action/supernatural and horror genres are interspersed together to form the anime's main narrative. Ushio and Tora has actually been around for quite some time now. Starting as a manga written by Kazuhiro Fujita way back 1990, the story focuses on the adventures of Ushio, a young man whose family maintains a temple and Tora, a powerful, supernatural tiger-like demon.
The story starts off quite simple, with Ushio being skeptical of his family's lineage and connection with the demon world. However, he soon proves his suspicions wrong when he accidentally finds Tora, a demon his samurai ancestor battled in the days of old, sealed in a cave. Though hostile at first, Tora soon strikes up an unlikely friendship with the young man, which initiates their adventures and exploits in the dangerous world of humans and yokai.
Featuring much of the elements that make shonen anime very popular, Ushio and Tora is yet another promising entry into this year's summer anime lineup. The story make not break new grounds when it comes to the originality of the story itself, but execution-wise, it holds much potential. For one, it is being produced by MAPPA and Studio VOL, two production companies that have turned out titles that were very warmly received.
MAPPA alone is partly responsible for producing the critically-acclaimed slice of life anime, Kids on the Slope, as well as the third season of the popular sports anime, Hajime no Ippo. As an anime fan, I am quite sure that Ushio and Tora will take us fans into a pretty good ride, with a lot of ups and downs, and a lot of intricate battles that will leave us breathless.
TV Anime "Ushio to Tora"
---
3. Ranpo Kitan: Game of Laplace

Episodes: Unknown
Aired: June 27, 2015 (Preview screening) July 3 2015 (TV broadcast)- ?
Ranpo Kitan is one of those anime titles that traces its roots deep into Japanese literature. Inspired by the works of Taro Hirai (better known by his pseudonym Edogawa Ranpo), this is one suspense/horror anime that may turn out excellent. As an author and critic who popularized the development of Japanese mystery fiction, Edogawa Ranpo brought the detective genre to life in Japanese literature. Ranpo Kitan is based on some of his works, which makes the anime very promising indeed.
The story of the anime centers on Kobayashi, a middle school student who volunteers to be an assistant to a young, genius detective, who is trying to solve a series murders that have happened in the school. Despite the reservations of his friend, Kobayashi nonetheless gets involved in the ensuing investigation.
Among the three anime mentioned in this list, this is the one I really have an affinity with, provided that the execution of the plot is worthy of its roots of course. The style of Edogawa Ranpo, after all, is influenced by one of the greatest horror writers that ever lived – Edgar Allan Poe. If this anime manages the unique feat of honoring its roots while putting in something new to the table, then this may just be one of the best anime that will come out in recent years.
If any, the production company taking on the project seems like the right one, for Lerche has proven itself quite capable. Only time will tell how this anime will turn out to be, but I seriously am rooting for it!
"Rampo Kitan Game of Laplace" Long PV
---
And so, that is out list of Horror/Suspense Anime for the Summer of 2015! Do check them out if ever you are able. Ranpo Kitan has already been previewed last June 27, and the other two are set to come out soon. If you are like me, an anime fan that likes his anime fun and intuitive, these titles may be just right for you.
May the summer hold great things for you, and may it be filled with great anime!
---