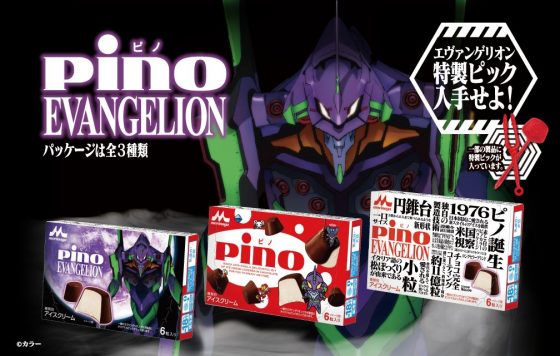 What You Need to Know:
It seems that Evangelion is trending everywhere in Japan right now, and that's likely to the upcoming movie release that's slated to hit Japan 6/27. Two particular products are now grabbing the attention of Japan Twitter, one being Pino's chocolate ice cream and Uniqlo producing delivery boxes in an Evangelion style. For those unfamiliar, Pino ice cream is an incredibly popular treat among the youth (primarily young women) as it's bite-sized and contains less calories than most dessert items in convenience stores. This particular item is a limited edition and inside each box, those who purchase one may be lucky enough to find the Spear of Longinus (well not exactly like it but close enough) waiting inside! The pick that you find inside the box will usually contain a normal one but in these Evangelion boxes you may find one with the Evangelion logo!
This Pino ice cream can be purchased at local convenience stores such as Seven Eleven, Lawson, and Family Mart for just 100yen, so if you're looking to splurge until you find the lucky pick, by all means! We don't recommend trying to ship these overseas though, unless you want a box full of milk and melted chocolate.
Speaking of boxes, Uniqlo has also decided to join in on the fun and have created delivery boxes that resemble Evangelion in all its greatness. Those who purchase items via the online Uniqlo shop site can choose to have their package shipped with the classic Evangelion design, which looks pretty sleek if we might add. If you're looking to grab one of these cool-looking boxes, make sure not to tear them apart and keep them as a memory!
Also, just as a heads up, there's a new Pokemon x Uniqlo collaboration coming very soon! The expected release of the new T-shirts is 4/24 in Japan, so for now, enjoy the Instagram post by popular artist Daniel Arsham, the one behind the latest Pokemon designs for the tees!

Images

---

I would so keep that box and never want to open it, just to retain the quality.

Screw the box, give me the ice cream!!