Championships of Cosplay
Do you have what it takes to represent Indonesia in the C2E2 2016 grand finals in Chicago, USA!?
Judges: Nicole Marie Jean, Pinky Lu Xun, Octavianus Rizky and Olivie.
Judges
Nicole Marie Jean
Nicole Marie Jean is a cosplayer, artist, sculptor and designer from San Diego, California. Nicole began her journey into the cosplay and convention world in 2011. It was the previous year that she discovered what cosplay was. Nicole fell in love with the idea of being able to combine her love of comics and art to bring her favorite characters to life. During the past four years she has traveled around the country for numerous events and conventions as both an attendee and a guest. She has judged a number of contests and been a part of many panels. Nicole has won numerous awards for her costumes both at conventions and online.
Nicole has created nearly 80 costumes in the past three years and all are inspired by her favorite characters from comics, movies, books, video games and soon animes. Nicole is most well known for her take on Bane from the Dark Knight Rises film, which has given her the nickname throughout the cosplay community as "Lady Bane."
When Nicole isn't creating or debuting new costumes, she sculpts and makes items for her online store. She hopes to continue this journey for many years to come while meeting new people, teaching and inspiring others, entertaining those who follow her work and becoming better at her craft along the way.
Octavianus Rizky
Rizky started cosplaying in 2005, he has organised various cosplay event and competition in Jakarta. Been frequently invited as Cosplay judge and Guest Performance for local event. Rizky and his team focus on Cosplay Performance, he create all of the stunt act performance.
In 2009 Rizky and his team won the STGCC Cosplay Competition for group category. In 2014 he had been the Indonesian representative for Asia Cosplay Meet & SUPANOVA Brisbane and also ITGCC cosplay judge.
Olivie
Olivie is a cosplayer from Hong Kong, and also the leader of Hong Kong's top cosplay performance group "V-Project". She has a passion for characters with strong personality, and also girls with blond hair 😉 Ever since she fell in love with LoveLive, she has done many versions of Eli Ayase. Her group, V-Project, has also actively produced many dance covers of the songs in the series, and has performed for ACG events in Taiwan, Macau & Singapore.
Pinky Lu Xun
Pinky Lu Xun is the most famous Indonesian Cosplayer who also an icon and pioneer of Cosplay in her home country. Well known for her beautiful and elaborate costume work and being a role model of many other cosplayers, Pinky often honored as guest judge in numerous cosplay events both in her own country and overseas such as Malaysia, Singapore, Philippines and Australia.
Indonesia Comic Con 2015 Overall Review
In an interview with members of the V-Project, Miyabi, Luffy, and Olivie, they revealed that through cosplaying, they've met a lot of good friends that supports and influence them along the way to continue doing cosplay. They also claimed that the most important element is cosplaying is trying to really look like the character they are cosplaying in terms of make-up, setting up the hairstyles, etc. Material-wise, the materials used by Indonesian cosplayers are different than in the Hong Kong. Hong Kong cosplayers tend to use fabric as their base material whereas in Indonesia, cosplayers use plastic-like materials for their costumes which made it more realistic and successfully impressed the members of the V-Project.
In another interview with the iconic pioneering cosplayer from Indonesia, Pinky Lu Xun, whose been doing cosplay for 10 years revealed that her initial inspiration for cosplay started when she was into gaming. She found a random photograph of a cosplayer from Japan which happens to cosplay the character of the game she was playing. Although until now she didn't know the name of that cosplayer, but that was what inspired her to first trying out cosplay.
Pinky also stated that for her the important elements of cosplay is to have fun and not to worry about looking really good in the first try because everyone starts out learning things step by step.
Besides cosplaying, Pinky is also known for creating her own costumes for cosplaying, she claimed to have made over 70 – 80 costumes, varying in weight of the costume and the time needed to make the costume altogether.
During the interview, she was cosplaying one of the characters from re:ON Comics, as Lay Lay Cat or "Kucing Garong".
Pinky Lu Xun--
"I happen to love reading re:ON comics, and also I thought that it is the Indonesia Comic Con, so why not cosplay something from Indonesia? I'm using batik, a unique fabric originated from Indonesia as the base material. Being the only guest from Indonesia, for me personally, I think I needed to cosplay something that says 'Indonesia'."
Honey's Anime--
"Being a pioneering cosplayer here in Indonesia, what were the challenges you face when you first started cosplaying?"
Pinky Lu Xun--
"At that time there weren't many people that knew about cosplay and so people assume we're freaks. But now thanks to more & more cosplay events being held, the society has learned to accept us more as 'artists' rather than freaks."
Honey's Anime--
"Can you give us some comments about this year's cosplay championship contestants?"
Pinky Lu Xun--
"From what I see from the preliminaries judging, I can assure you that the 15 finalist that were chosen are the best because we also want to show the other guests from all around the world that these cosplays are from Indonesia and are the works from Indonesian cosplayers."
1
2
3
4
5
6
6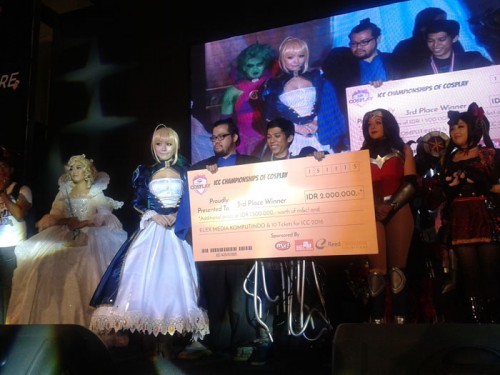 7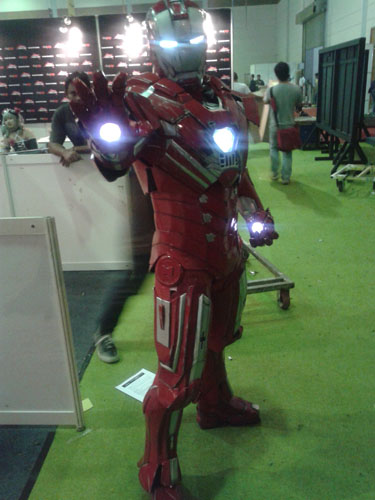 Indonesia Comic Con 2015 Final Thoughts
The cosplay championship was awesome! The winners are as follow:
Firmanda Romas as ED 209 from the Robocop Movie (2014) emerged as the winner of the third place ICC Cosplay Championships
The second place of the ICC Cosplay Championships, Herry Bertus as Prime Evil of Diablo 3.
Abraham Enriquez Cruz as Vicious Summoner of Dekaron, emerged as the winner of Cosplay Championships and will represent Indonesia at the Chicago Comic & Entertainment Expo Cosplay Crown championships of 2016.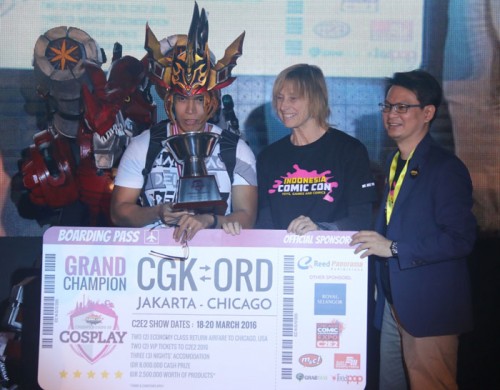 It was a very interesting experience for me as it was my first time being able to watch a cosplay competition. And it made me realize that there are so many cool cosplayers here in Indonesia. The details of the costumes, the added effects of the costumes, the short performance given by the cosplayers made this cosplay competition a really interesting event to see!
---
Indonesia Comic Con -Basic Information-
Indonesia Comic Con 2015 Here are the prizes:
1stWinner
Champion Trophy sponsored by Royal Selangor
Medal
C2E2 VIP Tickets –Two (2) VIP tickets to C2E2 2016 (March 18 – 20, Chicago, USA)
Rp. 8,000,000,- Cash
1 Return Economy Airfare from champion's country to Chicago for C2E2 2016*
1 Return Economy Airfare from champion's country to Chicago for C2E2 2016 for champion's guest*
Automatic entry into the final round of the Crown Championships of Cosplay at C2E2 2016
Shipping – Any additional shipping charges for oversized items related to the costume
Ground Transportation – Costs associated with getting to and from the airport in champion's country
Double occupancy hotel room in Chicago for three nights. Check in Thursday 3/17/16. Check out Sunday 3/20/16.**
Ground Transportation - $ 200 stipend per regional champion to be used for ground transportation to/from O'Hare airport in Chicago
Rp. 1,000,000,- worth Grab Bike voucher.
IDR 1,500,000,- products worth sponsored by M&C and ELEX MEDIA KOMPUTINDO.
Free 3 months magazine Nakayoshi subscriptions
* Airline and air tickets will be decided and booked at the sole discretion of the organizer's.
** Accommodation will be decided and booked at the sole discretion of the organizer's.2nd Winner
---
2stWinner
Ten (10) Tickets for ICC 2016
Rp. 4,000,000,- Cash
Medal
IDR 1,500,000,- products worth sponsored by M&C and ELEX MEDIA KOMPUTINDO.
Free 3 months magazine Nakayoshi subscriptions
---
3stWinner
Five (5) Tickets for ICC 2016
Rp. 2,000,000,- Cash
Medal
IDR 1,500,000,- products worth sponsored by M&C and ELEX MEDIA KOMPUTINDO.
Free 3 months magazine Nakayoshi subscriptions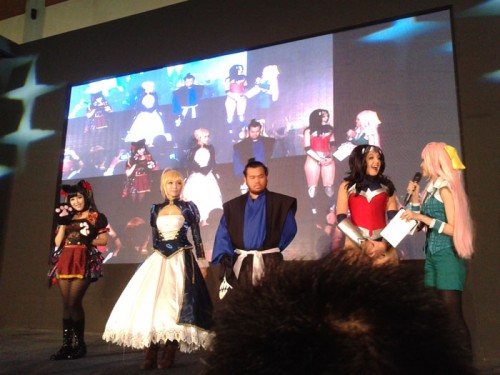 Go to the PREVIOUS article ↓↓↓