Indonesia Comic Con brings the best pop culture experience from both East and West in celebration of the latest content from comics, anime, toys, collectibles, games, TV, film and entertainment to dedicated fans across Indonesia.
Fans will be able to satisfy their utmost desires to meet their favourite pop culture icons in real life and be the first to own limited edition and exclusive items showcased by leading exhibiting brands .
Indonesia Comic Con is part of the Reed POP events which includes New York Comic Con, Chicago Comic & Entertainment Expo, PAX, OZ Comic Con, PAX Australia, Star Wars Celebration and UFC Fan Expo.
What to do While There
Since the event has a lot of booths and exhibitions, don't worry about deciding which one to go first or whatnot. The committee hands out each attendant a guide book filled with the event schedules, screening times, booth promo giveaways and highlights, even entire venue floor plan. This could come in really handy when planning the perfect shopping route since there isn't much mobility inside because of the crowded venue.
Here are some notable highlights of the events available:
Walk of Fame, this is a wonderful chance for fans to be able to meet and greet up close with your favorite artist! It's also a perfect chance to have the artists' sign some of your personal items or just taking a photo together. The schedule of the Walk of Fame artist booth is available on the guide book distributed, make sure to come early or there will be the risk of ending up in a snake of a queue.
There's a Hello Kitty Booth, which resembles a small park with cute benches and tables, a must see and visit place for girls and Hello Kitty enthusiasts. An exclusive photo op was also available for the visitors to the booth.
Re:ON Comics booth, re:ON in short is an innovative re:VOLUTION of the comic industry in Indonesia. Basically, it's a form of manga original from Indonesia that somewhat bears an uncanny resemblance to those manga in Japan in terms of artwork. It is Indonesia Comic Con 2015, so what better way to showcase that than to highlight an original manga/comic work from Indonesia. It's encouraging to see creative and innovative original works such as re:ON and hopefully this will help draw out many potential artworks in the comic industry of Indonesia.
Mr Kenji Ohba, the Indonesia Comic Con 2015 has invited the legendary actor and former stuntman known for his roles in Space Sheriff Gavan as Gavan, whose designed influenced Paul Verhoeven's iconic pop culture film Robocop.
In an exclusive interview with Mr Kenji Ohba, he expressed that during his time as a stuntman for the Space Sheriff Gavan series, the most memorable moment for him was to be able to hang out together with his fellow cameramen, staffs and crews. Mr Kenji Ohba also explained during the interview that a strong determination and endurance to the special training is what it truly takes for the young generations to be a stuntman.
It was an eye opening experience as the veteran actor stuntman gave some insight of what was the secret behind the success for the tokusatsu series. He revealed that Space Sheriff Gavan has their own set of unique characters, each with their own unique back story and interesting character design.
1
2
3
4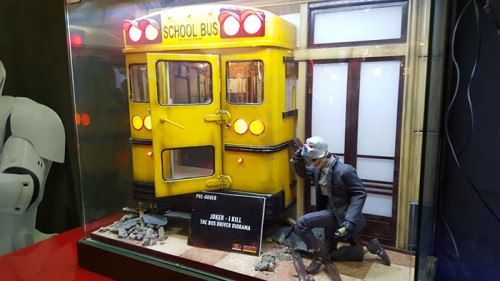 5
6
6
7
8
9
Final Thoughts
It was an exhilarating experience altogether! Being able to see so many of the people here bring out their best cosplays and having fun was a memorable experience. Since this was the very first Comic Con ever held in Indonesia, I had the chance to have a close up interview with one of the Head Marketing Communications people, Mrs. Ella Haryanto to answer some burning questions I had in mind about the event that was held.
Mrs. Ella revealed that they had done research surveys beforehand to find out whether Indonesia has the market for this kind of event. Whether there will be people or communities willing to go to this kind of event. From the surveys, they found out that Indonesia has a lot of pop culture fans whether it be eastern pop culture or western pop culture. And so it was the right time for them to introduce Indonesia to the "real" Comic Con as they adopted it from New York Comic Con standards.
Mrs. Ella also expressed that she was proud of the visitors that came to the event, because they felt very welcomed by the visitors. One of the visitors also stated that this event was "The" comic con because Mrs. Ella and her team filled the event with all sorts of entertainment; from movies, to games, merchandise, collectible items, fan meet-and-greets and so much more.
Mrs. Ella hopes that for next year's Indonesia Comic Con, they can truly integrate New York Comic Con's standards into the event, so that the citizens of Indonesia won't have to go overseas to enjoy a true comic convention event as they already can enjoy their very own, in the Indonesia Comic Con.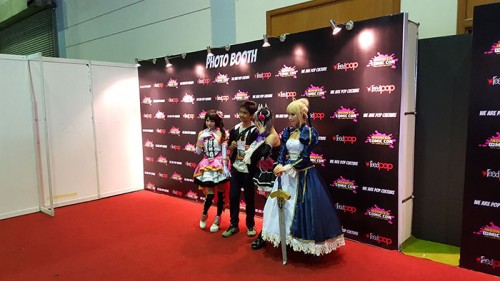 Indonesia Comic Con -Basic Information-
Founding:
2015
When:
14 November 2015, Saturday 10.00am – 8.00pm
15 November 2015, Sunday 10.00am – 8.00pm
Length:
2 Days
Location:
BALAI SIDANG JAKARTA CONVENTION CENTER
Jl. Jend. Gatot Subroto, jakarta 10270
Cost:
For the ticketing, Indonesia Comic Con 2015 provides discounted early bird ticket pricing starting on 24th of August 2015; 1 Ticket for Rp 65.000 or approximately US$ 5. The early bird ticket sale ends on 31st October 2015 with the normal ticket price for Rp 90.000 or approximately US$ 7.

Don't miss the Pop Culture party, secure your ticket to Indonesia Comic Con 2015 now! Tickets available online at IDR 90,000 through Kiostix and Travelicious. Also available at these following outlets: Kiostix,Panorama Tour, Indomaret convenience store.

Online purchase through Travelicious, Panorama Tours, Indomaret will be closed on 11 November 2015.

Hotels:
Indonesia Comic Con has an official hotel partner namely The Sultan Hotel & Residence Jakarta. It's nearby the venue at only a 6 – 7 minutes' walk away.

The Sultan Hotel & Residence Jakarta

Jl. Gatot Subroto Jakarta - 10002
Indonesia
T : +62(21)5703600
F : +62(21)5733089
Email:info@sultanjakarta.com

Event message for fans / attendees

We Are Pop Culture!

Official Sites:
http://www.indonesiacomiccon.com/
https://www.facebook.com/IndoComicCon
https://instagram.com/indocomiccon
https://twitter.com/IndoComicCon
https://www.youtube.com/channel/UCuWnf3zwPq7cS1njZjXCwvg
What to Expect
Experiencing the Indonesia Comic Con for the first time could be an exciting feeling. There's loads of fan art booths, merchandise, board games, comic books, exclusive collector item figurines and many more! It's something like a large expo for toys, anime fan arts with the added bonus of cosplaying attendants, which made it super fun!
WHAT TO EXPECT AT INDONESIA COMIC CON?
Giveaways & Promotions
Live Sketching
Panels
Screenings and Sneak Peeks
Vibrant Exhibit Floor
Walk of Fame
Artist Alley
Booth Highlights
Cosplay Phototaking
Cosplay Competition
DJ Night
Exclusives & New Products
Game Demos
---
Day 1 (14th November 2015)
Events (order by rundown time):
Indonesia Comic Con Opening Ceremony
Star Wars Panel
Maybank Auction
Kenji Ohba Jouchaku!
V-Project Special Panel
Hello Kitty Meet and Greet
Re-On Panel
International Movie Panel
Secret Walls x sasakure.UK
TAMusic Live Special
Photo booth (order by rundown time):
Gotham
Hitomi Okada
Nicole Marie Jean
Pinky Lu Xun
Hello Kitty
V-Project
Walk of Fame
Franki Indrasmoro
Simone Legno
Secret Walls
Touma
Kenji Ohba
David Mack
---
Day 2 (15 November 2015)
Events (order by rundown time):
Music Performance by SAE Institute
Toy Designer Panel
Talking Comic Panel with David Mack
Kenji Ohba Jouchaku!
Creator's Panel with sasakure.UK & REDSHiFT
Hello Kitty Meet and Greet
Starvision Movie Panel with Jagoan Instan
DJ Night with Yuyoyuppe & sasakure.UK
Championships of Cosplay
Walk of Fame (order by rundown time):
Jagoan Instan
David Mack
Secret Walls
Simone Legno
Kenji Ohba
Touma
Photo booth (order by rundown time):
Gotham
Pinky Lu Xun
Nicole Marie Jean
V-Project
Hitomi Okada
Hello Kitty
What to Bring in Order to Enjoy Oneself
These are the items that are helpful for those who want to fully experience the awesomeness of this event!
Camera: This is an absolute must. For those who're not a big fan of taking selfies you could still enjoy the event by taking loads of pictures of the event or with the other cosplay attendants! There's just so much to see!
Cash: This is also essential since not all booths accept payments with card. So for those that can't resist shopping, it's always a good idea to bring enough cash to avoid the trouble of having to find a nearby ATM.
Food & Water: For those who wants to utilize money on merchandise, this could help save up that extra penny to spend it on other things! This could also help for those who hate long queues at food vendors since the place is really packed. The venue also provides a standing canteen for you to be able to enjoy your food in.
Tickets: Obviously without a ticket there's no way to enter and enjoy this event so don't forget to bring the tickets! Remember to retain your ticket or stamp mark to show it to the committee officer for re-admission after going to the toilet.
Backpack: It's a good idea to bring along a back pack for those who want to shop for merchandise, since the venue's quite packed, it's uncomfortable to hand-carry goods and there's always a risk of damaging your items as you squeeze your way through the crowds.
Go to the NEXT article ↓↓↓
---