Ikebukuro is home to a lot of various forms of entertainment, ranging from karaoke all the way to performing arts at the Tokyo Metropolitan Theatre. Honey's wrote an article on Ikebukuro for our hot spot just recently, so check it out if you've missed it. In today's article we will be traveling back to Ikebukuro but more specifically to J-World in Sunshine City to show you a little bit more of what to expect when visiting this awesome venue. J-World is a family amusement park which is dedicated to all things Jump, ranging from the very popular One Piece franchise to the action packed Dragonball series. Let us jump right into the action and talk more about this great location packed full of entertainment.
For more information, check out: http://www.sunshinecity.co.jp/english/
Sunshine City (Ikebukuro Station East Exit)
Location:
Address: 3-Chome -1-1 Higashi-Ikebukuro, Toshima, Tokyo 170-0013
Nearest train lines:

Higashi-Ikebukuro Station: 3 Minutes on foot from Higashi-Ikebukuro Station (Tokyo Metro Yurakucho Line)
Ikebukuro Station: 8 Minutes on foot from Ikebukuro Station (JR, Tokyo Metro, Seibu Line, Tobu Line)
Higashi-Ikebukuro 4-Chome Station: 4 Minutes on foot from Higashi-Ikebukuro 4-Chome (Toden Arakawa Line)

Cost of Admission:

Single Ticket [Adult]: 800 yen [Child]: 600 yen
Unlimited Attractions Pass [Passport]: 2,600 yen [Child]: 2,400 yen

Hours of Operation
10:00AM – 10:00PM (10AM-8PM for shops / 11AM-10PM for restaurants) – Open daily
The Experience

J-World Dragonball Z - 1st experience
Sunshine City is filled with an assortment of things to choose from, such as the Sunshine Aquarium and much more. J-World should be the first place that you make a stop to if you're into anime since you'll be completely immersed in just about everything you see. The experience you'll get from walking in will blow you away especially when you make your way to the Dragonball Z section.
You're immediately greeted by this really large entrance that looks as if you'd be transported into a new world, and directly in front of you is a small capsule that you can sit in much like Frieza did on his way to Planet Namek in the earlier episodes of the Frieza Saga. Once you venture deeper inside you'll find so many different attractions to choose from such as the Shoot! Kamehameha! where you and Goku charge up your energy and unleash a wave of power towards Frieza, similar to the scene toward the end of the saga where Goku transformed into a super saiya-jin for the first time taking Frieza out and destroying Planet Namek. This small but spectacular amusement only lasts about 5 minutes, but for 800 yen you can relive that heart wrenching moment of the saga all over again only this time with your help!
J-World One Piece Attractions -2nd experience
One Piece is a very popular franchise in Japan, and ever since it's initial release in 1999 the momentum it has carried on its shoulders has been massive. One Piece follows the wonderful story of Luffy and his quest to seek the ultimate treasure that is named after the shows title. Gol D. Roger was known as the pirate king who was the most feared pirate to have ever sailed the Grand Line. Luffy's mission wasn't to be the typical pirate who sought out war and ransack villages, but to sail along with friends who shared his same life purpose. Along his journey he meets Zorro, Sanji, and Robin who help to inspire and motivate Luffy to continue pursuing his dream and live the life he chooses.
What you'll find within the One Piece section are amusements that are usually catered to a younger audience, but the fun factor is still there to partake in. One experience that we recommend is to take a ride on the Soldier Dock which is a ride you can enjoy with your friends and loved ones for 800 yen. The ride lasts for about 7-8 minutes while you get to experience cool animations on multi-screens, and you spin around 360 degrees horizontally. The feeling will remind you of Luffy and his entire crew sailing across The Grand Line, but now you can enjoy it with your friends in real time. Unfortunately, much of the voicing on the ride is in Japanese, but there are some instances where English is used so they've included a small booklet to help should you find yourself confused. We still highly recommend you check it out as it will surely excite you and bring out the inner child.
J-World Naruto - 3rd experience
Naruto is one of Jump's most popular global franchises due to its great story and epic adventures. A huge demon known as Nine-Tails attacks the local village and destroys everything in its path. To put a stop to the onslaught and save what remained of the village, the fourth hokage sacrificed his own life and sealed Nine-Tails inside the newborn Naruto. The story continues as we follow Naruto Uzumaki, a young ninja that is constantly searching for recognition, and has dreams to become the top hokage in order to put a stop to all evil and a strong leader for everyone.
If you ever wanted to truly experience what it would be like to live in the life of Naruto, then this would be your best chance. Located in the Naruto section of the J-World Amusement Park is the popular Ninkai Taisen Emaki which is a place fans go to learn about the art ninjitsu, while following instructions through a transceiver. There are a handful of great activities to choose from but we recommend trying the Ninkai Taisen Emaki as it will truly feel as if you were a part of the Naruto universe.
---
Additional Info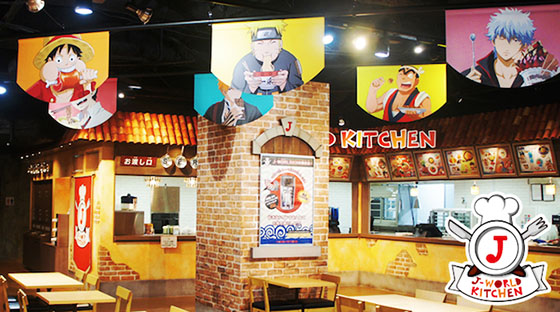 While much of the experience that you'll find at J-World consist of small rides and souvenirs, the other side of J-World is also in the food. There are so many great anime references that you'll encounter once you make your way to the J-World Kitchen, which includes the very popular Shokugeki no Souma cooking style, as well as Naruto style ramen for all to devour and enjoy. You may also run into the J-Patisserie where you can find anime themed food such as the very famous dango snacks from Naruto.
J-World Store is another great place to spend your time (and money) in since you can find some very unique items which are only found in Sunshine City. Whether you're a fan of Gintama or the very recent Boku no Hero Academia you're more than likely to find anything that relates to Jump in this jam packed store of fun. You can purchase anything from figures all the way to your favorite Jump character in T-Shirt or poster form. Everything is there for you to partake in, so we recommend that you bring your friends along to truly enjoy this wonderful J-World experience. For more anime goodness, check out the assortment of other Jump anime ranging from Toriko, Gintama, Slam Dunk, Bleach, and more as they have smaller amusements such as picture taking to mini games.
Now if you're anything like we are here at Honey's Anime, we love adventure and so we also suggest checking out the other various parts of Sunshine City. While they don't necessarily tie in with the world of anime, they are most certainly worth visiting if you have extra money left over from J-World. Sunshine Aquarium is a fantastic place to see exotic animals and fish from all different parts of the globe, and you're free to take photos alongside them if you desire to do so.
---
Concluding paragraph
As aforementioned Sunshine City is a place that is full of excitement and great amusement for anyone to enjoy. J-World should most definitely be your first stop as it will lead you to a world of imagination and discovery. While much of your money will be spent in J-World, every dollar that you use will certainly feel worthy since there's no other place in the world where you can experience this.
Other great attractions that you can check out are the One Piece Cafe, the J-Carnival section where you can win small prizes, and Seek Dragonballs! where you can invade enemy territory with your dragon radar to collect all seven and summon the powerful Shenron. If you've visited J-World before and would like to share your own experiences, feel free to do so down below! Or if you haven't made your way over to Japan yet to experience it first hand, leave your questions and we'll be sure to let you know more.
As always, keep it locked here for more anime and hot spot entertainment. Leave a comment below and discuss your passions with everyone! Take care.
---