También puedes leer este artículo en:Español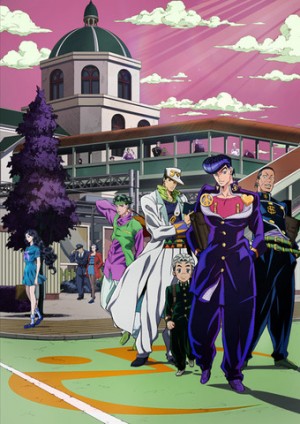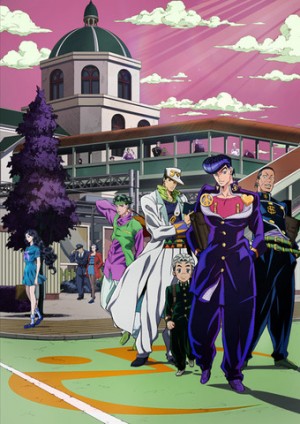 JoJo's Bizarre Adventure Part 4: Diamond Is Unbreakable

---
---
---
Honey's Highlights
I am beyond elated that this is going to be receiving three cours! 39 episodes! Can you believe it?
The best part? You do not have to have seen the previous three seasons to understand Diamond is Unbreakable! I do have to say though that I do enjoy Jotaro and Josuke the best among the characters!
Let me get this straight. It started in Spring of 2016 and will continue through Fall of 2016? They really hit the jackpot with this series.
Combine the two mighty genres of action and adventure and you have a recipe for success!
Synopsis
The fourth part of JoJo's Bizarre Adventure is set 11 years after DIO's defeat in Egypt. Jotaro Kujo visits Morioh Town in Japan to search for his grandfather's illegitimate child, Josuke Higashikata, and discovers that the boy also possessed a 'Stand' like himself. At the time of Jotaro's visit, mysterious incidents involving new 'Stand Users' were wreaking havoc across Morioh. To protect the peace of his hometown, Josuke and the crew stand to fight.
Characters & Voice Actors List
Josuke Higashikata

Voice Actor: Yuuki Ono
---
Joseph Joestar's illegitimate son. Much like other Joestars, Josuke has a tall muscular build. He has a strong sense of justice and is willing to sacrifice himself to save others in danger. Despite his looks, Joseph is very gentle and kind-hearted, however can get out of control when provoked. In particular, insulting his hairstyle will unconditionally make him go berserk.
Koichi Hirose

Voice Actor: Yuki Kaji
---
Josuke's classmate. Is small and somewhat unreliable, but through many battles he grows as a person, and is trusted by Josuke and the others. He is determined to protect those close to him, and fights alongside Josuke.
Okuyasu Nijimura

Voice Actor: Wataru Takagi
---
Simple and impulsive, but good-hearted. People always point out how unintelligent he is, and he himself admits that he gets headaches when he thinks too much.
Rohan Kishibe

Voice Actor: Takahiro Sakurai
---
A popular manga artist living in Moriou. Extremely selfish and arrogant. He is serious about drawing manga, and will do anything it takes in his pursuit for realism and new ideas. He's generally bad with human relationships, but when he gets to know Josuke and the others, he starts working with them to solve the mystery of Moriou.
Jotaro Kujo

Voice Actor: Daisuke Ono
---
The protagonist for the third part, Stardust Crusaders. Jotaro is currently working as a reputable marine biologist. While organizing Joseph's inheritance distribution, Jotaro discovered that Joseph had an illegitimate child in Japan. Jotaro visits Morioh to continue with the inheritance procedures, and also to track down killer Angelo.
Episodes
39
Theme Songs

Opening Song: Crazy Noisy Bizarre Town by The DU
chase by batta
Great Days by Karen Aoki and Daisuke Hasegawa
Ending Song: I Want You by Savage Garden

Adaptation

Manga


Main Staff

Original Creator: Hirohiko Araki
Director: Naokatsu Tsuda
Series Composition: Yasuko Kobayashi
Character Design: Terumi Nishii
Sound Director: Yoshikazu Iwanami
Music: Yugo Kanno
(Credit Honey's Anime when you use our description.)
---