There are always a lot of new names coming in and out of the anisong world, and one of the latest you may not know yet is Kashitarou Itou. Fear not; if this is your first time hearing his name, you're in exactly the right place. Kashitarou Itou is an artist with a lot of versatility that has just started to make contributions to the anisong world with his closing for Deca-Dence, "Kioku no Hakobune" (Ark of Memories) but he's done a lot of cool things before as well!
Today we are going to introduce you to the man in the mysterious fox mask, and reveal a bit of the mystery about who he is - or well, at least what he has done in the music industry!
From VOCALOID to Anime

Kashitarou Itou began as an "utaite," a word unique to Nico Nico Douga, a Japanese video sharing website. Utaite is a term that refers to singers who (usually) cover previously written songs and post them to Nico Nico Douga. He first came into the music scene under the name "weezer" in 2012 with "Namida ga Koboreru Mae ni," which was actually an original song (though he was still referred to as an utaite), and used the VOCALOID programme Hatsune Miku for the vocals. Still uploading as weezer, Itou continued to upload some acoustic covers and even more original VOCALOID-voiced music. For a while though, his work rarely had more than 10,000 views, even though it was well-received by those who did watch them.
Kasitarou Itou "Kioku no Hakobune" from DECA-DENCE
Since 2012, though, that has certainly changed. These days, Itou's videos have more than 80 million views. While he has since deleted his old Weezer account on Nico Nico Douga, his videos remain and continue to attract viewers and attention. By 2014, Itou was able to break out into the professional world and leave behind just being an internet sensation. He has released three albums and has been on the top ten Oricon rankings several times now with them. In 2018, Itou began to do live performances under the name "Kashitarou Itou," both in Japan and in China. He now has ten albums out - often more than one in the same year - with music he has produced, written, or performed!
Kashitarou Itou has a few interesting facts about him. His name is actually borrowed from his favourite Edo period samurai, though he replaced one kanji with one that means "lyrics" to have more meaning to him personally. He also rarely reveals his face to the public. Because he began his career on Nico Nico Douga using mostly VOCALOID music, he always had an avatar or an illustration to represent his music. He continues to follow this theme, often using manga-style art instead of photographs of him for his albums. When he performs lives, he always wears a Japanese-style fox mask to hide his real features. This is not uncommon in Japanese music as it allows musicians to also live normal lives outside of their careers as no one is likely to recognise them.
We haven't talked about anime yet, but that's only because Kashitarou Itou is new to the anime scene! While he's been a part of otaku circles for some time due to his work with VOCALOID music, he didn't become an anisong artist until 2020. He has since performed "Kioku no Hakobune," the ending theme for the anime DECA-DENCE. You can read more about his work with this anime on our recommended post below!
---
Final Thoughts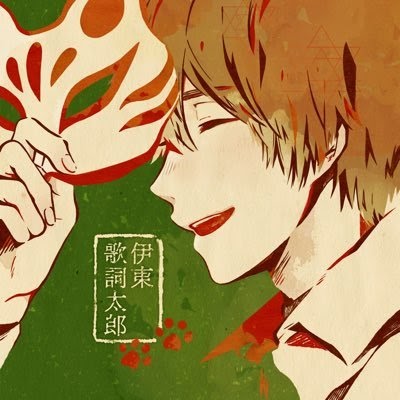 Kashitarou Itou is certainly an interesting artist. He has an interesting backstory, going from just covering songs on the internet to being a professional musician. He may be new to the anisong scene, but we hope to see more from him in the future. Best to learn his name now, and keep your eyes (and ears!) open for any future projects!
Did you know much about Kashitarou Itou before now? How do you like his latest anisong works? Are you going to keep tabs on his work in the future? Drop us a comment before you leave!
---