Love Live! Superstar!!

Genre:
Idol, Music, School
---
---
Official Images / Key Visuals
Synopsis
Yuigaoka Girls High School.
This new school is located between Harajuku, Omotesando, and Aoyama, and is accepting its first students this year.
The school has no history and is unknown to the rest of the world, however this is the school where Kanon Shibuya will start her school idol activities alongside her four friends. Her love for singing and her desire to achieve something through it is strong! These five girls have different hopes and wishes but together they can fulfill big dreams...
They begin their journey as idols at their new school, where everything is possible.
Characters & Voice Actors
Kanon Shibuya:
Date Sayuri
Hi. I'm Kanon Shibuya... Um... I'm not good at these things. But right, I'll tell you some more about myself. My birthday is May 1st and my family owns a café which I help out at sometimes. I'm really average. I'm not really good at anything in particular... What? Singing? No, no, no, no! It always makes me nervous... but I really love singing and cheering people up. I don't really have any dreams and I'm not good at any particular subject... Argh! I'm so plain! But, I hope that even if... or, no. I think there are things I can do because I'm so plain and average, and that's why I became a school idol.
Keke Tang:
Liyuu
Hello! I'm Keke, but people call me Kuku. So call me Kuku please. It's not cuckoo, it's Kuku! I always wanted to become a school idol, so I moved to Japan from Shanghai! I love chocolate bananas and napolitan pasta. Aaaaaaaaaaaaaaaaaand school idols! I'll do my absolute best to become a great school idol here in my mom's home country! I hope you will cheer me on, too! Let me hear it! One more time! Yeees! That's the spirit!
Chisato Arashi:
Nako Misaki
Hey! What's up! I'm Chisato Arashi. See, my real reason for joining this school was because I like to dance but then I met everyone else and before I knew it I was here, being a school idol. I used to think that I'm not really suited for it, but now I have found my place and I'm able to show off my dancing, as well. I absolutely love takoyaki and I work part-time at a takoyaki stand, so if you have time, come over and I'll prepare some for you!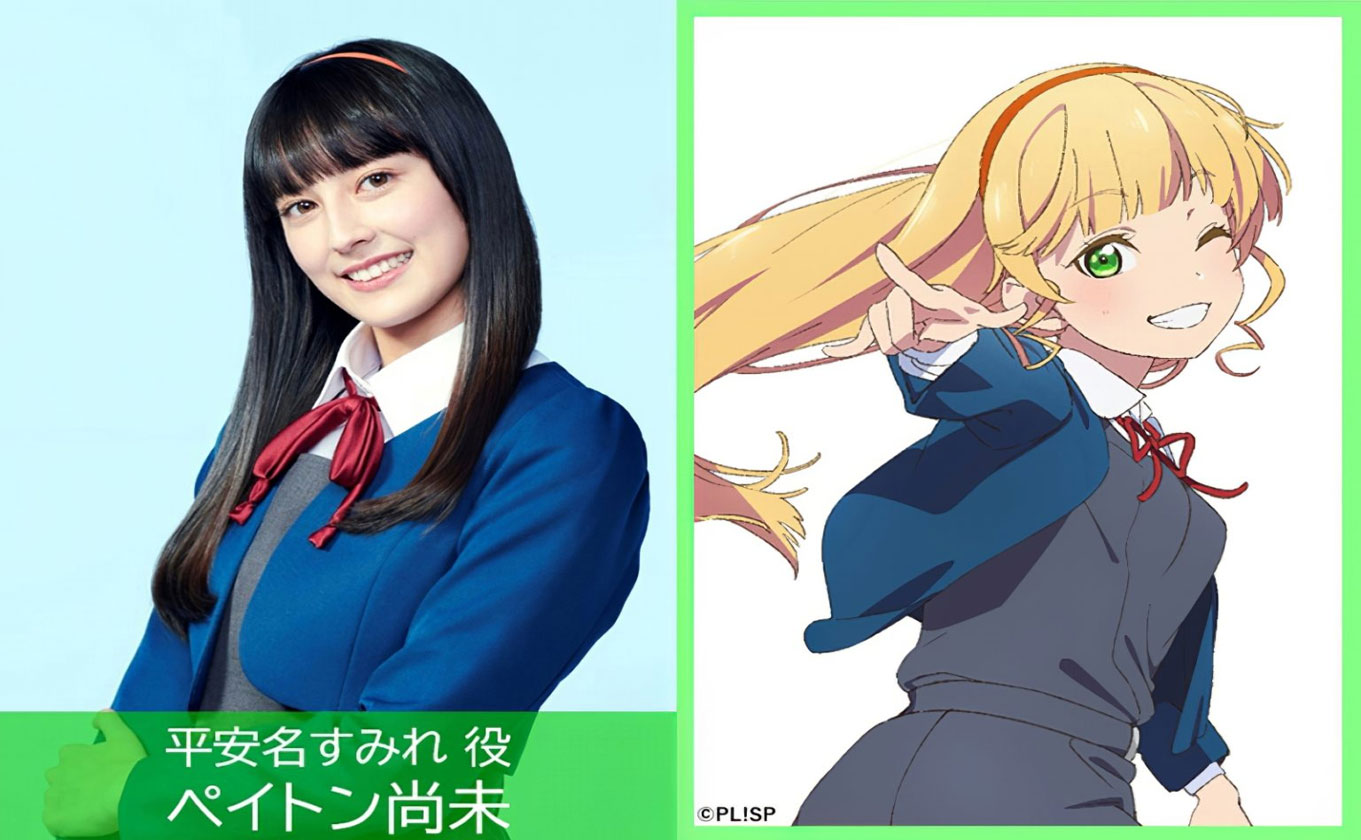 Sumire Heanna:
Naomi Payton
Hehe. It's finally my turn, I see? Don't worry about it, the star always arrives a bit late. I know everyone already knows who I am but I'll tell you anyway, I'm Sumire Heanna. Yes, that Sumire. I actually had meant to only focus on school and my private life, but once I started high school I ended up becoming a school idol. I post videos online as well, so please follow me there. Naturally I don't plan on letting my idol activities stop here. No. My dream is to become the country's... no, the world's... no, the most charismatic school idol in the entire universe! A galaxy idol!
Ren Hazuki:
Nagisa Aoyama
Hi. I'm Ren Hazuki. I'm glad you're interested in our school. I've lived in this city for a very long time, and my mother is one of the founders of this school. I'm devoted to becoming a good role model for other students at this school, not only in regards to studies but also manners and behavior. This way I hope our school will get more students who excel and eventually this school will be one of the more pristine schools in this city. I'll make sure this happens - it's not just empty words, it's my duty to make this dream come true. My favorite food is strawberries, but I don't really have that much of a preference.
Theme Songs

Opening Song: "START!! True dreams" by Liella!
Ending Song: "Mirai wa Kaze no Youni" by Liella!

Main Staff

Original Creator: Hajime Yatate / Sakurako Kimino
Director: Takahiko Kyogoku
Series Composition: Jukki Hanada
Character Design: Atsushi Saito
Original Illustrator: Yuhei Murota
Music: Yoshiaki Fujisawa
(Credit Honey's Anime when you use our description.)
---