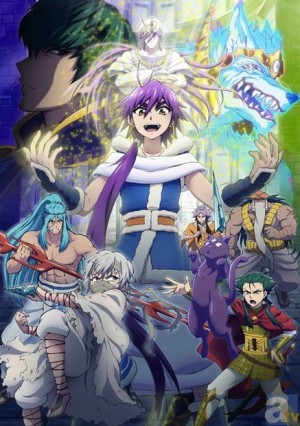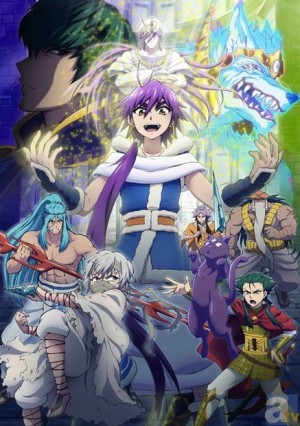 Magi: Adventure of Sinbad

---
Genre:
Action, Adventure, Fantasy
---
Airing Date:
April 15 2016
---
Synopsis
This is another Magi - a tale reciting the adventures of the young High King of the Seven Seas!
Adventure of Sinbad is a spin-off series that started serialisation as a continuation of the previous big hit manga from Ootaka Shinobu, Magi.
This story takes places thirty years before the events in Magi.
Sinbad, a young man who would later become known as the High King of the Seven Seas, grows as he experiences many meetings and farewells. Eventually, he plunges forward into the path that will make him a king.
Characters & Voice Actors List
Sinbad

Voice Actor: Daisuke Ono
---
A young man who lives in Tison, a fishing village in the Parthevia Empire. In order to get his hands on the King's Power, which can change the world of Parthevia, he attempts to capture the first Dungeon, Baal.
Yunan

Voice Actor: Akira Ishida
---
A wizard known as the Wandering Magi. Raised the first Dungeon and leads the way for Sinbad.
Badr

Voice Actor: Katsuyuki Konishi
---
Sinbad's father. A fisherman in Tison, when Sinbad was a young child, he went to war. He may have lost his left leg, but he was the sole survivor to return to the village.
Esra

Voice Actor: Yoko Hikasa
---
Sinbad's mother. She is ill and has a weak disposition, but she encourages Sinbad to journey to the Dungeon.
Baal

Voice Actor: Hiroki Touchi
---
Other Title
MAGIシンドバッドの冒険, Magi: Sinbad no Bouken
Airing Info

Legal Streaming:

Theme Songs

Opening Song: Spotlight by Penguin Research
Ending Song: Polaris by Fujifabric

Adaptation

Manga


Main Staff

Original Creator: Shinobu Ootaka, Yoshifumi Ootera
Director: Yoshikazu Miyao
Script: Taku Kishimoto
Series Composition: Taku Kishimoto
Character Design: Souichirou Sako
Animation Director: Souichirou Sako
Sound Director: Satoki Ida
Music: Tomohiro Ookubo
(Credit Honey's Anime when you use our description.)
---