What You Need to Know: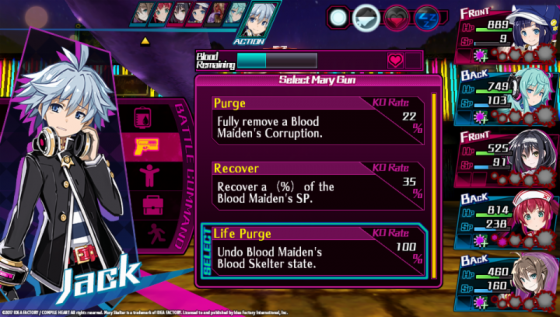 Conquer your worst fears and nightmares in Mary Skelter™: Nightmares, Idea Factory International's latest dungeon-crawling RPG, coming to the PlayStation®Vita system this September 19 (NA) and September 22 (EU)! It will be available as a digital and a physical release and compatible with the PlayStation®TV.
Down below you'll find a nice assortment of new screenshots, along with a pretty wicked trailer which details all the gameplay! Be sure to read up on some of the key features while you're at it!
Source: Official Press Release
About Mary Skelter: Nightmares
The Jail suddenly appeared a number of years ago, sinking the city deep into the ground. There, the Jail had power over eerie creatures called "Marchens."
Within the prison was a boy named Jack - living a life of suffering, tortured day in and day out, in a world where all dreams, hopes, peace, and humanity had been lost for as long as the people could remember.
Then one day, amidst the darkness that prevailed, a girl who called herself a member of the Blood Team came and rescued Jack from the prison. This marked the beginning of fate - of Jack's and the Blood Maidens' escape from the Jail...
Jack and the Blood Team will face countless perils in regaining all that has been lost, to finally escape once and for all!
Escape from the living Jail in Mary Skelter: Nightmares for the PlayStation®Vita system! Powerful Nightmares actively stalk the player as you run through the dungeon--fight back with the dungeons' gimmicks or the Blood Maidens' abilities! Using a turn-based battle system, class changes, a blood-licking transform system, and more, you and your party must solve the dungeons' mysteries and satisfy the prison's desires. You just might make it out alive!
Screenshots
Key Features
Mary Skelter: Nightmares Gameplay Overview (NA)

Walking Nightmares The dungeon-crawling RPG genre gets a twist when special enemies can chase you through the dungeons! Lay traps to make your escape, or try to take them down!
Blood-drenched Transformations! Characters can transform with stronger stats and extra skills, but if they fight too much they may enter Blood Skelter Mode, where they go completely berserk!
Everyone's got a Job Strategize your dungeon battles by assigning different classes to your characters, unlocking new skills, stats, and character portraits!
---
Dungeon Crawler RPG!?! Yes! Another game on the wish list for me!
Put me down there too Bombon! Let's play together!
---