Fists fly in this futuristic boxing series
Episodes : 13
Genre : Action, Sports, Sci-Fi, Shounen, Sports
Airing Date : April 2018- June 2018
Studios : TMS Entertainment
Megalobox (BRIEF) Introduction
Megalobox tells the tale of an underground fighter named Junk Dog who constantly is forced to take fall after fall in every fight he enters. With weak Gear--equipment boxers use in this futuristic world--and the constant need to lose, Junk Dog begins to question if there will ever be a time where he can truly show off his skills to the world. Luckily, fate intervenes and gives Junk Dog the ability to enter the real-world of boxing known as Megalonia where he can prove his skills aren't in just scamming fights for cash. Though the road to the top of Megalonia won't be an easy road for Junk Dog and even with his new "fake" name--Joe--he will have to prove a lot to those who seem him as nothing but another wanna be contender.
Why You Should Watch Megalobox
1. Sci-Fi Boxing
Megalobox might be—to many—another boxing anime like Hajime no Ippo, but the reality is that with the idea of Gears, Megalobox is quite interesting. Fists fly on screen and often have a stronger feeling to them as you witness the various warriors—with the exception of one—use Gears to launch brutal jabs and hooks at their opponents. Plus, since this is a boxing anime series, a lot of the downtime that you often see in boxing bouts are removed in favor of constant fighting. If real life boxers begin to use Gears to fight with…we might actually watch real boxing more often than we do now.
2. Amazing retro animation
What captured us immediately about Megalobox is the stunning animation style TMS Entertainment—the studio behind Megalobox—decided to go with. Megalobox looks like a series from the early 90s—the best example we can give is something akin to Cowboy Bebop—with a more modernized look in terms of animation. As older anime fans who can see the appeal of the "Golden Era" of anime, Megalobox just looks wonderful with strong character designs, fluid fighting scenes and backgrounds that just pop out with style. We might understand some newer anime fans could see this as a potential weak element to Megalobox, but we don't think that way here at Honey's Anime. Megalobox fuses an old and new style together to create a truly wonderful 13-episode series that just looks phenomenal.
3. Killer soundtrack
If the animation style of Megalobox is the right hook you can see coming, the music is going to be the hidden upper jab that will knock you out and leave you in a state of pure euphoria. With tons of rap, epic tunes and 80s inspired tunes—such as the opening song—Megalobox just bursts with flavor songs that we could listen to all day. We just have one question for TMS Entertainment. Will there be a soundtrack to Megalobox? Seriously, we would buy a soundtrack—and we know we aren't alone from forums and various tweets we see—right this moment if we could.
Why You Should Skip Megalobox
1. Predictable fights
Megalobox has at least several amazing fights which is quite impressive for a shorter series but a lot of these fights became battles that we knew who would stand as the victor. Junk Dog—the main series protagonist that becomes known as Gearless Joe later in the series—is your atypical underdog and like many boxing movies/series similar to Megalobox, this means he often rises up even when it seems like he should lose. The first few fights in Megalobox are hard to predict but once the pace picks up to the more serious boxing matches, you know who will win and why they will win. That's why if you dislike predictable anime, you might have a hard time watching Megalobox.
2. Gear concept is kind of underused
As we mentioned above, Joe becomes known as Gearless Joe later in the series for the obvious reason of removing his gear and just using his good old fists. While Joe's opponents do still use their Gear against him, we feel like the idea of Gears in Megalobox could have been better utilized. It's cool Joe goes old school smackdown on the fighters he goes up against by why even make the series implement sci-fi armaments like Gear and then remove it for the main protagonist? You could claim it's for the story—which it literally is—but equally Gear could have been skipped all together and we don't know if Megalobox would suffer without it.
---
Final Thoughts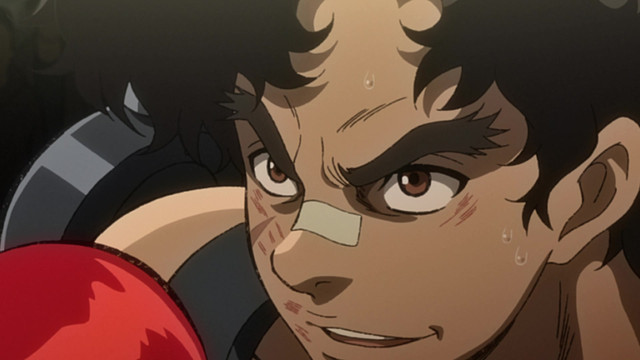 Megalobox might be a series that isn't perfect, but there are several amazing elements to it that require your attention. Solid animation, cool fights and an awesome soundtrack make for one heck of an experience. We just wish that a few things here and there could have been fixed to make this the perfect boxing series but even with those minor issues, Megalobox is easily one of the best anime series to come out in the spring 2018 season and we fully recommend checking it out. Agree with us or disagree? Let us know in the comments below as we love hearing your opinions, and for even more anime reviews, be sure to keep stuck to our hive here at Honey's Anime.
---