Studio Ghibli is the best known source of soulful movies and impeccable animation all over the world. The studio and it's capable directors have produced beautiful works of art over time and maestro Hayao Miyazaki has yet again introduced to us a film of soft human values and some heartbreak. As WIND mobile turns five years old, come celebrate with me, the latest Miyazaki movie, The Wind Rises or, in Japanese, Kaze Tachinu. A movie that explores the fates of the youth of Japan during a strife created by the The Great Kantou Earthquake that is swiftly followed by World War II. A movie that tells of dreams, hardships and love.
The Wind Rises/ Kaze Tachinu
Our main characters, Jirou Horikoshi and Naoko Satomi are lovers in a time of great political turmoil. They meet at a young age and separate quickly. Years later, while Jirou is pursuing his dream of following in the footsteps of the great Italian aircraft designer, Giovanni Battista Caproni, and designing airplanes of his own to aid Japan in Worl War II, he meets Naoko again. She is an unfortunate soul living in the countryside and painting her heart out.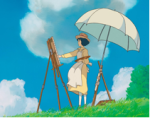 Why is she unfortunate? Does their love story succeed? How does the country's fate affect these two young people as they journey through life? Watch as Hayao Miyazaki takes you through a journey of resilience in the face of dire situations and fateful connections.
The artwork in this movie are beautifully-Ghibli. The attention to detail, the hand-drawn dedication and the rendition of natural beauty are all a trademark of this studio and Miyazaki as a director. Although, for quite some time this movie was hailed to be his last, Mr. Miyazaki has announced his return in the future years.
The Wind Rises is a breath of fresh air so to say, since it is a tribute to Mr. Miyazaki's admiration of and friendship with Mr. Caproni and the movie itself has a love-story-factor, unlike most of his recent work. And yet, the quality is ever present and satisfaction is guaranteed after an emotional rollercoaster ride. Accompanying this is the marvelous soundtrack by Joe Hisaishi and the haunting theme song titled Hikoukigumo or, Vapor Trail sung by the talented Yumi Matsutoya that leaves the viewer enchanted and strongly bond with the feelings of each character.
And dear readers, rest assured that even though the movie promises a gloomy time and grave background, little scenes of humor and earnest affection are ever-present and will keep you sated while you cheer for Jirou and Naoko and go on their journey. The voice-acting is lively and fitting. This movie is what we call a total package of quality, entertainment and message. And before I leave you with my review, I would like to remind you of the soft message this work of art provides in the word of Paul Valéry from his Le Cimetière Marin (The Graveyard By The Sea) that "Le vent se lève!... Il faut tenter de vivre! ("The wind rises!... We must try to live!")."
by wishingred