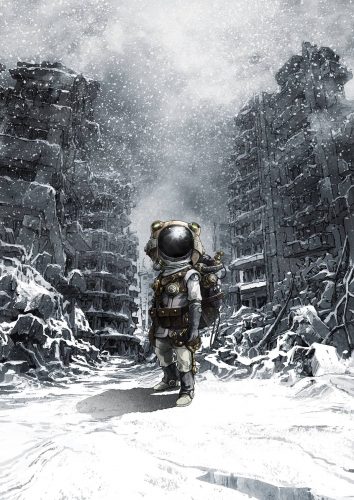 What You Need to Know:
Now normally, you may say "Wait but an anime movie has the movie itself, seiyuu, and musicians. How is this different?" What if there was a different way of seeing things? We all view anime at face value. But what if, the audio was raw? What if the audio was live? V vs S or "Voice Actor versus Silent Movie" is a special project that brings animated movies to an audience, but the kicker is that there is a stage. On that stage sit the seiyuu and musicians who all perform live for you. No editing. No re-dos. Everything is live.
The theme is "colors" for this show. COCOLORS is about humans who dwell in a world where both the sky and the earth are blanketed in an endless ash that continues to fall from the sky. This ash contains bacteria that can melt a human body. The main characters, named Aki and Fuyu, wear giant masks and protective full-body suits. They live in a city that was made deep underground. Aki and Fuyu daydream about what the sky must be like in the world that they have never seen. Within the story of COCOLORS, everyone must wear a mask, so in reality, they have no idea what each other looks like. They must guess what their "faces" or color looks like. The hints that they have to figure out those "colors" are voice, sound, and reflection.
This time, COCOLORS will be the featured work. It is coming to Tokyo for a rare 2 day live show! February 17th and 18th, you can have the chance to see this rare and unique version of storytelling! The director is Toshihisa Yokoshima, and the studio who has created COCOLORS is Kamikaze Nishiki Studios. Some of the featured seiyuu will be Yuuki Takada(Aoba from New Game), Sawako Hata (SKE48), Mutsuki Iwanaka, Mitsuhiro Ichiki (Yasusada from Touken Ranbu Hanamaru), Yuuki Kuawahara (Hokuto from Scorching Ping Pong Girls), and Maika Takai.
Be sure to check out a teaser video and visuals below!
Official Press Release
---
You see... this is for those of us who are able to look at the larger picture and realize there is a lot more depth than what we see on our screens.
Oh wow! This is something that is cool and I would love to experience something like this. It is so unique.
---