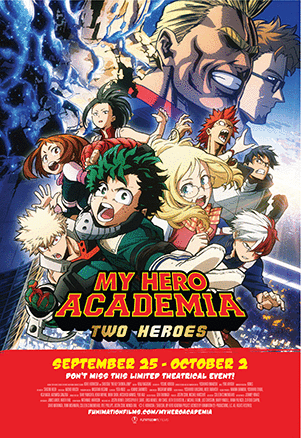 What You Need to Know:
The highly anticipated release of "My Hero Academia: Two Heroes" is just a month away and starting today fans across North America can now purchase advance tickets via the official movie website to screenings in more than 500 theaters across the U.S. and Canada. Buzz about this first feature film from the award-winning My Hero Academia franchise has anime enthusiasts clamoring across social media for the latest news and information about the movie. "My Hero Academia: Two Heroes" will have a five-day theatrical run, September 25, 26, 27, 29 and October 2, 2018, and will screen in both English dub (September 25, 27, 29) and Japanese with English subtitles (September 26, October 2).
To celebrate the opening of the film, Funimation Films will host the English dub red carpet world premiere on Thursday, September 13, at the Regal Cinema L.A. Live in Los Angeles, Calif. Special guests at the premiere will include English cast and crew, studio executives, industry personalities, other celebrity guests and prominent My Hero Academia cosplayers.
Source: Official Press Release
Synopsis
Our favorite young hero-in training is in for a wild ride when villains threaten the artificial moving city, I-Island. Deku and All Might receive an invitation to I-Expo, the world's leading exhibition of Quirk abilities and hero item innovations! Amid the excitement, sponsors, and pros from all over, Deku meets Melissa, a girl who is Quirkless just like he once was. Suddenly, I-Expo's top-of-the-line security system gets hacked by villains, and a sinister plan is set in motion. It's a serious threat to hero society, and one man holds the key to it all—the symbol of peace, All Might.
---
All I want to see is my waifu Momo! Give me Momo and Tsuyu!
Kero Kero! Tsuyu-chan!!! I can't wait to watch this movie!
---