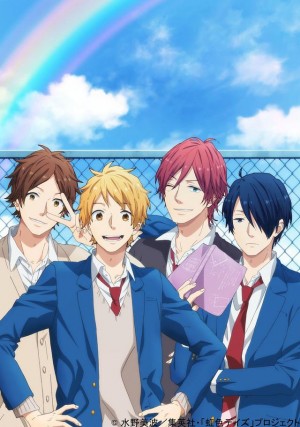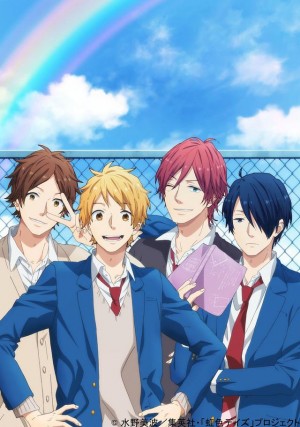 Nijiiro Days

---
Genre:
Shoujo, Romantic Comedy, School
---
Airing Date:
January 10, 2016
---
Synopsis
Natsuki, Tomoya, Keiichi, and Tsuyoshi are four classmates from Class Four in their grade. They always are hanging out. They don't participate in club activities and they finish their homework as fast as they can so that they can have fun and enjoy every day to the fullest. However, there is something minor that seems to be the focus of their conversations… It's about love and relationships!
Natsuki has unrequited feelings for Anna; a girl in another class. The other guys tease him about it and it is a bit of a hassle, but maybe it's worth it!?
Characters & Voice Actors List
Natsuki Hashiba

Voice Actor: Yoshitsugu Matsuoka
---
Natsuki acts like he's just daydreaming. Because he does this, everyone tends to give him a hard time. His nickname is Nacchan.
Tomoya Matsunaga

Voice Actor: Takuya Eguchi
---
Tomoya is a flashy and showny narcissist who is a big hit with the girls. He does, however, enjoy helping others. His nickname is Mattsun.
Keiichi Katakura

Voice Actor: Nobunaga Shimazaki
---
Keiichi is the guy who is good at all sports. Yet, he's a gentle guy. In reality though he's a massive sadist and he always a rope or chain nearby to beat himself with. His nickname is Keichan.
Tsuyoshi Naoe

Voice Actor: Kouki Uchiyama
---
Naoe has very good grades and he's an otaku. He has a girlfriend. His nickname is Tsuyopon.
Anna Kobayakawa

Voice Actor: Minami Tsuda
---
Anna is the object of affection from Natsuki. She's rather quiet and does things at her own pace.
Mari Tsutsui

Voice Actor: Yumi Uchiyama
---
Mari is Anna's beautiful friend. Mari tends to fight like cats and dogs with Mattsun.
Yukiko Asai

Voice Actor: Shizuka Ishigami
---
Yukiko is a strong girl. Her nickname is Yukirin and she does cosplay.
Nozomi Matsunaga

Voice Actor: Ai Kayano
---
Mattsun's younger sister.
Other Title
虹色デイズ, Rainbow Days
Airing Info

Legal Streaming:

Theme Songs

Opening Song: Best Friend by Sonar Pocket
ONE-SIDED LOVE by Sonar Pocket
Ending Song: Rainbow Days! by Kouki Uchiyama, Nobunaga Shimazaki, Takuya Eguchi, Yoshitsugu Matsuoka
Arch by Yoshitsugu Matsuoka
I wanna be your knight by Takuya Eguchi
Catch me if you can! by Nobunaga Shimazaki
Soba ni Iru kara by Kouki Uchiyama
Hallelujah! Shinin' Days by Yoshitsugu Matsuoka, Takuya Eguchi, Nobunaga Shimazaki, Kouki Uchiyama

Adaptation

Manga


Main Staff

Original Creator: Minami Mizuno
Director: Tetsuro Amino
Assistant Director: Tomihiko Ookubo
Series Composition: Aki Itami
(Credit Honey's Anime when you use our description.)