También puedes leer este artículo en:Español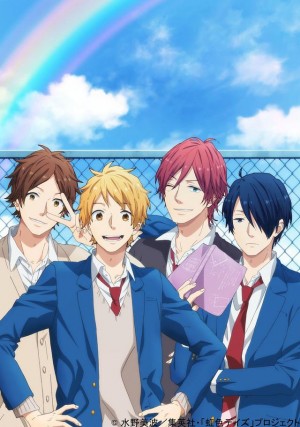 This winter season has been pretty great in regards to the quality of the anime, hasn't it? There are many anime shorts as well this season. Nijiiro Days proves to be no different in quality with its combination of slice of life, school life, and rambunctious characters; it's hard not to love the anime! As a bonus, it's one of the few slice of life anime actually centered on male students. How awesome is that?
If you're looking for the same type of comedy and entertainment, you've come to the right place. Here are 6 anime like Nijiiro Days!
Similar Anime to Nijiiro Days
1. Danshi Koukousei no Nichijou (Daily Lives of High School Boys)

Episodes: 12
Aired: January 2012 – March 2012
Danshi Koukousei no Nichijou follows the lives of 3 students at Sanada North High School, an all boys' academy. Follow them through their daily lives as they let their imaginations run wild and do all the things that high school boys do.
If you are looking for some slice of life goofiness, you will definitely get your fill with Danshi Koukousei no Nichijou. Like Nijiiro Days, Danshi Koukousei no Nichijou stars a male cast and their everyday lives involving whatever it is boys do. The comedic stylings are similar as each character has his own unique personality to add to the mix of silliness. You will find that Danshi Koukousei no Nichijou may be one of your new favorites in the genre of slice of life. How can you even resist?
Daily Lives of High School Boys - Official Trailer
---
2. Kimi to Boku. (You and Me.)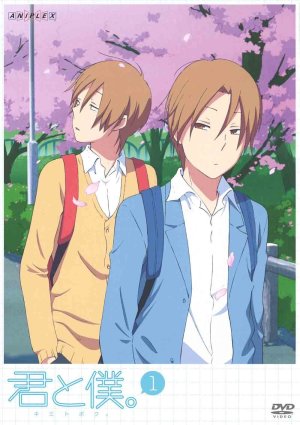 Episodes: 13
Aired: October 2011 – December 2011
This is the story about the ordinary lives of Asaba twins Yuuki and Yuuta, Matsuoka, and Kaname who are all childhood friends. Now, they have a new transfer student who's about to make life more interesting.
What are you looking for in an anime? Slice of life? Comedy? School life? Maybe some drama? You will be surprised that you can find all that in Kimi to Boku.! These boys will keep you entertained with their entertaining personalities and carefree attitudes. Kimi to Boku. will bring back the fun of Nijiiro Days in a new anime with new characters. You have to appreciate a good slice of life anime with a male cast; there are just too few of them!
Kimi to boku PV
---
3. Working!! (Wagnaria!!)

Episodes: 13
Aired: April 2010 – June 2010
Takanashi Souta loves cute things and cannot deny a request made by the adorable Taneshima Popura who has asked that he work at Wagnaria!!. Now, he finds himself working at Wagnaria!! amongst an odd group of people all with their own idiosyncrasies that make this job a lot more interesting than it first appeared!
Working!! is just one of those slice of life anime that never gets tiring. Just look, there are three seasons! Now Working!! plays off of the same slice of life genre that Nijiiro Days has but utilizes in a working background. The characters are all really goofy and while there is some romance in Working!!, you will find yourself shouting at the characters with frustration during some moments the way you would with Nijiiro Days. Still, the plot is cute and ever so fun to watch. Who knew a cast of oddballs would work so well together? Do not forget to give Working!! a chance!
WAGNARIA!!2 Second Series - Official Trailer
---
Any Animes Like Nijiiro Days ?
4. Gekkan Shoujo Nozaki-kun (Monthly Girls' Nozaki-kun)

Episodes: 12
Aired: July 2014 – September 2014
Sakura Chiyo has had a crush on Nozaki Umetarou, but when she confesses to him, he thinks she's a fan. Apparently, he's a shoujo mangaka writing under the alias Yumeno Sakiko. Now, Nozaki has invited her to his house to help him with his work! Chiyo thinks that working with him will allow her to get closer to him. In the meantime, Chiyo is slowly starting to learn the inner workings of a manga and her schoolmates who have inspired the characters!
Gekkan Shoujo Nozaki-kun is an anime whose main protagonist is often forgotten in favor of Nozaki, who seems to hit all the right punch lines without meaning to. Gekkan Shoujo Nozaki-kun features a group of guys and their issues with the troublesome women in their lives and how they cope with that aspect of their lives while working together to make a great shoujo manga. The humor is a bit different, Gekkan Shoujo Nozaki-kun is an anime you can't get through without cracking up into laughter. If you like Nijiiro Days, you will love Gekkan Shoujo Nozaki-kun!
[PV] TV anime "Monthly girls Nozaki-kun" PV 2nd!
---
5. Ouran Koukou Host Club (Ouran High School Host Club)

Episodes: 26
Aired: April 2006 – September 2006
Fujioka Haruhi has joined the prestigious ranks of Ouran High School as a scholarship student. At Ouran High, the students are amongst the highest order. In the search for a quiet place to study, Haruhi stumbles upon the Ouran High School Host Club where Haruhi accidentally destroys an expensive vase worth eight million yen! From the club's dog to a host, Haruhi must work to pay off the debt, but here's the thing: Haruhi is actually a girl! Now, Haruhi must hide the fact that she's a girl or spend the rest of her life paying off the debt as the host club's dog!
Is there any group sillier than the Ouran High School Host Club? This group of boys likes to meddle in people's love lives, toy with people's emotions, and get into as much trouble as possible while holding all the cards in their favor. If you're looking for a fun group of boys with some flair in their humor, you have got it in Ouran High School Host Club!
Ouran High School Host Club Official Trailer
---
6. Starmyu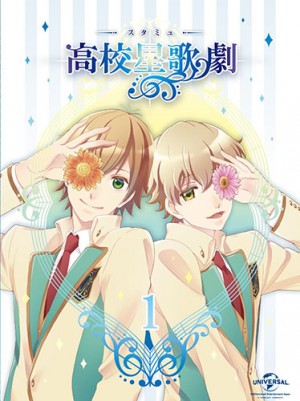 Episodes: 12
Aired: October 2015 – December 2015
Starmyu is the story of 5 high school students who are trying to make their way into the prestigious Ayanagi Academy musical department. This involves being accepted into the Star Frame Class, which is under the tutelage of the Kaou-kai, the most talented amongst the Ayanagi Academy musical department. One day, they hit a stroke of luck as one of the Kaou-kai members, Ootori Itsuki becomes interested in them.
If you are looking for a group of guys who are just learning about friendship and what it means to work together, Starmyu is your anime! Much like Nijiiro Days, Starmyu shows you the camaraderie between a group of boys who are learning the true meaning of friendship despite all of their differences. You will get to see how these guys joke around and tease each other in an anime all about working together as friends!
スタミュ120秒PV【A】
---
That concludes our list of 6 anime like Nijiiro Days! Hopefully you have found a few new series to add to your anime queue. We know how hard it is to find a good anime to watch so please do enjoy.
Now, if you have a few selections you would like to suggest, feel free to let us know in the comments below. Let us all help each other find a good anime to watch, alright?
---