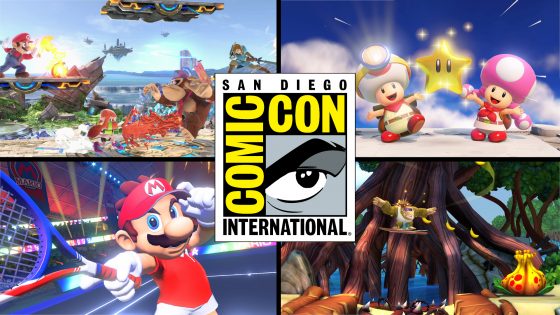 What You Need to Know:
Nintendo is headed to this year's San Diego Comic-Con from July 19 to July 22 with many fun Nintendo Switch games, including the upcoming Super Smash Bros. Ultimate game, as well as a host of fun activities perfect for fans of all ages.
At the Nintendo Gaming Lounge, located in the San Diego ballroom of the Marriott Marquis & Marina adjacent to the San Diego Convention Center, attendees will be able to get hands-on time with hot Nintendo Switch games like Super Smash Bros. Ultimate, Mario Tennis Aces, FIFA 19, and Super Mario Odyssey.
Fans can also get their groove on with Just Dance 2019 from Ubisoft, featuring a special dance floor. For preview night badge holders, the fun starts on July 18. Fans will even be able to get a feel of the new Poké Ball Plus controller that will be used with Pokémon: Let's Go, Pikachu! and Pokémon: Let's Go, Eevee!, launching for Nintendo Switch on Nov. 16.
In addition to fun games, parents and kids visiting the lounge will be able to take part in a family-friendly challenge in Donkey Kong Country: Tropical Freeze, and take memorable and shareable photos in front of a colorful backdrop inspired by Captain Toad: Treasure Tracker.
Fans who want a chance to skip the lines to play Super Smash Bros. Ultimate can tweet the Nintendo of America Twitter account (@NintendoAmerica) with the hashtag #BringMeSmash. If one of Nintendo's roaming teams sees the tweet, they might show up with a golden ticket to allow the tweeter to skip the lines and get hands-on time with the game in the Nintendo Gaming Lounge.
Source: Official Press Release
---
SDCC is going to be a blast this year, with all of these playable titles there!
Oh yeah I'm totally going to be playing Smash Bros. Ultimate hands down!
---