Comic Con is a name synonymous with big celebrity guests, incredible cosplay, amazing panels, and of course Stan Lee. When the event finally came to Tokyo last year in 2016, it was immediately embraced by Japanese fans. It doesn't have the size of San Diego Comic Con of course and is still much smaller than events like Comiket and Tokyo Game Show in Japan. But that doesn't mean it's not worth going to! In only its second year in Japan, Comic Con is already growing and growing, with a huge attendance, great atmosphere, and plenty of things to see.
And of course, Stan Lee is there, too! It wouldn't be a true Comic Con without him after all. Tokyo Comic Con has managed to really embrace Western media like Star Wars, Marvel, DC, and Harry Potter - while still mixing in some Japanese animation and characters as well. Both foreign and Japanese special guests attend, and the crowd is a mix of foreigners and locals too. Overall it gives Tokyo Comic Con a very international and fun vibe of bringing everything together in one big party.
And that party is incredibly fun.
Basic Info
Establishment
2016
Length of event
3 days, held in December
Place / location
Makuhari Messe
〒261-0023 Chiba Prefecture, Chiba, Mihama Ward, Nakase, 2−1
Cost
¥3200 (advance), ¥3500 (at the door)
Tickets do not include autograph or photos with celebrity guests – separate tickets must be purchased
Only one-day tickets are available
Hotel
Tokyo Comic Con is held at Makuhari Messe, a large convention complex a short distance from Kaihimmakuhari station. Because the venue is used for so many events throughout the year, there are a lot of hotels in the immediate area. Be warned that most of them are business and luxury hotels, so they aren't going to be cheap – but you can walk to the event! However, staying anywhere in East Tokyo including the Tokyo Station area puts you at easy access of less than an hour by train. If you're visiting Tokyo, why not stay in the Maihama area which is between Kaihimmakuhari and Tokyo, and take a trip to Tokyo Disneyland too? With that attraction also nearby, you can bet there are a plethora of hotels around Maihama as well.
---
Company/Event Message for Fans/Attendees

"Stan Lee, the creator of "Spiderman" and "X-Men", who later became the chairman emeritus of MARVEL, had brought revolution to the American comic industry. Stan Lee, the "Father of pop culture", encountered the king of technology, Steve Wozniak, aka Woz, who was one of the co-founders of Apple Inc. This triggered a chemistry between the two legends, which led to the "Silicone Valley Comic Con" (U.S.A ). Meanwhile, Woz had advocated the idea of "Tokyo Comic Con" and this was where it all began. Stan Lee had been summoned as the honorary goodwill ambassador, Daniel Logan as the first goodwill ambassador. Japanese actor Ryoma Takeuchi had also been called upon to raise excitement. On December 2016, the event made its way as Tokyo Comic Con 2016 and had closed out a stunning success.
"In close relation to "Silicon Valley Comic Con" organized by Woz, Tokyo Comic Con is a festival celebrating Japanese and American pop culture, while keeping its genetic "American" style foundation. Unlike other existing comic, film, animation festivals or game shows, this is a place where everyone can share and enjoy the revolutionary and enthusiastic experience. The event is friendly to all generation, from the youngest to the eldest, and everyone will surely have their intellectual curiosity aroused! This year, the enhanced Tokyo Comic Con is coming back with its latest updates… So don't miss it."
Tokyo Comic Con official English website - http://tokyocomiccon.jp/english/index.html
What to Expect

Tokyo Comic Con lasts for three days. All of the days will have the same exhibitors and vendors, but the special programming on the main stage changes every day. For example, in 2017 the Star Wars cosplay showcase was on Saturday, and the Marvel one was on Sunday. The event schedule is released in advance, so be sure to check it to decide what day is best for you to attend! Remember that only one-day tickets are available, so it's important to plan in advance. If you want to get an autograph session or photo with a celebrity guest, advanced tickets do sell out. So your day of attendance might also be determined by what day you can get a time slot for as well.
Tokyo Comic Con attracts a large variety of people. While the crowd is mostly Japanese, there are also a large number of foreigners in attendance, too. A unique part of Tokyo Comic Con is that many exhibitors and artists are also foreign, which is uncommon at most other Japanese events. It means that Tokyo Comic Con is very English-friendly, so you don't have to worry much if your Japanese isn't great. A lot of the exhibitors also speak English, and quite a few of the staff do as well. Even some of the food vendors were foreign! This helps to give Tokyo Comic Con it's very special international atmosphere. And of course, it's fun for the entire family! There were people of all ages enjoying the convention, including young children. And since there are plenty of toys for sale and to try out, everyone was happy. Be aware that if you plan to bring a pram, the hall is pretty crowded.
Despite all being in one big hall, there's plenty to do for everyone at Tokyo Comic Con. A large part of the event is vendors selling all kinds of merchandise, from t-shirts and jewellery to toys and props, and more. There is also a small artist's alley area with people selling their original artwork. A massive stage takes up one corner of the hall with various programming throughout the weekend. There are video games to try out and so many photo opportunities. Many guests cosplay from their favourite series. And of course, there's the chance to meet your favourite celebrity guest! Tokyo Comic Con 2017 hosted Stan Lee, Karl Urban, Michael Rooker, Nathan Fillion, Mads Mikkelsen, and Steve Wozniak.
---
What to Bring in Order to Enjoy the Event

Tokyo Comic Con, like any big event, attracts a large crowd. You can expect to spend a lot of time queuing to see what you want to see and weaving through a lot of people. It's important to only bring what is necessary with you, or be prepared to pay for a cloakroom fee. Conveniently, Tokyo Comic Con 2017 provided all guests with a large event backpack when they entered, so most people used it to store whatever items they picked up throughout the day. But we still advise packing lightly, and here are the essentials you don't want to forget to bring!
A Camera
Of course, if you're going to Comic Con you need to bring a camera! There are so many photo opportunities you'll be disappointed if you don't. Of course, you will not be able to take photos of the celebrity guests when they are signing autographs, doing paid photo ops, or on the main stage. But nearly everything else you're welcome to take a picture of. Comic Con has a plethora of photo op places holding props like lightsabers or signs, and with cool backgrounds, statues, and professional cosplayers. There are also a lot of props from movies you can take photos of or with, along with concept sculptures, art, and more.
Finally, many exhibitors are even willing to let you take photos of their products and booths, just be sure to ask first! They're very likely to say yes. The same goes for cosplayers! Many attendees come to Comic Con to cosplay and they look incredible. Always ask before taking a cosplayer's photo, but if you're polite they're usually happy to give you permission. It might be your chance to get a picture with your favourite character! No matter what, you're going to be disappointed if you don't bring a camera, so don't forget it at home, or make sure your phone is charged.
Money
Most of Comic Con is a giant dealer's hall, with a huge number of exhibitors selling their wares. A lot of the stuff you can buy is on sale exclusively or for the first time. For many exhibitors, it's one of the only chances to see their goods in person rather than just online. Whether you want to spend a lot or just a little, you're very likely to find something that you want. Besides buying merchandise, there's also a reasonably priced food court inside. Expect to spend around ¥1000 on your meal, so save money for that. If you want to buy a photo op with your favourite celebrity guest or an autograph session, be sure to check the prices in advance to be sure you have enough for the limited tickets!
Remember, Japan is primarily a cash-based society. Some of the larger stands and those selling extremely expensive merchandise (like jewellery) will take credit card. But many will only take cash, especially smaller booths and in artist's alley. And inside the exhibition hall there is no ATM, so you will have to exit and find one outside if you need to (which is what happened to me, so don't make the same mistake!).
Something to Show Your Allegiance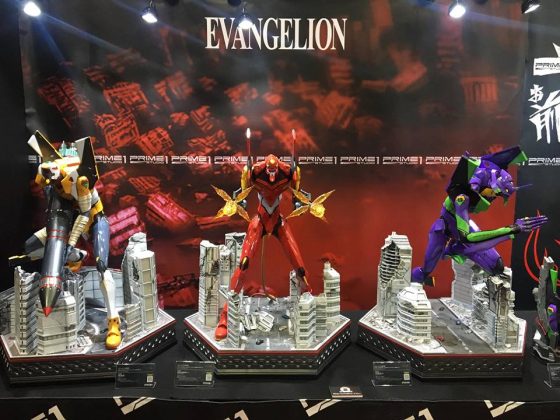 Whatever it is you're most interested in at Comic Con, wear something to show it! Of course, you can go all out and cosplay your favourite character, which leaves no doubt in anyone's mind what you're doing there. But if you want to be more casual, be sure to wear your favourite t-shirt or cap, or bring your bag decorated with pins and key chains. Fans and exhibitors alike are really friendly at Comic Con, and its the easiest way to make some new friends or get an exhibitors' attention. It's also just fun to let other fans know exactly where your loyalties lie, and a chance to show your pride!
If you're going to meet one of the celebrity guests, dress accordingly! They love seeing your cosplay or t-shirt of the character they portray, and it can be an instant ice-breaker if you're nervous. They're likely to comment on it, and of course will be happy to see which of their characters you're the biggest fan of. Plus you're going to cherish that picture of you in your Spider-Man suit next to Stan Lee forever, and those are memories you can't replace with anything.
---
What to Do While There/What is Available

Tokyo Comic Con has plenty to do, which is why the event lasts for three days! You can see most everything in one day though as long as you plan what stage events you want to see, so don't worry too much. But during that day, you'll definitely be able to keep busy. There's an incredible amount of merchandise to buy, and something for every budget. From affordable keychains and mugs to insanely expensive jewellery and sculptures, there's plenty to browse through and check out. A lot of merchandise is unveiled at Comic Con as well, such as upcoming toys or SEGA arcade prizes, so it's cool to see them first. The Saturday of Tokyo Comic Con was also the release of Wonder Woman on Blu-Ray in Japan, so of course, Tsutaya's booth was selling it! And don't forget to check out the artist's alley section of the floor, with both Japanese and foreign artists selling their original works. If you want something really unique, some booths were even offering themed temporary glitter tattoos and fake nails.
Even if you don't want to spend extra money, there's also a lot of props and replicas from famous films you check to see. Tokyo Comic Con hosted a DeLorean from Back to the Future, a helmet from Jurassic Park, Walt Disney's favourite chair, a costume worn by Lady Gaga and more. There were also a lot of props and sculptures from the Alien series, along with plenty of other cool monster and science fiction things. An entire booth just had samurai swords to check out (and potentially buy), and another let you try out airsoft guns while shooting at virtual zombies. There were plenty of highly detailed figures and sculptures from anime, movies, and games to get an up-close look at. Some were life-size and others miniature, but all were amazingly detailed.
The main stage had a different event going on nearly every hour. Most of these events are run in Japanese, but they're fun to watch regardless of your language ability. There were a few talk shows from companies and promotions for new films, and some of the stage shows even had celebrity guests. We attended the Star Wars Cosplay Showcase and the Cosplay Fashion How-To Showcase, both on Saturday. Both of these events featured a lot of incredibly talented cosplayers who did short performances on the stage, talked about why they loved their character and were entered into a lottery to possibly win epic prizes. Both showcases were very well-attended by con-goers who were excited to see these talented cosplayers on the big stage. Be aware that some events on the stage do not allow photography aside from the press, so be sure to listen and check the signs depending on the event.
When you needed a break and felt hungry, Tokyo Comic Con had its own food court right on the main hall floor! It had a wide variety of food, from simple baked potatoes and hamburgers to elegant and expensive beef sushi. There was even Domino's pizza! There are no chairs provided, but plenty of high tables to stand at for a bit and people watch while you enjoy your food. Most of the booths had meals for around ¥1000, so you don't have to break the bank just to grab a bite of good food to eat. The curry we had was amazing! In the middle of the event, there was also a special DC-themed cafe with Batman and Superman burgers alongside themed drinks. The queue for it was long, but the food was definitely one-of-a-kind and ready for your Instagram or Twitter.
As we mentioned above, there's the opportunity to meet celebrity guests as well. For an additional fee (it varies by the guest), you can have an autograph session with them or take a picture together. Tickets are limited, and while some were sold on the day, if you really want time with your favourite guest it's better to get tickets in advance. There are no personal photos allowed in the celebrity guest area, but you never know when you might be lucky and run into someone when they're exploring the convention. We were fortunate enough to see a very friendly Michael Rooker while he was checking out the samurai sword exhibitor! There are also a few Japanese celebrities attending as well, so if you're a fan of Japanese films or TV, be sure to check who you can meet.
---
Cosplay

Of course, a huge part of Tokyo Comic Con is the cosplay! And despite the event only being two years old, guests really brought out their best works. The most popular things that were cosplayed at the 2017 event were Star Wars, Marvel, and DC. But there were also fans wearing cosplay from Harry Potter, Pirates of the Caribbean, Sailor Moon, Mad Max, Rick and Morty, Star Trek, Fullmetal Alchemist, and more! Tokyo Comic Con also hosted plenty of cosplay events on the main stage, from cosplay showcases to contests to fashion shows. All of them were extremely well-attended.
For guests planning to cosplay at Tokyo Comic Con, it's important to know the rules in advance. As with all cosplay events in Japan, you can't turn up to or leave the event wearing your cosplay. You have to change into everything at the venue in the specified cosplay cloakrooms, and change out again when you prepare to go home. The cosplay changing fee is an additional ¥500, and then another ¥500 to store your bag or suitcase near the changing area. This is very standard practise at Japanese events and Tokyo Comic Con is no different, so be sure to respect it. The rest of the cosplay rules about costumes, props, and more are all available in English on the Tokyo Comic Con website. As with any event, be sure to read and understand them before making any cosplay plans!
As for just seeing cosplayers, Tokyo Comic Con had them everywhere! Many will pose for a picture for you if you simply ask, and are happy to talk about their characters or even how they made the costumes. A lot of cosplayers take advantage of the provided large backdrops to pose for awesome pictures as well. You never know when you might get the chance to grab a picture with your favourite character! The level of craftsmanship and commitment to accuracy at Tokyo Comic Con was staggering.
---
Final Thoughts
Tokyo Comic Con may only be two years old, but that doesn't keep it from being a major event. With famous celebrities in attendance, cosplayers showcasing their finest skills, real movie props to see, and plenty of merchandise to buy, Comic Con is growing fast in Japan. Japanese people will always love their animation and games, but they also love Western media and there is a growing fan base for it in Tokyo. Comic Con has managed to tap into that while also appealing to foreigners, creating a fun and international event that feels very different from other Japanese conventions. And that unique feeling is what makes Tokyo Comic Con more special. Stay tuned for where the event goes in the future!
Did you get a chance to attend Tokyo Comic Con this year? How did you enjoy the event? Would you like to go someday, and what would you like to see? How does Tokyo Comic Con compare to western conventions or other Japanese events? We would love to hear all of your comments in the space below!
---