Let's face it, everyone has a wish list of things that they want but maybe don't necessarily need. Otaku are no exception, and it's not unusual for us to have wish lists of otaku goods. After all, there are just so many strange and interesting things out there catering to the unique needs and interests of otaku.
When we saw these new items, we immediately wanted to add them to our own wish lists of things we didn't know we needed but now that we have seen them we definitely do! And because we saw them and want them and want to drop our money on them, of course we have to share them with you. So here are the latest things you can add to your wish list; you may not have known they existed before now but you definitely need at least one of them.
Gamer Refuelling Jelly

There are a lot of different jelly drinks available for sale in Japan meant to give you an energy boost, some extra protein, rehydration, vitamins and minerals, and more. Some of them can even stand in for a meal now and again. Regardless of why people buy them, they're readily available and good for when you're in a pinch and need a little pick-me-up. And now, the popular Japanese food company Morinaga has made a new jelly targeted specifically at gamers called Game Booster.
This blueberry-flavoured jelly packet is advertised as a refuelling tool for gamers of all types, from eSports players to mobile players and everything in between. Delivering vitamins, energy, and hydration in an easy to drink packet, and only 180 calories, Game Booster is great for a quick break between levels.
Game Booster is available exclusively on Amazon Japan and comes in a pack of 6 for around $15 USD or 36 for $95 USD.
Anime Girl Soap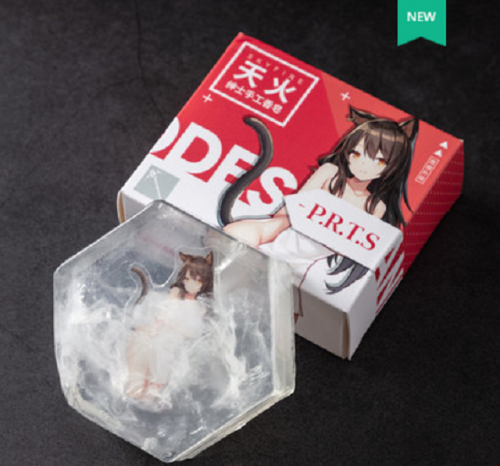 If you have ever wished you could have an anime girl of your very own in the shower, well, your wish has been granted. Based on the characters in the Chinese RPG Ark Knights (published in Japan by Yostar), there's a brand new soap on the market complete with an acrylic hentai girl inside. The soap is even cloudy in just the right places to mimic the censorship usually depicted in hentai—and it slowly clears up as you use the soap! It's a great motivation to jump in the shower with one of these cute girls and eventually get a great prize after enough baths together.
Though already out of stock due presumably to their popularity, they are available through the Chinese marketplace Tmall so keep checking back if you want to grab some!
The Ultimate Gaming Bed

Have you ever wanted to play video games while simultaneously never getting out of bed? Well, with the new gaming bed from Bauhutte, you can! Bauhutte is a company famous for making dream gaming set-ups, but they have truly outdone themselves this time. This bed lets you lie down or lounge with your screen right at the foot, with a handy rack for your snacks and drinks right beside you for easy access. It's a desk and a bed combined into one amazing product that lets you game, drink, and snack from the comfort of your bed! At around $1200 USD, it's not a cheap investment, but with how much time you could feasibly spend there, well. Maybe it's worth the price! The ultimate gaming bed is available for preorder on Bauhutte's website.
---
Final Thoughts

Whether you're a gamer or an anime fan, we hope you have enjoyed checking out some of the newest otaku goods maybe you didn't even know existed—and now probably need to have! Even if you don't, at least it's fun to know that these products are out there. And someone is buying and enjoying them, which is the most important thing.
Do you want to have any of these items? What's on your otaku wish list? What kind of things would you love to see? Let us know in the comments!