Fashion shows are an event for fashion designers to showcase their new collection of clothing for the season. A typical fashion show has catwalks where models, wearing designer clothes, walk through as the audience from different fashion and showbiz industries surround it. The most prominent and influential cities, when it comes to international fashion trends, are Paris, Milan, London and New York. These cities hold fashion week's where they organize various fashion shows for different top designers.
The society and the culture affect the different fashion trends; it has varied over time and place. A fashion designer is capable of designing clothing for its function as well as pleasing to one's style. An effective designer can adapt to societies needs and is someone who knows what is wearable for a specific season and place. If you're one of the world's future fashion designer or just a simple fashionista, check out these two anime that will surely tickle your imagination.
Paradise Kiss

A group of fashion design students who run their own clothing line called, "Paradise Kiss", was once scouting for a model who would best complement their style. They came across Yukari Hayasaka, who they referred to as "Caroline". She's an upcoming college student and a beautiful young lady who still isn't quite sure what she wants to do with her life. Yukari, known for her grumpiness and snobbish attitude, found herself one day frustrated with her repetitive, unambitious and undirected life.
So when Yukari and the members of Paradise Kiss/Parakiss collaborated for a project, her attitude towards the group suddenly changed. She admired them for their hard work and passion for fashion; the group inspired her to make something out of herself, which they all supported. In the end, she falls in love with the leader of the group, George, but he left for Paris to pursue his career in fashion design.
A bittersweet ending for our main character, Yukari. But on a positive note, she was given the wake up call that she needed, to finally work something out for her life.
Episodes: 12
Aired: Oct. 2005 - Dec. 2005
Gokinjo Monogatari
[English Name: Neighborhood Story]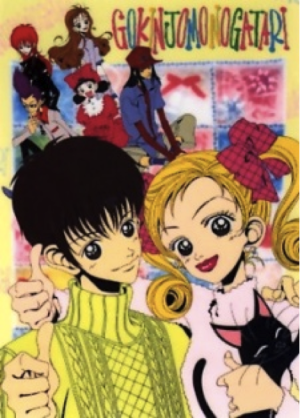 Have you ever had a best friend growing up that you were inseparable with? And both of you wishes you just live beside each other so you can meet anytime you're free? Here's a story about friendship, about two people who eventually grew up and became different individuals with different personalities and yet still find themselves closer with each other than with anybody else.
Mikako Koda and Tsutomu Yamaguchi are both students of a special high school for the arts in Tokyo called Yazawa Geijyutsu Gakuen or Yazawa Arts. Mikako is an aspiring fashion designer who already has her own clothing line called "Happy Berry" where she sells all her designs and creations that she made during her free time.
On the other hand, while Mikako is already set with her future, Tsutomu is pretty much like a leaf swaying wherever the wind takes him. He isn't quite set with what he wants to be but he's sure of is how he feels toward Mikako. Until an unexpected thing turned everything around for him, his features somehow resembled a famous lead singer from the band "Tenshi Nanka Ja Nai" that caused all the fan girls to start chasing after him, sending him love letters and even asking for his autograph.
Mikako cannot contain her emotions towards all these girls trying to chase Tsutomu. She tried to focus and distance herself by joining the flea market club, only to find out that it won't stop them from being together.
How do two friends fall in love with each other? How do you admit to your best friend that you are in love with them for as long as you remember? Watch this exciting anime and let these two give you butterflies as they find a way to admit how much they love each other, but more than the romance, find out how they make their dreams and goals come true!
Episodes: 50
Aired: Sep. 1995 - Sep. 1996
---
The two manga series are both written and illustrated by Ai Yazawa. Both animes were translated and dubbed in over 10 different languages such as Korean, English, Spanish, Chinese, and many more. Ai was a former fashion design student but did not finish her curriculum and switched to her passion for writing and storytelling. If you could watch both of the animes that we featured today, we can still see the enthusiasm of Ai in designing clothes. She may have not push towards this field but she was able to come up with something different. A fashion designer creates his/her designs through fabric and sewing but Ai gave clothing a different way to come alive through the characters of Mikako and Yukari.
by Adelane-Marie M. Banico