También puedes leer este artículo en:Español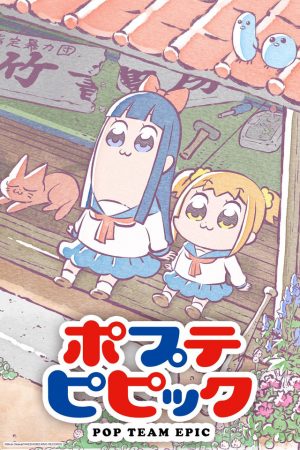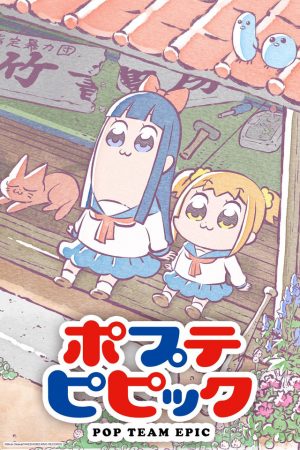 Pop Team Epic

Genre:
Comedy, Slice of Life, Surrealism
---
Airing Date:
January 7 2018
---
Honey's Highlights
So.... the heck am I looking at? This looks weird. Is this a kids anime? Is it parody?
Pop Team Epic or Poputepipikku is a sort of meta work that gives of not only vibes of representing itself through representaiton within itself, it also talks about anime and genres themselves as a whole through representation of a vehicle those of us know as...
Honey-chan, this is a meta work that is a cult hit manga. It has a massive following online and talks about very common concepts within anime and the genres of anime. Expect a lot of randomness, jokes, and references to other anime.
Cult hit? You mean like Fooly Cooly for Ai Mai Mi? I loved those shows, so I can get on board with this.
Official Images / Key Visuals
Synopsis
"There is no darkness but ignorance." – William Shakespeare
Three Episode Impression
What did you expect? Quality? Pop Team Epic has already, after the first episode, presented itself as a frontrunner for anime of the season. This is a reminder that anime is made for Japanese people by Japanese people, so there will be people who do not understand and dislike it. Pop Team Epic makes zero sense and is pure chaos, but that is what it wants to be and we are happy to let it do so! It is also easy to see who are anime fans and who are simply watching anime by people's reactions to this. With the references, jokes, and entire insanity of the show, real anime fans have no problem laughing along at the show; it is those who hate it, that probably don't get the jokes and references (Nice Boat), that should stick to more simple anime. We love it and are glad to watch a new episode each week!
Characters & Voice Actors List
Popuko

Voice Actor: Mikako Komatsu
---
Popuko is a 14-year-old girl. She has short hair.
Pipimi

Voice Actor: Sumire Uesaka
---
Pipimi is a 14-year-old girl. She has long hair.
Episodes
12
Theme Songs

Opening Song: Pop Team Epic by Sumire Uesaka

Adaptation

Manga


Main Staff

Original Creator: Bkub Ookawa
Director: Jun Aoki, Aoi Umeki
Series Composition: Jun Aoki
Sound Director: Tooru Kanegae
Music: Gin (BUSTED ROSE)
(Credit Honey's Anime when you use our description.)
---