What You Need to Know:
Rooftop Panda and developer Archon Interactive are excited to launch Rocket Wars on Steam with a 10% limited-time discount. The fast-paced, four-player multiplayer game will have you aiming for the top ranks, and destroying your friends when you get the opportunity. Be sure to take advantage of this now while you have the chance.
Rocket Wars is designed to be a party game you can play with any of your friends when you hang out and need to determine who is superior! We recommend playing Rocket Wars with controllers for the best experience.
More details can be found below!
Source: Official Evolve PR Press Release
Screenshots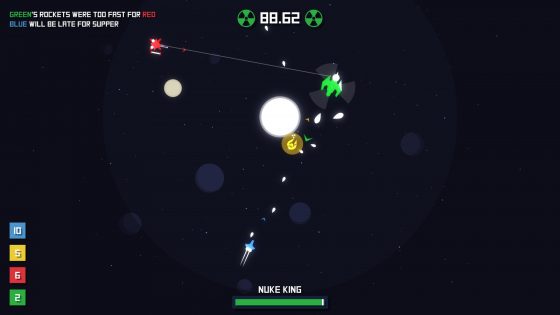 Key Features
12 different spaceships, all with a unique look and stats
4 exciting game modes:
Free For All
Survivor
Nuke King
2 versus 2
Quick competitive gameplay sessions packed with action
Titles for all at the end, both good and bad
The game also features AI opponents to fill the lasts slots if you are less than 4 people playing.
Latest Media
Rocket Wars Steam Teaser

---
This is surely a game you'd want to throw a party for, and just have all of your friends take part in it all.
The concept is totally simple and yet, the appeal is really intriguing. More games, more friends!
---