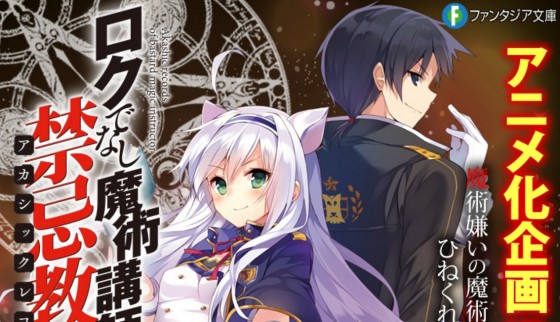 What You Need to Know:
It was recently announced that the light novel written by Tarou Hitsuji and illustrated by Kurone Mishima, Rokudenashi Majutsu Koushi to Akashic Records, has an anime adaptation in the works.
For those who don't know the original work, the story follows Sistina, a girl attending a magic academy, and her struggles with her new, completely incompetent, teacher.
Not much else is known about the anime series yet, but we'll be back with new information when it's released. Until then, check out the TV commercials for the novel below!
Source: Official Website
Reactions Around the Web
Please make the art close to the original, this time...
It feels like they named this character by randomly picking a word from a dictionary of foreign names
I've only read the manga adaptation, but the main character feel's like Kazuma from KonoSuba's older brother...
So, can it beat KonoSuba or?
People keep comparing it to KonoSuba, but the art's totally different, y'know?
---
The premise for this series sounds hilarious! Count me in!!
I don't get why people are comparing it to KonoSuba...? The story is totally different?
[ad_dfp position="bottom1" unit_pc1="true" unit_pc2="true" unit_sp1="true" class="mt40"]