What You Need to Know:
Sorry for the wait, here's this week's light novel rankings straight from the Japanese Oricon charts!
As we've seen over the past few weeks, KonoSuba has been ruling supreme in the top spot, with Grimgar battling behind it somewhere between fifth and second place.
Will today finally be the day KonoSuba gets thrown off its throne? Let's get to the results and find out!
---
Top 10 - Top 6
---
10. Shin Fortune Quest
9. No Game No Life ↑
8. Legend
7. Kono Subarashii Sekai ni Shukufuku wo! Spinoff →
6. Fate/Prototype: Sougin no Fragments
---
Top 5 - Top 1
---
5. Hai to Gensou no Grimgar ↓
4. Ero Manga Sensei
3. Sword Art Online Alternative: Gun Gale Online
2. Kono Subarashii Sekai ni Shukufuku wo! ↓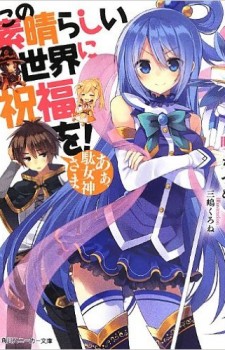 1. Mahouka Koukou no Rettousei
Source: Oricon
---
Oh my god! The mighty KonoSuba has finally been defeated?!
Well it had to happen sometime! And it can't be helped, it is the mighty Mahouka Koukou no Rettousei after all!
---
[ad_dfp position="bottom1" unit_pc1="true" unit_pc2="true" unit_sp1="true" class="mt40"]