También puedes leer este artículo en:Español
The smell of flowers lingers in the air and the first days of spring are already approaching. And you know what that means? The Spring 2015 anime season is getting near! With the brighter and warmer days comes a unique line-up of new Romance anime that will make you forget the cold days of the past winter.
We will be looking at three different Romance anime that are all part of the Spring 2015 season. This list couldn't be more diverse: we have three completely different love stories, set in a high school, in the near future and in a fantasy universe. Lean back and enjoy this little preview at the newest Romance anime. Butterflies in your stomach guaranteed!
1. Ore Monogatari!! (My Love Story!!)

Episodes: 24
Aired: April 9, 2015
This anime gives hope to all the guys out there that have no luck with love. High school boy Gouda Takeo is the typical good-hearted yet scary looking kind of guy. He stands 2m tall and weighs close to 120 kg, but this appearance only hides a soft and caring core. Still, every girl he has fallen for prefers his good-looking friend Sunakawa over him. This might change on the day he saves a girl from a pervert on the train. Could Gouda's personal spring finally be near?
Ore Monotagatari adds a nice touch to the Spring 2015 line-up, since it's not a typical love story. Even though it's a Shoujo anime it has a guy as the main lead and will therefore show the relationship from his perspective. Fans of the almost infamous story of Densha Otoko, the apparently true story of a man that stopped a drunk man harassing women on the train, should definitely check this one out.
Ore Monogatari!! PV Trailer
---
2. Plastic Memories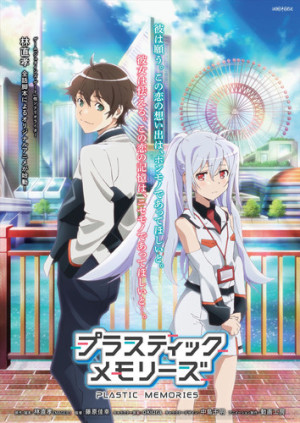 Episodes: unknown
Aired: April 5, 2015
Next up is an anime set in the not-so-distant future where androids and humans live side by side. A new kind of android called Giftia that's supposed to have frighteningly humanlike emotions and characteristics is being developed. The hero of this show is Tsukasa Mizugaki, a guy who starts working at the company designing these androids. Together with a team he deals with Giftia that have exceeded their service lives.
It's hard to judge shows in advance, but Plastic Memories sounds promising and many people are anticipating the first episode. It most likely won't reinvent the wheel, but the characters seem interesting enough to follow Tsukasa's story a little bit longer. Plus, a relationship between a human and an android will definitely add a nice twist to the plot.
Plastic Memories PV 3
---
3. Kyoukai no Rinne!

Episodes: 25
Aired: April 5, 2015
Kyoukai no Rinne is the newest creation of mangaka legend Rumiko Takahashi who's the creative mastermind behind well-known shows such as Ranma 1/2 or Inuyasha.
The main heroine Sakura Mamiya is able to see ghosts and other spiritual beings after disappearing in the woods as a small child. Now, as a high school student, she wishes she could get rid of her special talents since they are only an annoyance to her. To make matters worse, one of her classmates, Rinne Rokudo, who has been absent since the beginning of the year suddenly appears at school. As it turns out he isn't what he seems to be as well.
This show is my personal favorite on this list. Not because it's innovative, but because it reminds me of the anime of my childhood. It has the same feeling and unique touch as Rumiko's other creations while showing the artwork of a modern-day anime. Kyoukai no Rinne is my personal recommendation of this list.
Kyoukai no Rinne Official Trailer
---
This is it for the upcoming Romance anime of Spring 2015. I hope we could give you a little insight into the newest shows to get you hyped up for the first episodes. Spring 2015 looks promising for other genres as well, so the complete line-up is definitely worth a look.
Which show are you anticipating and can't wait to watch? Let us know in the comment section below.