Teaser Trailer for RWBY Volume 8 is Out Now!

What You Need to Know:
RWBY Volume 8, the latest installment of Rooster Teeth's beloved and award-winning animation, premieres November 7. Thousands tuned in live to the RWBY panel at RTX at Home today and were the first to see the teaser trailer and learn the long-awaited premiere date.
In RWBY Volume 8, our heroes' worst fears have finally been realized: Salem is here, and the timing couldn't be worse for the divided Kingdom of Atlas. Fear has turned friends into enemies, while doubt threatens to splinter humanity's remaining allies. With both Salem and Ironwood stacking the odds against them, and the fate of Remnant at stake, it's up to team RWBY to make their play before it's too late.
RWBY is the first western-style anime to be distributed in Japan and is produced by Rooster Teeth in Austin, Texas.
RWBY stars the voices of Lindsay Jones as Ruby Rose, Barbara Dunkleman as Yang Xiao Long, Arryn Zech as Blake Belladonna, and Karla Eberle as Weiss Schnee.
Check out the teaser trailer!
---

WayForward, Rooster Teeth, and Arc System Works Announce New RWBY Video Game
What You Need to Know:
Also during RTX at Home, independent game studio WayForward (Shantae and the Seven Sirens, River City Girls), in conjunction with Rooster Teeth and publisher/developer Arc System Works (Guilty Gear -Strive-, BlazBlue Cross Tag Battle), confirmed the production of an all-new video game based on the global animated hit RWBY!
Rooster Teeth will deliver an original RWBY story for the game from the show's writers Kerry Shawcross, Miles Luna and Eddy Rivas. Development of the game will be handled by WayForward, while publishing duties will be split between WayForward and Arc System Works, and creative oversight will be provided by Rooster Teeth.
The RWBY video game (final title TBD) is tentatively scheduled to arrive on multiple platforms in 2021.
The upcoming game will let players take control of Team RWBY — Ruby Rose, Weiss Schnee, Blake Belladonna, and Yang Xiao Long — and use their trademark weapons and abilities to deliver the stylish action that has made RWBY a sensation with audiences worldwide.
Additional information about the gameplay, features, distribution, and pricing will be revealed at a later date so thay tuned!

"It's a massive honor to be trusted with a beloved brand like RWBY. Collaborating with the innovators at Rooster Teeth has been a blast, and we think the characters, personality, and style of RWBY are a great match for WayForward's design sensibilities. We hope that fans are looking forward to seeing their favorite Huntresses in action as much as we're looking forward to bringing the game to them."

Voldi Way, WayForward Tyrannical Overlord.
---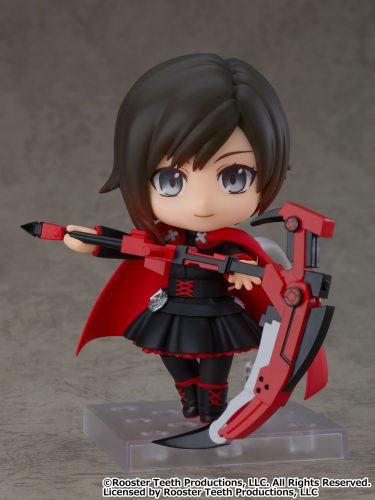 POP UP PARADE Weiss Schnee and Nendoroid Ruby Rose are now available for pre-order!

What You Need to Know:
Nendoroid Ruby Rose

From Rooster Teeth's hit 3DCG anime "RWBY" comes a Nendoroid of Ruby Rose! The young leader of Team RWBY comes with two face plates: a smiling expression and a serious expression.
Ruby also comes equipped with Crescent Rose in two forms: the signature scythe mode and its more compact rifle mode. Use the included clear effect sheet to pose Ruby using her Petal Burst semblance. Be sure to add Nendoroid Ruby Rose to your collection!

The second figure from RWBY comes to the POP UP PARADE series!

POP UP PARADE is a new series of figures that are easy to collect with affordable prices and releases planned just four months after preorders begin!
Each figure stands around 17-18cm in height and the series features a vast selection of characters from popular anime and game series, with many more to be added soon!
Created in collaboration with Rooster Teeth, the next figure to join the POP UP PARADE series is Weiss Schnee from the hit 3DCG anime "RWBY"!

POP UP PARADE Weiss Schnee and Nendoroid Ruby Rose are now available for preorder at the GOODSMILE ONLINE SHOP and at participating retailers!
Source: Official Press Release
---
RWBY is blowing up!
Lots of fans will be happy with all this news!