Seitokai Yakuindomo Movie 2

Genre:
Comedy, School, Shounen, Slice of Life
---
Airing Date:
January 1, 2021
---
Official Images / Key Visuals
Synopsis
Characters & Voice Actors
Takatoshi Tsuda:
Shintaro Asanuma
Takatoshi is the vice president of the student council at Osai Academy, and he's often the straight-man to his friends. Despite not having wanted to become vice president, the current President Shino also decides that Takatoshi will succeed her. Rumors say that Takatoshi is slightly masochistic. And he has a bad habit of biting his nails.
Shino Amakusa:
Yoko Hikasa
Shino is the current president of the student council. She's good at taking care of others and is very popular among the students. She's believed to be a bit of a masochist as well, because she's said things such as; "I get excited when people watch me" and "I like exposing myself". During the midterms she scored highest in all of the school, and in addition to that she's also good at sports and a wonderful cook. However, she is scared of heights and she feels inferior because of her small chest.
Aria Shichijou:
Satomi Sato
Aria is from a rich family. She's good at studying and has a great chest. She's calm and gentle, but can also be a bit of an airhead. Whenever she's at home, she only does things she feels like. Despite wearing a chastity belt she's quite the player when it comes to sex-jokes.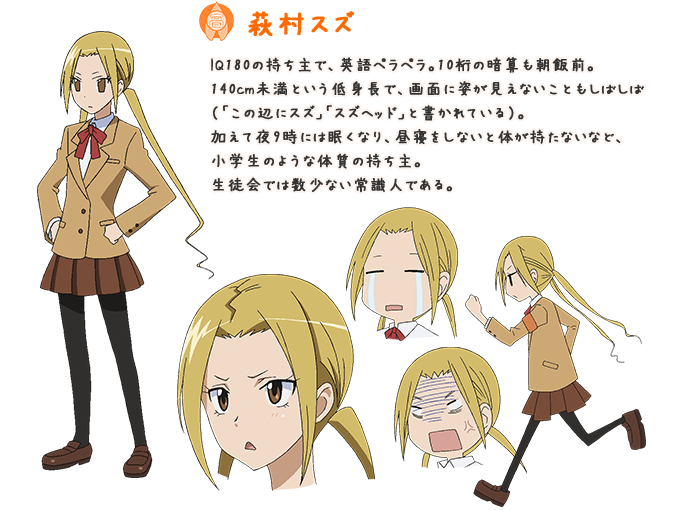 Suzu Hagimura:
Sayuri Yahagi
Suzu has an IQ of 180 and speaks English fluently; calculating with 10 figures is a piece of cake. She's very short, not even reaching 140cm, which sometimes means she doesn't fit into the frame. She's like an elementary school student who always gets sleepy at 9pm and she needs to take naps during the day or she won't make it through. She's one of the few reasonable people in the student council.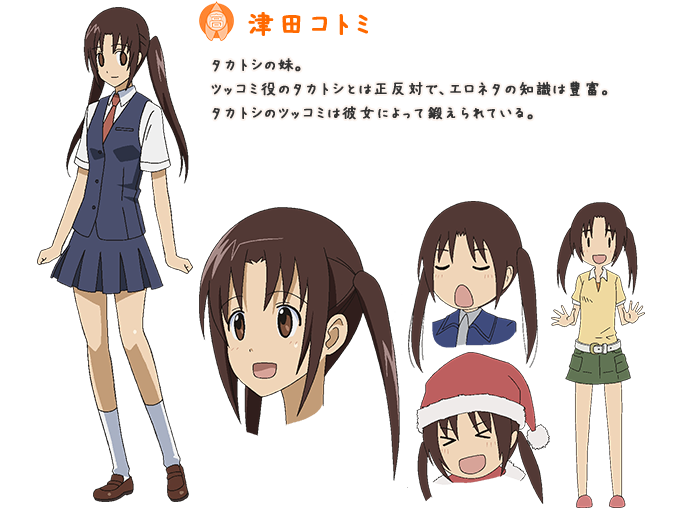 Kotomi Tsuda:
Asami Shimoda
Kotomi is Takatoshi's younger sister. She's the total opposite of him and can provide sex-jokes all the time. Takatoshi uses her as practice to refine his straight-man act.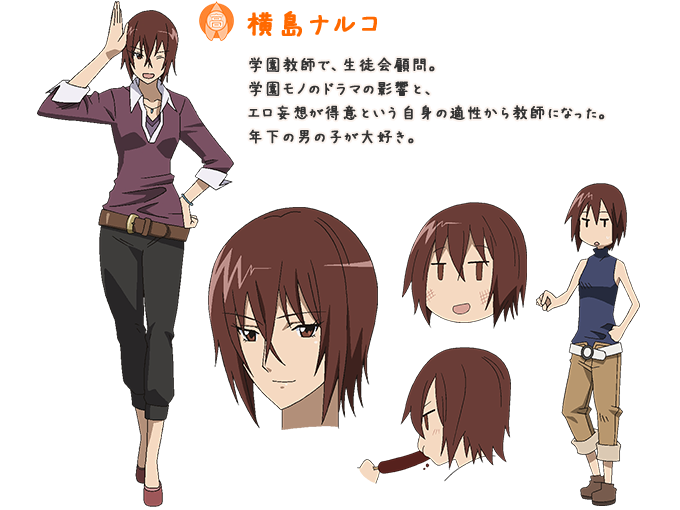 Naruko Yokojima:
Yu Kobayashi
Naruko is a teacher at the school and the adviser to the student council. She became a teacher because she watched a TV series and also realized that she's great at fantasizing about sex. She loves younger men.
Adaptation

"Seitokai Yakuindomo" (Manga)


Main Staff

Original Creator: Tozen Ujiie
Director: Hiromitsu Kanazawa
Series Composition: Hiromitsu Kanazawa
Character Design: Makoto Furuda
Animation Director: Makoto Furuda
Sound Director: Ryo Tanaka
Music: Yuya Mori
Art Director: Ken Naitou
(Credit Honey's Anime when you use our description.)