También puedes leer este artículo en:Español
The Student Council is supposed to be a body of students committed to preserving order within school halls, as well as presenting the needs of their fellow students. As an intermediary between students and teachers, the Student Council always has their work cut out for them – especially in anime, where they tend to be the strongest faction in their schools, their communities and sometimes, the very country! Seeing how important a role they play in schools and anime alike, we figured we put together a list of our favourite anime built around student councils and their activities! Please note that this is an updated article, the older list can be found below with even more recommendations – so let's get to it!
10. Seitokai no Ichizon (Student Council's Discretion)

Episodes: 12
Aired: October 2009 – December 2009
Sugisaki Ken attends a school where entry into the student council can be guaranteed if one scores the highest on the exams. However, he has always had below average grades, so we worked hard to improve them so he can enter the council and live out his dream – to be fawned over by a harem of beautiful girls! Unfortunately for Ken, his achievement isn't enough to get their attention and they reject his advances, choosing to do their jobs instead of entertain him. Be that as it may, Ken is a simple man with a simple wish and won't stop working hard to grant them himself!
While most anime tend to exaggerate the power that a student council can exercise over the student body, Seitokai no Ichizon plays around with the interactions within the student council like it would a regular club at school. In this way, the focus isn't necessarily on what the student council is capable of, but more on Ken's dreams to have a harem and his use of the student council as the yellow brick road to his dreams.
---
9. Himegoto (Secret Princess Himegoto)

Episodes: 13
Aired: July 2014 – September 2014
Arikawa Hime finds himself in a terrible situation when loan sharks come for him in order to settle the debt his parents left him . When the Shimoshina High School student council steps in to settle his debt, they do it under one condition: that Hime join the student council… as a girl! Their timing couldn't have been more unfortunate for Hime as they found him wearing a French maid outfit and now they won't allow him to wear anything else as he serves them as their dog for the rest of his high school years. As inconvenient as things may be, Hime is surrounded by pretty girls who dote on him – but that doesn't mean he doesn't wish to be free, and of all people, his crossdressing little brother is the only one trying to get him out!
Himegoto does what many anime with student councils do, which is to give the student council incredible amounts of affluence and influence. Being able to settle Hime's debt and effectively own his entire existence as a human being is the kind of hyperbolic representation of the student council as a concept. That aside, the show has a fair amount of humour which is carried through the absurd antics Hime is subject to as a result of the student council at Shimoshina High.
---
8. Okusama ga Seitokaichou! (My Wife is the Student Council President)

Episodes: 12
Aired: July 2015 – September 2015
Izumi Hayato is a straight-laced and studious individual running for Student Council President; however he is completely outmatched by his rival, Wakana Ui after she promises sex-ed and free condoms among other reforms. Disappointed, Hayato settles into his role as Vice-President. Next thing Hayato knows, Ui has moved in with him in order to honour a promise that their parents made a long time ago – that their children would marry each other. Now Hayato and Ui are forced to balance their personal life with their student council roles, but is it really that simple?
Throwing romance straight into the student council-centred plot, Okusama ga Seitokaichou! makes use of a formula we're quite familiar within the anime medium. Each episode is short and covers a bit of the relationship between Hayato and his wife, Ui, who he soon learns has more to her than the persona he's used to seeing at school. Still somewhat bitter about losing the running for student council president while balancing a clear attraction to her – the conflicting emotions and angst make for quite the entertaining student council anime.
---
7. Kujibiki♥Unbalance

Episodes: 12
Aired: July 2006 – December 2006
Rikkyouin High School is a prestigious school which makes use of chance to select every year's student council. They do this by means of a lottery and on the first day of school, Enomoto Chihiro wins the presidency, with his childhood friend, Akiyama Tokino stepping up as vice-president. However, their ascension isn't without difficulty as they must first complete a one year apprenticeship under the current student council and should they fail at any point, it means immediate expulsion!
Kujibiki♥Unbalance is a unique title given the fact that it began as an anime within the anime Genshiken, which followed the activities of a university anime and gaming society. Again we're faced with anime's hyperbole: the intensely influential student council; however, the unique aspect is the way in which both student council president and vice-president are selected via lottery. The show is meant to cram as many anime tropes as possible and as such, is wildly entertaining for those who recognise them.
---
6. Angel Beats!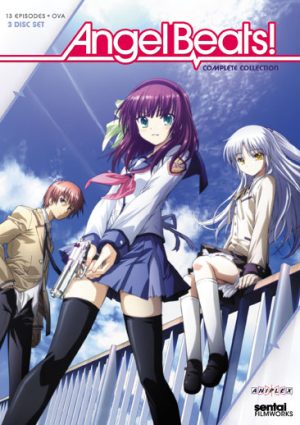 Episodes: 13
Aired: April 2010 – June 2010
Otonashi wakes up to find out that he's actually dead and has no memories apart from his last name. A girl named Yuri, armed with a rifle, explains to him that they're in the afterlife and she leads a faction known as the Shinda Sekai Sensen (Afterlife Battlefront), waging war against a girl named Angel. Seeing Angel for himself, Otonashi refuses to believe that she's evil and tries to talk to her. It doesn't end well. After the encounter, he decides to join the Afterlife Battlefront in their war against Angel while fighting off a strange attraction to her.
Death, emotions and regrets are rife in Angel Beats!, which aren't usually the themes you'd find in a student council anime. In fact, the idea that Angel Beats! is a student council anime takes a backseat until one considers the role Angel plays in their afterlife environment, which is a high school. Angel is the student council president whose role is to ensure that students at the Afterlife School can cope with their personal problems.
---
5. Shimoneta to Iu Gainen ga Sonzai Shinai Taikutsu na Sekai (Shimoneta: A Boring World Where the Concept of Dirty Jokes Does Not Exist)

Episodes: 12
Aired: July 2015 - September 2015
When Japan introduces strict morality laws which police everything considered obscene and impure, it becomes a chaste society. People are monitored via special collars which ensure that not a vulgar thing is uttered or done. In this world of chastity, Okuma Tanukichi, the son of a notorious terrorist who opposed the laws, has just entered high school. He decides to help the student council in order to get closer to his childhood crush, Nishikinomiya Anna – the student council president. However, when Kajou Ayame, the vice-president, reveals her secret identity as a criminal dedicated to opposing the chastity laws, she drags Tanukichi into her terrorist organisation, SOX, where he too will spread obscene material all in the name of freedom.
In the name of all things lewd, Shimoneta plays with anime's tendency to have all-powerful student councils. The absurdity of it all compounds the humour of the premise – trust Shimoneta to put together a band of eccentric and wacky characters to deliver puns, jokes and wild adventures! The student council president, Nishikinomiya Anna, is an overzealous defender of the law – but also a total pervert in her own right, which creates the some of the strangest, yet somehow acceptable development of a character in the show. However, you don't watch Shimoneta for character development – you watch it for the banter!
---
4. KILL la KILL

Episodes: 24
Aired: October 2013 – March 2014
When her father is murdered, Matoi Ryuuko searches for his killer, with nothing to go on but the half of the Scissor Blade used in the crime. She arrives at Honnouji Academy, a prestigious school with an all-powerful student council led by the cold-hearted Kiryuuin Satsuki and her powerful allies, the Elite Four. Honnouji's hierarchical dynamic gives Satsuki the space to bestow the higher-ups special "Goku Uniforms", which grant their wearer superhuman abilities. After suffering a crushing defeat from a student in a Goku uniform, Ryuuko heads home and finds Senketsu, a sentient set of clothing called Kamui, which provides her with incredible power when in contact with her blood. Now dressed for the occasion, Ryuuko stands against the Elite Four and Satsuki in order to find her father's killer and put them to justice.
Fast-paced and exciting, KILL la KILL is one title on this list which reflects several different anime tropes in the same setting, while having a hand firm on its action and comedic elements. KILL la KILL feels like a shounen anime with slapstick humour thrown in for effect. The student council in this show is like that of many other anime: powerful. Intensely powerful in both status and physical prowess, the student council in KILL la KILL is one which quickly comes to mind when the subject is student councils.
---
3. Prison School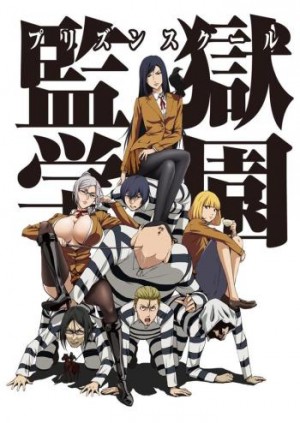 Episodes: 12
Aired: July 2015 – September 2015
Hachimitsu Private Academy is a prestigious all-girls boarding school located on the outskirts of Tokyo, known for its impeccable education and discipline. However, a change in policy opens the school's doors to male students for the first time, so Kiyoshi, Gakuto, Shingo, Andre and Jo are the first male students, making the female to male ratio in the school a whopping 200:1. Finding themselves unable to talk to any girls, the five boys decide to do something more daring than mere communication: peeping into the girls' bath. Their plan is quickly foiled by the Underground Student Council, who then send them into the school's prison for a month as their punishment. They now have to stick together to get through a gruelling struggle which will test the strength of their friendship.
Controversial given the state of the main characters and their antics, Prison School is an anime one takes with a grain of salt. Be that as it may, their student council is terrifying and their overall hold on the school is extensive – their word is absolute. Their running of Hachimitsu Private Academy is thorough and with an iron fist – the harsh prison that the five boys in which the five boys end up doing time is yet another aspect of their iron-fisted rule.
---
2. Kaichou wa Maid-sama

Episodes: 26
Aired: April 2010 - September 2010
Seika High School is a school under transition. Going from being an all-boys to a co-ed, Seika's student council president, Ayuzawa Misaki, uses any means necessary to ensure that the girls can settle into their new environment, earning her the nickname "Demon President". However, the seemingly perfect student council president has an embarrassing secret – she works part-time at a maid café in order to help her struggling family. Her job remains hidden until Usui Takumi, the most popular boy in school, strolls into the maid café. Misaki fears that he could ruin her reputation with what he now knows, but perhaps Usui has other plans for the secret they now both share.
Given that the protagonist is the student council president, much of the events in the show surround Misaki's heavy involvement in school affairs which parallel her maid café duties. Naturally, the show treads into the territory of romance as Misaki's relationship with Usui develops around their shared protection of the state of Misaki's home situation and her working life.
---
1. Seitokai Yakuindomo

Episodes: 13
Aired: July 2010 - September 2010
Ousai Private Academy is a former all-girls school now opening its door to male students. On his first day, Tsuda Takatoshi is called out for his messy uniform by the eccentric student council president, Amakusa Shino. As a result, Tsuda is late for his first class. In apology for keeping him too long, Shino offers Tsuda the position of vice-president and he is forced into the role even before he sets foot into the school building. Tsuda soon realises how strange the members of the student council truly are – despite their serious appearances, Shino and the secretary, Shichijou Aria, are huge perverts and crack lewd jokes at every opportunity. Their treasurer, Hagimura Suzu, is fairly normal but is highly self-conscious of her height, which often has her mistaken for an elementary school kid. Surrounded by his new colleagues at his new school, Tsuda must perform his student council duties.
The main characters of this series are all student council members and thus most of their activities happen within the bounds of their school. Tsuda's student council affiliations begin as a result of the sheer amount of power the student council has at Ousai Private Academy, with their activities seemingly overshadowing students' obligations to attend class. This is of course proven in the initial interaction between Tsuda and Shino.
---
Final Thoughts
Student councils in real life are an integral part to the smooth-running of any school and allow students to become acquainted with responsibilities they may or may not find themselves having to perform later on in life. From a less boring perspective; however, the student council is as much an anime trope as any other and has yielded a fair crop of highly entertaining titles. Are there any student council shows we're not aware of? Drop a comment below and tell us all about it – no need to tell the student council on us!
---
---
Anime revolving around school clubs can be found in abundance. Almost every club imaginable has been featured in anime and you might think that this is all there is to high school life. But you are forgetting about one of the most important aspects of student life - the student council.
Today we compiled a Top 10 list with the best student council anime. Our choices are broad and each show depicts a different version of student councils. Some of these anime solely revolve around school life and working together with your classmates, others however get more creative and take the members of the student council on a crazy ride.
What they all have in common though is the responsibility that the council members have towards improving their schools the best they can.
So what are we waiting for? Enjoy!
10. Gokujou Seitokai (Best Student Council)

Episodes: 26
Aired: April 2005 - September 2005
Let's start this list off with a show that already hints at its content with its name: Best Student Council.
The story is set at Miyagami Private Academy, a prestigious all-girls school. Normally, a talentless and air-headed girl like Randou Rino would never be able to enroll, but luck as well as a mysterious assistant helped her getting into the school. Not only that, but Rino becomes part of the so-called Best Student Council, consisting of the most elite girls of the school. Together with the other members Rino not only has to create a great school environment for her classmates, but also overcome her own obstacles.
Gokujou Seitokai is a lesser-known anime that might deserve more recognition. Maybe it's the combination of weird Rino with her even weirder hand puppet Pucchan that puts off possible viewers. Gokujo Seitokai definitely has great ideas and creates a solid school/comedy anime with memorable characters. Give it a try!
---
9. Love Lab

Episodes: 13
Aired: July 2013 - September 2013
Let's move along and talk about a show for the romance lovers out there.
There is no student that is more famous and respected than the student council president. This is definitely the case for Maki, the calm and polite council president of Fujisaki Girls Academy. Classmate Riko couldn't be more surprised when she walks in on the respected president practicing kissing with a pillow. She is forced to keep it a secret and join Maki in her self-designed Love Lab where she examines all forms of love, from holding hands to kissing.
Even though it might sound like it Love Lab is not a Yuri show, so if you expect some action of that kind you should move along. For all of you that are more interested in fun schools stories you will definitely enjoy Love Lab. It is a crazy anime with lots of comedy and hilariously awkward situations. It is a really heartwarming story of a group of girls that just cannot wait to grow up.
---
8. Seitokai no Ichizon (Student Council's Discretion)

Episodes: 12
Aired: October 2009 - December 2009
Seitokai no Ichizon tells the story of five student council members who couldn't be more different from each other.
Hekiyou Academy is rather unique when it comes to its way of choosing the new council members. Each student is elected by a popularity vote, thus all members - which the exception of eroge addict Ken - are cute girls. It doesn't come as a surprise that the student council is a hot mess and spends its days fighting boredom instead of looking after fellow classmates.
Unlike Love Lab, Seitokai no Ichizon definitely has some ecchi and harem elements to it. However, this is not the main focus of Seitokai no Ichizon - it is a show that makes pop cultural references in the form of a parody. You should take the story with a pinch of salt and don't take the crazy adventures of this student council too serious. It is a fun comedy which without a doubt will make you laugh.
---
7. Gakuen Utopia Manabi Straight! (Manabi Straight!)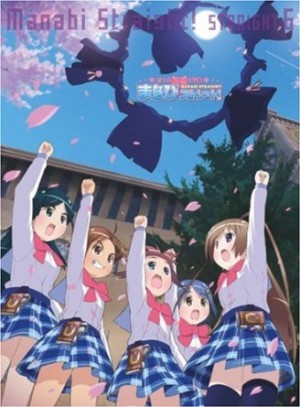 Episodes: 12
Aired: January 2007 - March 2007
Let's move into the future with a crazy show set in the year 2035.
In this not-so-distant future, the birth rate has fallen significantly and schools are closing down all over the country. The students remaining have lost their motivation to study and often choose to skip classes altogether. This is where energetic and passionate Manabi comes in. Even though she just transferred to Seioh Private High School she is elected as the student council president. Manabi has only one goal on her mind: To share her passion for school and to motivate her classmates to feel the same way.
At first glance you might think that Manabi Straight! is one of many overly happy and cute anime shows out there. As it is often the case with anime, you shouldn't judge a book by its cover. The story wants to tell more than just the fun story of the student council members. There are bittersweet moments and Manabi's motto of "go straight forward" is something that will stay with you. All in all, it is a show that is as fun as it is educating, so give Manabi Straight! a chance.
---
6. Medaka Box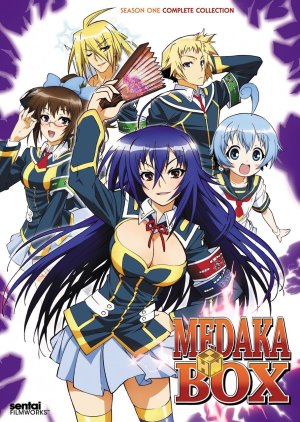 Episodes: 12
Aired: April 2012 - June 2012
Here we have another great show with a more than unique student council and a strong female lead.
The story of Medaka Box begins with a simple idea: student council president Kurokami Medaka sets up a suggestion box at her school for troubled students to ask for advice. The excelling honor student is committed to solve each and every problem submitted to her and together with the other members of the student council a new adventure begins.
Medaka Box tries to combine multiple genres in one anime, like action, comedy, school life and even a little bit of ecchi. Whether the producers succeeded in doing so is up to you to decide. Even though it is not one of the most popular shows out there it is still good for a quick laugh and some funny scenes. This show goes out to all of you who want to see a tough girl leading the student council.
---
5. Vampire Knight

Episodes: 13
Aired: April 2008 - July 2008
Who says that all student councils must be bright and cheerful? Let me introduce you to a new site of school committees with Vampire Knight.
Elite boarding school Cross Academy has a dark secret - it is an experimental institution admitting vampires in order to see whether they can interact with human students on a day-to-day basis. In order to create peace between the two worlds a special student council referred to as Guardians has been established. Only the two members Yuki and Zero know of the existence of their non-human classmates and have responsibility towards the future of Cross Academy.
Vampire Knight puts a unique spin not only on student councils, but on the school genre as a whole. Even though the producers turned most traditional elements upside down, they still managed to maintain the main essences of a good anime. You can feel the responsibility of the Guardians towards their human classmates and how they strive to create peace between humans and vampires. If you like the idea of student councils, but are bored by common shows then check out Vampire Knight.
---
4. Shugo Chara!

Episodes: 51
Aired: October 2007 - September 2008
After a short excursion into the realm of darker and more dramatic anime, let's come back to how we started with another bright and uplifting show, Shugo Chara!.
Shugo Chara! revolves around that time in a student's life when you start deciding what you want to be in the future. Unfortunately, Hinamori Amu has no idea what she wants to be. From her strong wish of becoming a new "would-be-self" three different Guardian Characters representing different personalities are born. She is not the only one with Guardian Characters by her side and she soon joins the special student council of her school. Together with their little helpers the members set out to protect the unborn wishes of other kids.
Shugo Chara! is a Shoujo anime that will melt the heart of any little girl. It is colorful, interesting and features lots of transformations including new outfits. The Guardians of the student council are just lovely characters that will make you fall in love with them soon enough. Shugo Chara! takes its viewers on a great adventure and addresses the question of what you truly want to be in life.
---
3. Seitokai Yakuindomo (Student Council Staff Members)

Episodes: 13
Aired: July 2010 - September 2010
How would you feel if you were one of the few boys in a former all-girls school? What might sound like a dream to some of you becomes reality for Takatoshi Tsuda.
Out of sheer convenience Takatoshi decided to enter Ousai Academy, the school located closest to his house. He didn't think his plan through, as he soon has to find out, and finds himself surrounded by crazy girls in an even crazier school. He gets appointed as vice-president of the local student council and male representative of the whole school. How will his new school life turn out?
Seitokai Yakuindomo is a show for those of you that just want a simple, straightforward show without too much drama or emotional baggage. This anime has an easy feel to it, as if it wasn't trying too hard to be special or something new. The jokes are equally simple and straight-to-the-point, sometimes also a little bit sexual given the plot, but entertaining nevertheless. All in all, this is a great show that you should check out if you are in the mood for a quick pick-me-up.
---
2. Charlotte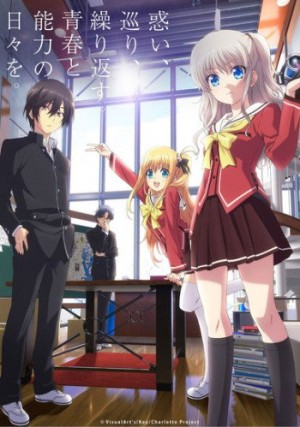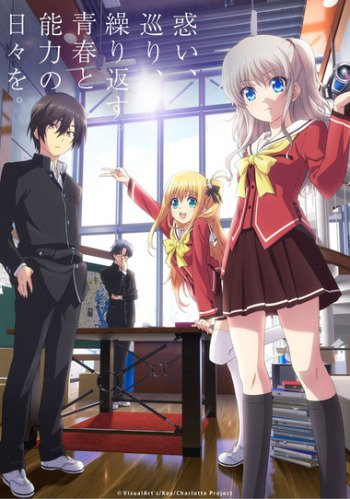 Episodes: 13
Aired: July 2015 - September 2015
Charlotte is the most recent anime on this list and one of my personal favorites of the summer season 2015.
Otosaka Yuu is one of those guys that seem to have everything: he is popular, has good looks and just got accepted into one of the most prestigious high schools in the country. What no one knows though is the fact that Yuu uses a special ability - the power to take over the body of his opponents - in order to lead this kind of lifestyle.
His selfish days end when he meets Tomori Nao and her friends. The students with their own special abilities persuade Yuu to transfer to their school and join the student council. Together, they set out to find more kids like them and to save them from their own abilities.
I don't even know where to start explaining why Charlotte is such a great show. It has promising characters, great animation and the storyline which starts out slow soon takes unexpected twists and turns. However, for this article we want to focus on the student council part of this show and I must say the producers didn't do a bad job here as well. What's most important about student councils is the dynamics between the different members and that's definitely one of the main aspects of Charlotte.
If you haven't done so already, check out this masterpiece!
---
1. Kaichou wa Maid-sama! (Class President is a Maid!)

Episodes: 26
Aired: April 2010 - September 2010
Last but not least is not only a great student council anime, but also one of my all-time favorite shows, Kaichou wa Maid-sama!.
Ayuzawa Misaki is the first female student council president at a former all-boys school. She has to have a thick skin in order to be respected; as a result she is seen as a cold-hearted demon without any female charm. Who would have thought that impulsive and strong Misaki leads a second life? In her free time, she works in a Maid Cafe and serves customers in a maid costume and with a smile on her face. Her worst nightmare comes true when one day her classmate Takumi Usui walks in and finds out about her little secret.
We chose Kaichou wa Maid-sama! as our Top 1 not only because it is a great and highly popular anime. Here, you can actually feel Misaki's love for her school and her classmates and how she strives to improve the school environment. Even though the plot of the anime progresses rapidly and Misaki finds herself entangled in a love story, she still stays true to her roots as a female president. Our top recommendation!
---
the Underground Student Council "Prison School"
Ashford Academy Student Council "Code Geass"
This concludes our list of Top 10 student council anime. We hope you enjoyed our small compilation and maybe found one or two shows you want to check out. Even though the dynamics of student councils are fascinating and definitely interesting enough to be the main theme of anime shows, club life seems to be a more popular topic for the school genre. Whether this is justified or not is up to you to decide.
Let us know in the comment section below what you think of anime featuring student councils as well as our recommendations. Feel free to add your own choices and share your opinions with the community.