También puedes leer este artículo en: Español
Anime revolving around school clubs can be found in abundance. Almost every club imaginable has been featured in anime and you might think that this is all there is to high school life. But you are forgetting about one of the most important aspects of student life - the student council.
Today we compiled a Top 10 list with the best student council anime. Our choices are broad and each show depicts a different version of student councils. Some of these anime solely revolve around school life and working together with your classmates, others however get more creative and take the members of the student council on a crazy ride.
What they all have in common though is the responsibility that the council members have towards improving their schools the best they can.
So what are we waiting for? Enjoy!
10. Gokujou Seitokai (Best Student Council)

Episodes: 26
Aired: April 2005 - September 2005
Let's start this list off with a show that already hints at its content with its name: Best Student Council.
The story is set at Miyagami Private Academy, a prestigious all-girls school. Normally, a talentless and air-headed girl like Randou Rino would never be able to enroll, but luck as well as a mysterious assistant helped her getting into the school. Not only that, but Rino becomes part of the so-called Best Student Council, consisting of the most elite girls of the school. Together with the other members Rino not only has to create a great school environment for her classmates, but also overcome her own obstacles.
Gokujou Seitokai is a lesser-known anime that might deserve more recognition. Maybe it's the combination of weird Rino with her even weirder hand puppet Pucchan that puts off possible viewers. Gokujo Seitokai definitely has great ideas and creates a solid school/comedy anime with memorable characters. Give it a try!
---
9. Love Lab

Episodes: 13
Aired: July 2013 - September 2013
Let's move along and talk about a show for the romance lovers out there.
There is no student that is more famous and respected than the student council president. This is definitely the case for Maki, the calm and polite council president of Fujisaki Girls Academy. Classmate Riko couldn't be more surprised when she walks in on the respected president practicing kissing with a pillow. She is forced to keep it a secret and join Maki in her self-designed Love Lab where she examines all forms of love, from holding hands to kissing.
Even though it might sound like it Love Lab is not a Yuri show, so if you expect some action of that kind you should move along. For all of you that are more interested in fun schools stories you will definitely enjoy Love Lab. It is a crazy anime with lots of comedy and hilariously awkward situations. It is a really heartwarming story of a group of girls that just cannot wait to grow up.
---
8. Seitokai no Ichizon (Student Council's Discretion)

Episodes: 12
Aired: October 2009 - December 2009
Seitokai no Ichizon tells the story of five student council members who couldn't be more different from each other.
Hekiyou Academy is rather unique when it comes to its way of choosing the new council members. Each student is elected by a popularity vote, thus all members - which the exception of eroge addict Ken - are cute girls. It doesn't come as a surprise that the student council is a hot mess and spends its days fighting boredom instead of looking after fellow classmates.
Unlike Love Lab, Seitokai no Ichizon definitely has some ecchi and harem elements to it. However, this is not the main focus of Seitokai no Ichizon - it is a show that makes pop cultural references in the form of a parody. You should take the story with a pinch of salt and don't take the crazy adventures of this student council too serious. It is a fun comedy which without a doubt will make you laugh.
---
7. Gakuen Utopia Manabi Straight! (Manabi Straight!)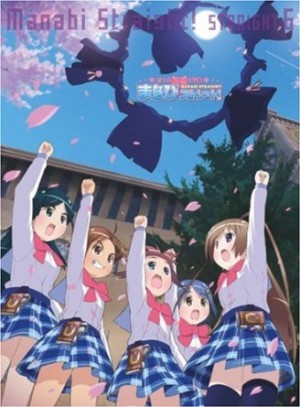 Episodes: 12
Aired: January 2007 - March 2007
Let's move into the future with a crazy show set in the year 2035.
In this not-so-distant future, the birth rate has fallen significantly and schools are closing down all over the country. The students remaining have lost their motivation to study and often choose to skip classes altogether. This is where energetic and passionate Manabi comes in. Even though she just transferred to Seioh Private High School she is elected as the student council president. Manabi has only one goal on her mind: To share her passion for school and to motivate her classmates to feel the same way.
At first glance you might think that Manabi Straight! is one of many overly happy and cute anime shows out there. As it is often the case with anime, you shouldn't judge a book by its cover. The story wants to tell more than just the fun story of the student council members. There are bittersweet moments and Manabi's motto of "go straight forward" is something that will stay with you. All in all, it is a show that is as fun as it is educating, so give Manabi Straight! a chance.
---
6. Medaka Box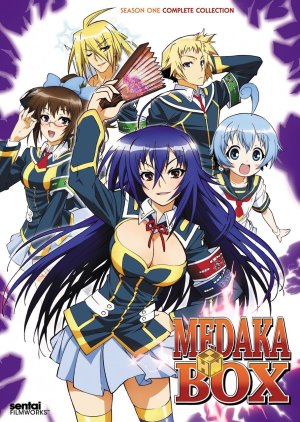 Episodes: 12
Aired: April 2012 - June 2012
Here we have another great show with a more than unique student council and a strong female lead.
The story of Medaka Box begins with a simple idea: student council president Kurokami Medaka sets up a suggestion box at her school for troubled students to ask for advice. The excelling honor student is committed to solve each and every problem submitted to her and together with the other members of the student council a new adventure begins.
Medaka Box tries to combine multiple genres in one anime, like action, comedy, school life and even a little bit of ecchi. Whether the producers succeeded in doing so is up to you to decide. Even though it is not one of the most popular shows out there it is still good for a quick laugh and some funny scenes. This show goes out to all of you who want to see a tough girl leading the student council.
---
5. Vampire Knight

Episodes: 13
Aired: April 2008 - July 2008
Who says that all student councils must be bright and cheerful? Let me introduce you to a new site of school committees with Vampire Knight.
Elite boarding school Cross Academy has a dark secret - it is an experimental institution admitting vampires in order to see whether they can interact with human students on a day-to-day basis. In order to create peace between the two worlds a special student council referred to as Guardians has been established. Only the two members Yuki and Zero know of the existence of their non-human classmates and have responsibility towards the future of Cross Academy.
Vampire Knight puts a unique spin not only on student councils, but on the school genre as a whole. Even though the producers turned most traditional elements upside down, they still managed to maintain the main essences of a good anime. You can feel the responsibility of the Guardians towards their human classmates and how they strive to create peace between humans and vampires. If you like the idea of student councils, but are bored by common shows then check out Vampire Knight.
---
4. Shugo Chara!

Episodes: 51
Aired: October 2007 - September 2008
After a short excursion into the realm of darker and more dramatic anime, let's come back to how we started with another bright and uplifting show, Shugo Chara!.
Shugo Chara! revolves around that time in a student's life when you start deciding what you want to be in the future. Unfortunately, Hinamori Amu has no idea what she wants to be. From her strong wish of becoming a new "would-be-self" three different Guardian Characters representing different personalities are born. She is not the only one with Guardian Characters by her side and she soon joins the special student council of her school. Together with their little helpers the members set out to protect the unborn wishes of other kids.
Shugo Chara! is a Shoujo anime that will melt the heart of any little girl. It is colorful, interesting and features lots of transformations including new outfits. The Guardians of the student council are just lovely characters that will make you fall in love with them soon enough. Shugo Chara! takes its viewers on a great adventure and addresses the question of what you truly want to be in life.
---
3. Seitokai Yakuindomo (Student Council Staff Members)

Episodes: 13
Aired: July 2010 - September 2010
How would you feel if you were one of the few boys in a former all-girls school? What might sound like a dream to some of you becomes reality for Takatoshi Tsuda.
Out of sheer convenience Takatoshi decided to enter Ousai Academy, the school located closest to his house. He didn't think his plan through, as he soon has to find out, and finds himself surrounded by crazy girls in an even crazier school. He gets appointed as vice-president of the local student council and male representative of the whole school. How will his new school life turn out?
Seitokai Yakuindomo is a show for those of you that just want a simple, straightforward show without too much drama or emotional baggage. This anime has an easy feel to it, as if it wasn't trying too hard to be special or something new. The jokes are equally simple and straight-to-the-point, sometimes also a little bit sexual given the plot, but entertaining nevertheless. All in all, this is a great show that you should check out if you are in the mood for a quick pick-me-up.
---
2. Charlotte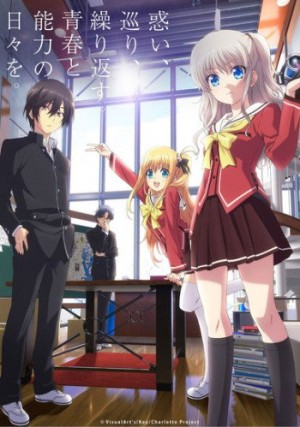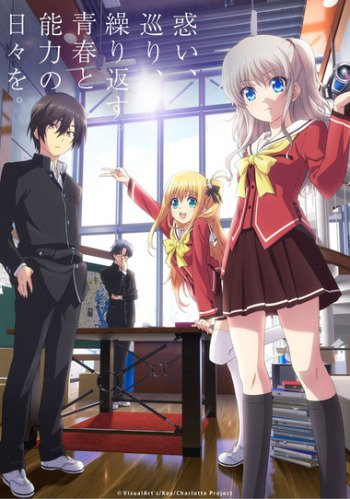 Episodes: 13
Aired: July 2015 - September 2015
Charlotte is the most recent anime on this list and one of my personal favorites of the summer season 2015.
Otosaka Yuu is one of those guys that seem to have everything: he is popular, has good looks and just got accepted into one of the most prestigious high schools in the country. What no one knows though is the fact that Yuu uses a special ability - the power to take over the body of his opponents - in order to lead this kind of lifestyle.
His selfish days end when he meets Tomori Nao and her friends. The students with their own special abilities persuade Yuu to transfer to their school and join the student council. Together, they set out to find more kids like them and to save them from their own abilities.
I don't even know where to start explaining why Charlotte is such a great show. It has promising characters, great animation and the storyline which starts out slow soon takes unexpected twists and turns. However, for this article we want to focus on the student council part of this show and I must say the producers didn't do a bad job here as well. What's most important about student councils is the dynamics between the different members and that's definitely one of the main aspects of Charlotte.
If you haven't done so already, check out this masterpiece!
---
1. Kaichou wa Maid-sama! (Class President is a Maid!)

Episodes: 26
Aired: April 2010 - September 2010
Last but not least is not only a great student council anime, but also one of my all-time favorite shows, Kaichou wa Maid-sama!.
Ayuzawa Misaki is the first female student council president at a former all-boys school. She has to have a thick skin in order to be respected; as a result she is seen as a cold-hearted demon without any female charm. Who would have thought that impulsive and strong Misaki leads a second life? In her free time, she works in a Maid Cafe and serves customers in a maid costume and with a smile on her face. Her worst nightmare comes true when one day her classmate Takumi Usui walks in and finds out about her little secret.
We chose Kaichou wa Maid-sama! as our Top 1 not only because it is a great and highly popular anime. Here, you can actually feel Misaki's love for her school and her classmates and how she strives to improve the school environment. Even though the plot of the anime progresses rapidly and Misaki finds herself entangled in a love story, she still stays true to her roots as a female president. Our top recommendation!
---
the Underground Student Council "Prison School"
Ashford Academy Student Council "Code Geass"
This concludes our list of Top 10 student council anime. We hope you enjoyed our small compilation and maybe found one or two shows you want to check out. Even though the dynamics of student councils are fascinating and definitely interesting enough to be the main theme of anime shows, club life seems to be a more popular topic for the school genre. Whether this is justified or not is up to you to decide.
Let us know in the comment section below what you think of anime featuring student councils as well as our recommendations. Feel free to add your own choices and share your opinions with the community.