For the past four years, Shenmue III has been one of gaming's most anticipated titles. Thanks to its long dedicated fan base (count me in as one of its backers), its initial Kickstarter from E3 2015 broke numerous records. Most notably, it became one of the highest funded Kickstarter games at a whopping $6,333,295. Thanks to its slacker back campaign through PayPal, it helped raise its budget to over $7 million by the end of 2018. As of June 2019, its initial August 2019 release was delayed to November 2019, which was met with the support and understanding of its fans. Shortly after around E3 2019, controversy erupted amongst a fraction of its PC backers with the announcement that its PC release will be exclusive to the Epic Store as opposed to Steam.
The Controversy

Initially, when backers were given a survey towards the end of 2018, the survey asked if they wanted a Steam code for the PC release. Due to how the survey explicitly stating they were going to release it on Valve's highly regarded Steam store, this sudden change for fans who expected such a version can be understandable on a surface level. For starters, since the survey "promised" it was going to be on Steam, some PC users are reasonably upset by this sudden change. However, a good number of other fans have pulled the "subject to change" (which was in fact stated) as to why they shouldn't be shocked over it.
Steam has many highly regarded features such as giving users the ability to share their accounts, utilize cloud saves, play games offline, live chatting with friends as you play a game, and give reviews. However, as of presently (during the writing and uploading of this article), the Epic Games Store feature none of that, which partially adds fuel to the fire (though Tim Sweeney, CEO of Epic, has said that he is planning on adding such features). In addition, there have been numerous issues with Epic Games Store's security as to why backers are resistant to the change.
Responsibility from Epic Games

If it's any consolation, Tim Sweeney immediately went out of his way to take responsibility by saying he's willing to provide refunds to backers who wanted a Steam version. And this isn't coming from Ys Net, Sega, or Deep Silver, but from Epic Games' own pockets! Sweeney has also stated on Twitter that he plans on being more communicative as to avoid such situations in the future. The fact that Epic Games is willing to go to such lengths to accommodate the outraged backers shows that they're taking responsibility, and we should give credit where credit is due because they don't want to take away any crowdfunding.
In addition, backers still have the option of getting the PS4 version. Last, it's not like it's going to be on Epic Games Store forever. The team has also admitted that the Epic exclusivity deal is only for one year and that it is going to be released on Steam. If they want to wait another year for Steam, they can do so.
What It Means for Shenmue

As to why Shenmue III is exclusive on the Epic Game Store on PC, it has to do with how the game is being made on the Unreal Engine, which is owned by Epic. Not only that, Epic offers a better revenue split with developers as opposed to Steam. On Steam's store there is a 70%-30% revenue split, while Epic has an 88%-12% split. If Shenmue is a success on the Epic Store, Ys Net can make more money and it gives them a chance to make more Shenmue! Of course, thanks to Steam's revenue split, Valve uses their part of the profits to maintain their respective store and its highly regarded features.
In case some of you didn't know, despite Shenmue III's initial goal being $2 million, it also had stretch goals in case it reached such and such in funding. Not only did it make $7.1 million when combining the Kickstarter and slacker backer campaigns, Epic actually provided the remaining $2.9 million for Shenmue III to reach almost ALL of its stretch goals. The fact that Epic went out of its way to help Shenmue III become the game that Suzuki intended to make is more than enough reason to understand why it's an Epic Store exclusive.
---
Final Thoughts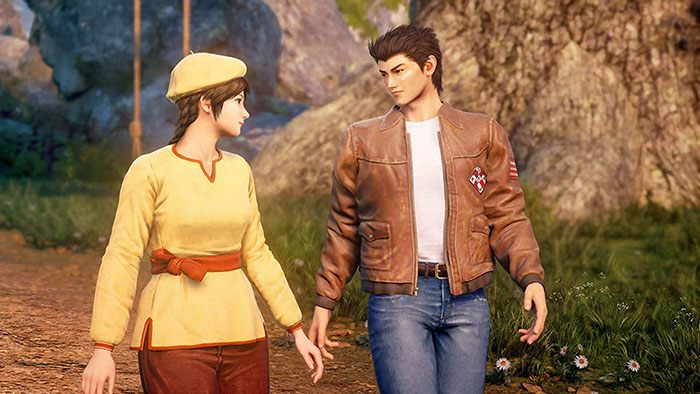 At the end of the day, downloading another "store" for your PC costs NOTHING compared to spending $300+ for a different console. Compared to how the North American Shenmue II Dreamcast release was cancelled at the last minute back in 2001, everybody has to agree that putting Shenmue III on a different PC store doesn't even remotely compare! You don't have to buy a separate PC and downloading either store is FREE!
Up until 2015, a majority of fans were content if the continuation of Shenmue came as a novel or manga. A one year exclusive on a PC store shouldn't change how true fans have been supporting it. No thanks to the Steam vs. Epic Store outrage, many have come to question the integrity of crowdfunded games and the self-proclamation of PC being the "master race." After 18 years, dedicated fans are finally getting the continuation of Shenmue III. Those that have had the chance to play the demos have nothing but great things to say about it. It's reportedly the Shenmue fans still love and more. Unfortunately, exclusives are nothing new in gaming and that now applies to PC. Instead, PC users don't have to pay extra money for another platform as opposed to console gamers. First, those that are upset are free to take their refund, but don't forget who's giving the money back! Lastly, we suggest either switch to the PS4 version, get it on Epic and support the people who made it, or wait another year for the Steam release.