Spriggan

Genre:
Action, Fantasy, Military, Sci-Fi
---
---
Official Images / Key Visuals
Synopsis
Sometime in the distant past, an ancient alien civilization with knowledge and technology far greater than humanity existed on Earth. It is said that the relics of this race are still lying dormant in many parts of the world today. Now, in an era of high speed networks and all-seeing satellites, major military powers are intervening in the excavation and research of these powerful relics, triggering battles for their possession.
Meanwhile, there is an organization whose goal is to seal away the ancient relics due to a message left on a plate by the aliens themselves: "Protect our heritage from evil." The agents of this organization are called Spriggans. The legendary comic that took the 90s by storm has been revived with 2D drawings and 3D computer graphics! Experience this action and romance-packed adventure story reborn 30 years later!
Characters & Voice Actors
Yu Ominae:
Chiaki Kobayashi
Though currently a high school student, Yu secretly works as a Spriggan, an S-rank agent of ARCAM, tasked with sealing off the relics of an ancient civilization. Clad in a specially reinforced suit called an Armored Muscle Suit, he takes on dangerous missions.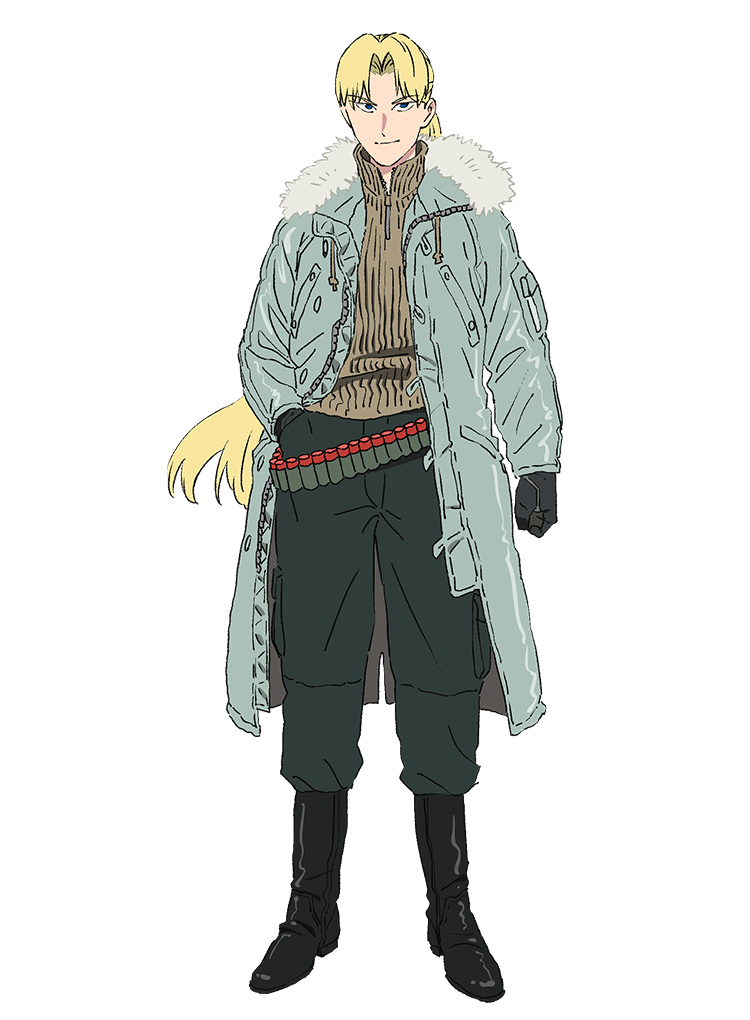 Jean Jacquemonde:
Yohei Azagami
A Spriggan agent. He's a strikingly attractive man with long blonde hair, whose astounding physical abilities far surpass those of ordinary men. He has a wild personality, and whenever he's around Yu, they always end up hurling insults at each other.
Director Yamamoto:
Kenji Hamada
The head of the ARCAM Institute of Archeology's Japan Branch. He communicates orders from ARCAM's headquarters to Yu and provides backup on missions. Though he sends Yu off on dangerous missions, he is concerned for his safety.
Yoshino Somei:
Mariya Ise
An infamous relic thief who goes after relics around the world, selling them to the highest bidder. In contrast to her looks, she's highly skilled in combat and has no problem deceiving others to get what she wants. She attends an all-girls school pretending to be the sickly daughter of a good family.
Koichi Moroha:
Ken Narita
Belongs to the Far East branch of SVR (Russian Foreign Intelligence Service). A ruthless man who is willing to do anything to achieve his goals. He is going after Rie Yamabishi to gain the power of the "Fire Company".
Colonel Macdougal:
Ayumu Murase
Belongs to the US military secret unit "Mechanized Platoon". He looks like a young boy, but actually he is said to be the strongest soldier of the Mechanized Platoon, even feared by his allies as a "man with a power of the devil".
Airing Info

Legal Streaming:

Adaptation

"Spriggan" (Manga)


Main Staff

Original Creator: Hiroshi Takashige, Ryouji Minagawa
Director: Hiroshi Kobayashi
Assistant Director: Shouhei Miyake
Script: Hiroshi Seko
Series Composition: Hiroshi Seko
Character Design: Shuhei Handa
Animation Director: Shuhei Handa
(Credit Honey's Anime when you use our description.)
---