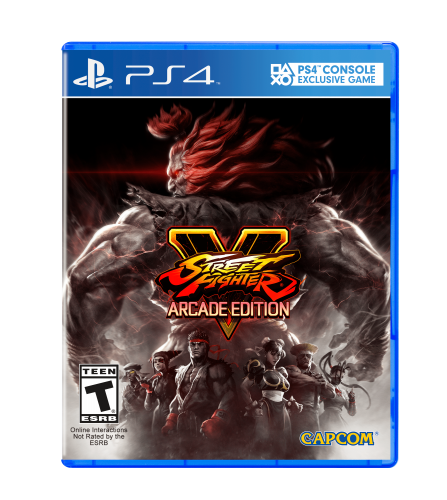 What You Need to Know:
In what initially generated as internet rumor, it now seems that Street Fighter V: Arcade Edition is official according to Capcom. Street Fighter V: Arcade Edition, an updated version of the latest game in the hit fighting series that will release exclusively for the PlayStation 4 and Windows PC on January 16, 2018.
This new version will include everything from the original release of Street Fighter® V, along with the addition of brand new gameplay-related content including Arcade Mode, Extra Battle Mode, new V-Trigger moves, Gallery, a completely redesigned User Interface and more. Current Street Fighter V players will also receive all of this new content for free via an in-game update when Street Fighter V: Arcade Edition releases.
In North America and Europe, the new version will be available physically and digitally on PlayStation 4 and as a digital download on Windows PC for $39.99 MSRP.
Season 2 of the 2017 Character Pass and DLC content for Street Fighter V continues until the end of the year, with one final character still to be announced and released, along with a host of additional costumes.
Source: Official Press Release
Street Fighter V: Arcade Edition Content
Arcade Mode
Extra Battle Mode
New V-trigger moves
Gallery
New User Interface
Season 1 DLC characters*
Season 2 DLC characters*
Arcade Mode Description
In the upcoming Arcade Mode, players can reminisce in the Street Fighter series history as they celebrate the last 30 years of the multi-million selling franchise. Choose from six different paths and compete in matches against CPU opponents to reveal unique endings based on player performance. In Extra Battle Mode, a new series of time exclusive challenges will be available for players to use their Fight Money for the chance to receive an exclusive premium outfit each month. Complete all four challenges each month and receive a special premium costume exclusive to this mode. With extra challenges being added and more unannounced content on the way, Street Fighter V will continue to deliver new and refreshed content on a regular basis throughout 2018 and beyond. More details on the new modes and features, including the new User Interface, will be shared at a later date.
Official Trailer
Street Fighter V: Arcade Edition – Reveal Trailer | PS4

---
Whoa the interface had a major makeover!
I'm loving the new changes to the hp bar and meter gauge! Yay for Capcom!
---