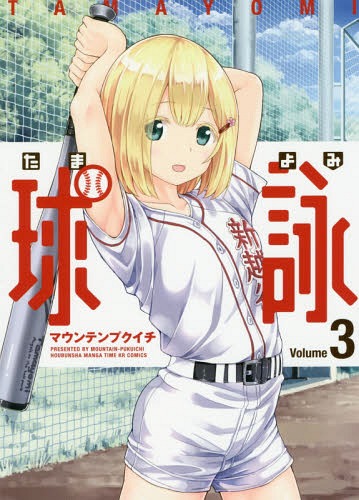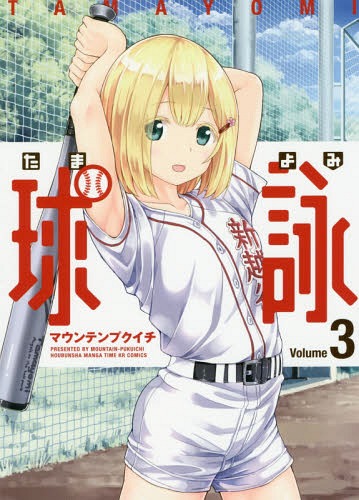 Official Images / Key Visuals
Synopsis
Shinkoshigaya high school, Saitama Prefecture.
Yomi Takeda has just entered into a new school this spring when she is reunited with her childhood best friend, Tamaki Yamazaki.
When they were in middle school, Yomi gave up on baseball because there wasn't a catcher around who could stop her. Thus, she wasn't able to keep pitching her 'makyuu' pitch, a sharply changing pitch.
However, Tamaki is a member of an incredibly powerful, skilled team. Tamaki is the one person who was able to stop Yomi's pitch. In order to realize the promise that they made to each other when they were little, the two of them, now reunited, and together with the Kawaguchi sisters, decided to revive the abolished baseball department.
Their goal? Nationals!
The story of the struggles of this reborn baseball team at Shinkoshigaya high school begins now...
Characters & Voice Actors
Yomi Takeda:
Kaori Maeda
She is a pitcher and team's ace with the uniform number 1. She is good at curve balls, and her trump card is a "magic ball" that she developed in junior high school, but since there is no catcher able to catch it, she plans to leave baseball in high school.
Tamaki Yamazaki:
Satomi Amano
She is a catcher with the uniform number 2. She is able to catch Yomi's "magic ball" and forms the battery with Yomi. She was a part of a strong baseball team in junior high school, and shows hatred to anyone who doesn't recognize the efforts put in by other players. She entered her current high school team.
Nozomi Nakamura:
Ruriko Noguchi
An outfielder/first base with the uniform number 3. She is the strongest batter and likes to play against strong opponents. She is from Fukuoka Prefecture and joined the baseball team in order to reunite with her teammates from junior high school again.
Sumire Fujita:
Marii Hashimoto
Second base position with the uniform number 4. She likes to play carefully through a stylish game.
Risa Fujiwara:
Airi Nagano
Third baseman/Outfielder with the uniform number 5.
Aya Kawasaki :
Rina Kitagawa
Shortstop position with the uniform number 6. She likes to play in a theatrical way.
Other Title
Tamayomi
Theme Songs

Opening Song: "Never Let You Go!" by Naho
Ending Song: "Plus Minus Zero no Housoku" by Shinkoshigaya High School Female Baseball Club

Main Staff

Original Creator: Pukuichi Mountain
Director: Toshiki Fukushima
Series Composition: Touko Machida
Animation Director: Jun Kubota
Sound Director: Hiroto Morishita
Music: Shota Yaso
(Credit Honey's Anime when you use our description.)
Honey's Highlights
An all-girls sports anime with a cute side? Reminds me of Scorching Ping Pong Girls
Oh, yes!! I can see some drama too, but it looks like a blend of sports, school and slice of life anime
Well, drama works for me if I'm getting no ecchi scenes...
I like my baseball anime with females! Although different, I enjoyed Princess Nine back in the day, so I'll give Tamayomi a try!
Three Episode Impressions
Although it features a group of cute young girls, Tamayomi is just like any other sports anime, or so they want us to believe. In the first three episodes, our main heroine reunited with her old childhood friend, not only rekindling their friendship but also their love for baseball; then, they met several other baseball fans and refounded the school club, now filled with flawed yet talented players. However, it's not until the third episode that we actually feel like watching a sports anime: they're aiming for the nationals!
As you can guess, Tamayomi is full of tropes, and to be honest, we were expecting that. Truth be told, being too predictable is not always a bad thing, so you be the judge here, but the animation in these first 3 episodes feels lacking and clumsy, so that's another thing to take into account. For what it's worth, Tamayomi is not the best sports anime ever, but it's certainly not the worst either. Maybe it gets better now we're done with the introductions and we finally have a tournament to look forward to?
---