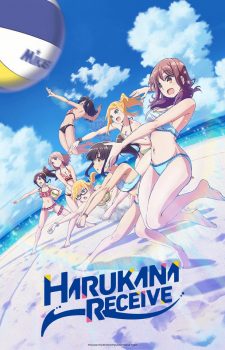 Harukana Receive was a fun anime overall with gorgeous art style, beautiful scenery, a great cast of characters, and the exhilarating pace of competitive beach volleyball, and this combination makes it a one-of-a-kind experience. Oh and let's not forget the delicious fanservice. Seriously, hot damn! Anyway, if you enjoyed Harukana Receive and want to experience something similar or at the very least experience the same atmosphere or vibe this Spring 2020, then we have a couple of shows that might interest you. Are you ready? We sure are!
Liked Harukana Receive? Watch Houkago Teibou Nisshi (Diary of Our Days at the Breakwater)!
Episodes: 12
Aired: April 2020 - Ongoing
Tsurugi Hina has moved into a seaside town to study in high school. On the way to buy some supplies, Hina bumps into Kuroiwa Yuuki, who is fishing in one of the piers, and Hina helps Yuuki reel in an octopus. After some aggressive persuasion by Yuuki, Hina ends up joining the school's Breakwater Club, a club focusing on fishing!
Major Similarities Between Harukana Receive and Teibou Nisshi (Diary of Our Days at the Breakwater)
1. Seaside Scenery
Both Harukana Receive and Houkago Teibou Nisshi take place around beaches and places near the ocean, and for some fans, sometimes the scenery takes priority. Anime can be watched for its story, for its characters, for its art style, for its soundtrack, and yes, anime can also be watched for its scenery, too. Anime, especially slice of life, gives the audience a few moments to appreciate the scenery by slowly panning the camera around fields, skies, or even a bustling street corner. Harukana Receive and Houkago Teibou Nisshi are definitely different anime, but if it's scenery an anime fan wants, and the story is just the backdrop, then both shows deliver on giving you sweeping vistas of beaches, harbors and shores.
2. The Main Character is a Natural
Anyone has the potential to be good at something they have never tried before and all they need is someone who can teach them to utilize their abilities. Hina, at first glance, isn't the type of person to enjoy fishing, but fishing is something Hina finds strangely interesting. Yuuki and everyone at the Breakwater Club teach Hina how to untangle the reel, prepare a lure, how to properly cast the lure, prepare bait for specific kind of fish, some tricks on how to get the fish to take the bait, and teach Hina how to prepare the fish she catches. At first, Hina feels queasy handling slimy things and doesn't see the enjoyment of catching a fish and then preparing it as something fun to do, but as soon as Hina gets the adrenaline rush after catching the fish, the feeling of satisfaction is something she just experienced for the first time.
In a way, Hina is just like Haruka, who is also a city girl that just moved into town and encounters beach volleyball, takes interest in the sport, and realizes she is naturally built for beach volleyball—she's tall, can jump high and her arms have respectable striking power. But still, Haruka's potential can only be drawn out through training, gaining experience from playing against other teams, and encouragement from her friends Kanata, Claire and Emily. And much like Hina, Haruka starts from someone who knows nothing of the sport, but eventually learns the basics and becomes good enough to compete.
---
Liked Harukana Receive? Watch Tamayomi (TAMAYOMI: The Baseball Girls)!
Episodes: 12
Aired: April 2020 - Ongoing
Yamazaki Tamaki quit baseball in middle school because her ball pitching skills are both a miracle and a curse—her pitches are hard to read, and it causes problems to her team because the catchers couldn't catch her ball. On her first day of high school, Tamaki is reunited with her childhood friend Takeda Yomi and Tamaki's passion for baseball has been reinvigorated because Yomi is the only one who can catch Tamaki's "magic throw."
Major Similarities Between Harukana Receive and Tamayomi (TAMAYOMI: The Baseball Girls)
1. An All-Girl Cast Playing a Competitive Sport
Tamayomi and Harukana Receive are stories about a group of girls playing a competitive sport, and the pacing is typical with the girls forming a team and competing against rival teams. Haruka has taken an interest in beach volleyball, and while she has a firm grasp of the mechanics, she still needs training. Kanata becomes Haruka's partner and coach, and throughout the series, Haruka gradually improves and the two score a few victories in amateur tournaments. Tamaki and Yomi already have experience playing baseball in middle school, but due to several circumstances, the two stopped playing until they're reunited in high school. Tamaki and Yomi revive the school baseball club, and with their renewed determination, the two girls and the rest of the club work their way up by training hard, understanding the strength and weaknesses of each member, so they can be ready to play against Japan's finest.
2. Both Shows Share a Similar Story Structure
Back when Tamayomi was announced, fans quickly compared the anime to 2018's Harukana Receive because the premise is very similar, and it turns out both shows are indeed similar—main female character reunites with female childhood friend, childhood friend has a tragic past that discouraged her to play baseball, main character reignites childhood friend's passion for baseball, the girls form a club, and take on the very best all-girl baseball teams in Japan. And the cherry on top is the title Harukana Receive and Tamayomi are abbreviations of the main characters—Haruka and Kanata forming Harukana, and Tamaki and Yomi forming Tamayomi.
3.) THE GIRLS ARE ALL THICC AF YO!!!
*ahem* Oh, right, where were we?
Final Thoughts
To wrap things up, Harukana Receive, Houkago Teibou Nisshi, and Tamayomi are simply stories about groups of girls enjoying the things they are passionate about, and if you enjoyed Haruka's journey through the world of volleyball, then you will certainly enjoy the journey of Hina's and Tamaki's. That's what we think, but we would definitely like to hear what you think of this topic, so please leave one in the comments section below. By all means, we're all ears!
---