What Would You Sacrifice for Love?
Movie : 111 Mins
Genre : Drama, Fantasy, Romance, Slice of Life
Airing Date : January 15, 16, & 17, 2020 (In select theaters)
Producers : CoMix Wave Films
Tenki no Ko (WEATHERING WITH YOU) Introduction and Story
Tenki no Ko—translated as WEATHERING WITH YOU—focuses on a strange romance met in an even stranger way. Our movie opens up with a young woman—later known as Hina—who follows a beam of light from the sun to a dilapidated building. When Hina reaches the roof of said building, she finds a strange shrine and prays for the rain to let up. As Hina passes the shrine entrance, a strange phenomenon occurs, bringing her body to the sky and above the clouds!
We then skip ahead to a young man named Hodaka Morishima who has decided to run away from his island village to pursue a new life in Tokyo. While enjoying the rain on the deck of the ship, a passing storm hits nearly knocking him overboard! Luckily, a man named Keisuke Suga saves Hodaka from falling into the sea and gives the young boy a business card in case Hodaka needs him again. Hodaka attempts—briefly—to live off the streets and in an internet café but quickly runs out of money and is left homeless.
One fateful afternoon, Hodaka ends up in a McDonalds and is given a burger by Hina who just so happens to work there. Hodaka ends up relying on Keisuke when his money dries up and finds out he's the head editor of a gossip magazine full of "odd" stories. Working as a writer/errand boy, Hodaka ends up finding happiness with Keisuke and his "thought to be mistress" Natsumi. A short while after this "extravagant meal" from Hina and gaining his new job, our young man sees Hina being dragged to a shady looking venue and saves her by running off with her and then using a gun—he happened to find in a spilled over trash bin—to scare the men away. A friendship is born between the two and Hodaka learns of Hina's powers to control the weather using prayer.
The two friends create a website to make use of Hina's gift and alongside her brother—Nagi—the trio begins to make money as they banish the rain temporarily for those who request their services. As the tale continues, we learn that the rain ceases to stop and continues pouring with Hina slowly getting tired from using her power. Making matters worse, while at her apartment, the police arrive to question Hina as to the whereabouts of Hodaka. Due to him obtaining the gun he found and using it—as well as now being searched as a missing person by his family—Hodaka is considered on the run. Worse yet, Hina's age is questioned by the police and they make moves to get her and Nagi into a foster family. This incident fuels Hodaka to make the decision to run off with Hina and Nagi—as Hodaka is falling more in love with Hina as time passes—and the two search for a means to live using money given to Hodaka from Keisuke who now wants Hodaka to leave.
The trio struggles to find a place and even nearly gets arrested by the police but they eventually arrive at a hotel escaping the oncoming floodwaters from a powerful storm that's hitting Japan. As the trio rest, Hina shows Hodaka the after-effects of her abuse on her powers as she now has translucent spots on her body as she gets "closer to the sky". Even after the prayer that they stay together forever, Hina ends up being taken to a sky world—sacrificed as predicted by an earlier revelation in the movie—leaving Nagi and Hodaka stunned.
Their troubles continue when the police arrive at the hotel, arrest Hodaka and take Nagi into protective custody. Thankfully, Hodaka is able to escape from the police precinct to go to the dilapidated building where Hina gained her supernatural gift. Despite numerous struggles, Hodaka arrives at the shrine and is able to save Hina but at a cost that forever changes the world. What is this cost you might be asking? Well, that is where our spoilers will end as WEATHERING WITH YOU is a movie you must witness to get the full grasp of this deep tale of love and pain. For now, we will go further with our review to show you reasons why you absolutely must witness WEATHERING WITH YOU for yourself and reasons you might want to skip it. Though to be honest, our reasons to skip are minor ones and truly you'll be hard-pressed to find any reason not to sit down and watch WEATHERING WITH YOU. Yes folks, it's that incredible of a movie.
Why You Should Watch Tenki no Ko (WEATHERING WITH YOU)
1. Animation at Its Best!
If you're a fan of all things Makoto Shinkai—which you should be—then you know one of his greatest strengths in the anime film world is animation. Yet again, Shinkai creates a film that blew us away by not only looking gorgeous but having animation that can't be beat by many films if any. Want a good looking anime film to watch? Then go check out WEATHERING WITH YOU!
2. Simple Narrative with Deep Themes
Shinkai's various films like Kimi no Na wa and Byousoku 5 Centimeter might seem like simple romance tales but within these stories lies a deeper meaning with a simple narrative. We doubt anyone will leave WEATHERING WITH YOU not understanding the base story of romance and what it means to sacrifice for said love but many viewers will dig deeper and begin to unravel a complex agenda hidden in the film. Those elements we won't spoil but we highly recommend keeping your minds open when watching WEATHERING WITH YOU to see themes not usually tackled in anime romance films.
3. Supernatural Done Right
Works by Shinkai often involve supernatural themes—not all of his films but a majority—and WEATHERING WITH YOU isn't going against that concept. However, as crazy as the supernatural elements are in WEATHERING WITH YOU, none of them feel abused or overly exaggerated. Yes, a girl controlling the weather with prayer might seem outrageous but is it that unbelievable to think prayer can't cause a passing storm to weaken even for a brief moment?
Why You Should Skip Tenki no Ko (WEATHERING WITH YOU)
1. Morbid but Sweet Ending
Makoto Shinkai is no stranger to creating endings that don't always seem pleasant. WEATHERING WITH YOU has a happy ending in terms of a relationship being truly forged but the grand outlook on the world due to this blossoming romance can be considered…morbid. This ending will definitely cause some discussions in the anime community but it also might cause some viewers to leave the theater with a bit of a sour taste in their mouth.
2. Underused Cameo Appearances
Fans of Kimi no Na wa—Your Name—might be happy to see two very well-known characters make appearances in WEATHERING WITH YOU. We here at Honey's Anime loved seeing them as well but kind of felt like they were thrown in just for that shocked cameo appearance feeling and not really for any other purposes. Will this really make you not want to watch WEATHERING WITH YOU? No, but it will make you sigh when you realize they have little input on this tale in the grand scheme of things.
3. Prepare for the Emotion Train
Now as silly as this might come off—but it's something we hear often—some people don't like Shinkai's works because they are too emotionally draining. That being said, if you're easily pushed away from a film due to the possibility that you'll leave in tears and have your heart pulled through your chest you might want to skip on WEATHERING WITH YOU.
---
Final Thoughts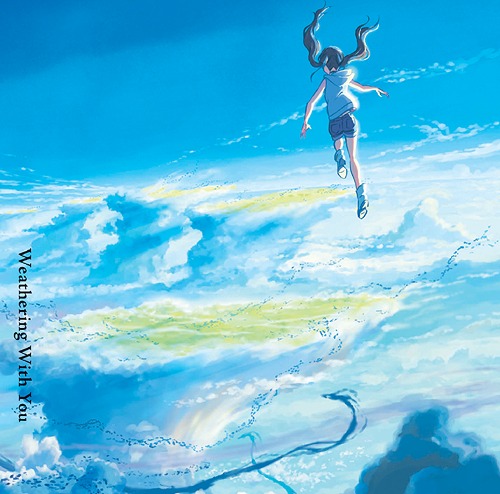 There will be a lot of debate whether WEATHERING WITH YOU is better than Kimi no Na wa and/or weaker and we can honestly say they both are pretty incredible films. Makoto Shinkai has truly mastered the art of taking simple themes of romance/life and making it deeper than even imaginable. WEATHERING WITH YOU deals with concepts of homelessness, longing, sacrifice, humanity and environmental decay/change all while being wrapped up in a supernatural charged romance plot that will make you smile and cry in equal beats.
If you notice above, even our reasons to skip WEATHERING WITH YOU list isn't really that strong as it's hard to find fault with such an expertly crafted film. In our minds, WEATHERING WITH YOU is a must-see film this year and we are just happy we got to see it early thanks to AnimeNYC! When this film hits the big screens this coming January, you'd best grab a ticket so you can sit down and witness yet another Makoto Shinkai masterpiece! Are you excited to watch WEATHERING WITH YOU this January or did you also happen to see it early at AnimeNYC? Comment below your responses and be sure to keep stuck to our amazing hive here at Honey's Anime for even more anime reviews and articles!
---