Winter 2021 is wrapping up quickly and in a few more weeks, the spring 2021 anime season will begin! That's why, before the new wave of anime airs, we here at Honey's Anime have decided to talk about some of our favorite anime characters from this winter 2021 season.
These characters have made an impact on us and the anime community for a multitude of reasons and we need to give them their chance to shine! Now let's see who took our hearts and our love this winter 2021 anime season and begin our list properly!
5. Kumoko from Kumo Desu ga, Nani ka? (So I'm a Spider, So What?)

Despite Kimono being a creature most humans fear/hate, So I'm a Spider, So What? is one of the few times we will go "aww" when seeing a spider. After being reincarnated in another world as a spider, Kumoko found a new perspective on life quite quickly and while it wasn't an easy pill to swallow, our young spider became tough as the series progressed. One could argue she didn't exactly take well to being a spider—her reactions, though, are priceless—but we can't deny becoming a spider wouldn't make us all that thrilled. Nevertheless, Kumoko gives us strength as she dives into the unknown world she entered and began to realize if she wanted a successful new life—albeit as a spider—she would need to be tough and do what needed to be done! Now let's hope she can grapple with her new form a bit better going into the future of So I'm a Spider, So What?
---
4. Rudeus "Rudy" Greyrat from Mushoku Tensei: Isekai Ittara Honki Dasu (Mushoku Tensei: Jobless Reincarnation)

After dying to try to save a woman's life, a young man finds himself reborn in newborn Rudeus Greyrat's body. Despite having memories from his prior life, Rudy now aims to be a better person and rid himself of his original weaknesses and failings with this new found lease on life. Even if Rudy can be a massive pervert—though we can't blame him with the girls around him—this young boy is a character we truly adored this winter 2021 season. Filled with ambition, drive and perverted aspirations, Rudy is clearly destined for greatness and watching him head there has been a thrill!
---
3. Reki Kyan and Langa Hasegawa from SK∞ (SK8 the Infinity)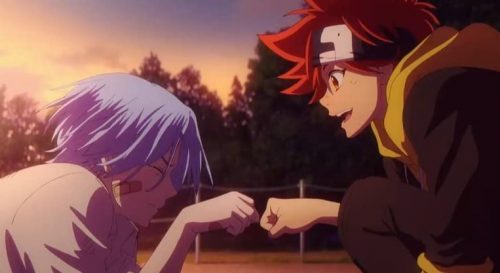 The anime community has long been known for shipping characters with each other, despite how clearly those ships won't actually happen within the series. Recently, one of the biggest ships of anime history goes to Reki Kyan and Langa Hasegawa from Sk8 the Infinity and we can understand why. These two should be the prime definition of anime friendship as they team up and help one another in the world of Sk8 the Infinity. Reki's friend might not have skating experience but this powerhouse duo uses their combined talents to overcome various situations as best friends—and possibly more if our ship happens—should. Reki and Langa are peanut butter and jelly. One is amazing but both become a truly out of this world experience.
---
2. Otto Suwen from Re:Zero kara Hajimeru Isekai Seikatsu 2nd Season Part 2 (Re:Zero Life in Another World Season 2)

You would be forgiven if you couldn't remember who Otto Suwen was from the first season of Re:Zero as he's a pretty unimportant character when he's first introduced. Now, in season 2, if you ask who Otto is you'd be attacked for your ignorance. Otto has propelled himself into one of the best characters in Re:Zero thanks in large part to how kind he's been to Subaru and how he's truly helped his friend with his minor abilities. Plus, Otto's backstory is so sad that we still tear up when he appears in any scene.
---
1. Ai Ooto from Wonder Egg Priority

Wrapping up our list is Ai Otto and, hands down, she is one of the most beautiful spirits to enter our lives in 2021. Ai has suffered due to her heterochromia and loss of her friend but that hasn't stopped this 14-year old from standing tall against the world and trying to undo a massive life-changing event. Ai is quite ordinary but her bravery, strength, and willpower propel her above most characters from winter 2021 and make her a beacon of hope for those who know the pain of being bullied. We pray Ai finds her way within the world of Wonder Egg Priority and equally pray she's given what she desires most!
---
Final Thoughts
The winter 2021 anime season has given us some truly amazing anime characters and we know we didn't name them all. Do you have a particular favorite character from the winter 2021 season that we didn't mention? Let us know via the comments below! For even more articles showing your favorite anime characters some love be sure to keep stuck to our anime loving hive here at Honey's Anime!
---