If you know anything about the studios behind anime at all, chances are you've heard the name Kyoto Animation. It's one of the biggest names in the game, and one of the most popular. With huge titles like Free!, Lucky Star, The Melancholy of Haruhi Suzumiya, K-ON, and CLANNAD, it's easy to see why the studio is so famous. While Kyoto Animation doesn't produce a huge number of new titles every year that some studios make (though they're doing more every year than before!), it rarely makes anime that go under the radar. Rather, Kyoto Animation has a knack for making shows that everyone is talking about, and that withstand the test of time as they remain popular years after airing.
But of course, Kyoto Animation wasn't always what it is today. Like every great success story, it has its own humble beginnings. So while it's very likely that you have seen at least one show made by Kyoto Animation whether you know it or not, do you know the history of the studio? If you're curious to learn where Kyoto Animation came from, and how it became what it is today, keep reading! We're happy and excited to present our History of Kyoto Animation to you!
---
What is Kyoto Animation?

As stated in the introduction, Kyoto Animation is a very famous studio that produces anime – but they actually do so much more than that, too! While we will explore a more in-depth history of the company soon, we thought it was best to begin with a simple explanation and background information about the studio. Kyoto Animation, sometimes called "KyoAni" for short, is not based in the city of Kyoto, but rather in the city of Uji in Kyoto Prefecture. Even its trademark logo is based on its name, using the first kanji from "Kyoto" (京, read as 'kyo') as its inspiration.
Beyond simply producing animation, Kyoto Animation also publishes novels and manga and designs new characters. The people at KyoAni are always trying to stay at the forefront of the world of digital animation in a world where all anime is at least finished on a computer if not published entirely on one. It also produces, markets, and sells a lot of different products and merchandise which they retail at their own store and also as wholesale to other retailers, and even manages a school! The KyoAni website lists the company's corporate philosophy as four important goals: "'Make a challenge', 'Do the best', 'Produce required works' and 'Keep our corporate as a humanitarian one.'" In a business market struggling with overworked employees and even occasional work-related deaths or suicides, it's good to see Kyoto Animation striving to keep their workplace, in their words, "humanitarian." And of course, doing their best and producing new things is what keeps them in business and a household name for anime fans!
On top of everything else, Kyoto Animation runs and attends events somewhat regularly. From their own events for fans of the studio to have booths at international events like Anime Expo in the USA, KyoAni is always out there trying to make itself available to the people that love it. And of course, appealing to fans is a good way to stay in business, and thus far Kyoto Animation has proved to have a very successful business model. They must be doing something right – and more than just making great anime!
---
In the Beginning

Kyoto Animation was originally started by a married couple, Hideaki and Yoko Hatta, in 1981. This power couple started the studio together, and even today they continue to serve important roles in the company! Yoko was a former staff member of the studio Mushi Production but had left the company when she moved to Kyoto to marry Hideaki. When the company first began, it was very small. But by 1985, it had become a limited company, and later became a larger corporation in 1999. Originally, KyoAni did not produce their own anime but instead helped with the animation of shows that other, larger studios were producing. These included some really big name studios like Studio Ghibli, as well as famous anime such as Cowboy Bebop, Inuyasha, and Akira.
KyoAni did this work for other companies for a long time, from 1981 until 2003. It wasn't until over 20 years after it was first established that the studio finally published and released its own original animation, called Munto. It was a fantasy OVA, and it was only released in stores and never on TV or on DVD. After that very humble beginning, Munto was later followed up the same year by the well-received Full Metal Panic? Fumoffuu. This anime was a follow-up to the show Full Metal Panic! which had been previously released by Studio Gonzo. KyoAni saw the opportunity as one it had to succeed at if it wanted independent recognition, and they were successful! The show was well-received, and Kyoto Animation was able to animate another sequel in 2005 called Full Metal Panic! The Second Raid.
By this time, KyoAni had also released a new anime called Air, their first work that didn't already have another adaptation already in existence. From there, Kyoto Animation began to head towards the studio more as we know it today – a largely successful and independent company, rather than a support one to other bigger names.
During these early years of independence, KyoAni formed a very important relationship with the visual novel company Key. Key began using Kyoto Animation to animate its visual novels, which gave the animation studio, even more, material to work from and a good network in the industry. This was just in time for KyoAni to release one of their most famous works of all time – The Melancholy of Haruhi Suzumiya. They were lucky, too, because six months after that anime's premier they adapted Key's visual novel Kanon into an anime, and it was not well-received at all. Haruhi Suzumiya was able to save the company's face, though, and for the most part, the failure of Kanon was lost in the passage of time.
Shortly after the massive success of The Melancholy of Haruhi Suzumiya came Lucky Star in 2007, which actually paid homage to the former anime as well. The main character of Lucky Star was written to be a huge fan of Haruhi, even cosplaying her in the show and using the theme from Haruhi as her ringtone. Lucky Star was also massively successful, and alongside Haruhi Suzumiya, remains a popular Kyoto Animation anime even today. Whether or not they will stand the test of time and become true classics is yet to be seen of course, but 10 years later they are still very important anime in the industry – and important turning points for Kyoto Animation.
---
On the Road to Success

Riding the waves from Haruhi and Lucky Star, KyoAni went on to produce Clannad in late 2007 and its sequel Clannad After Story in 2008. The series also remains popular today and is considered another "must watch" title by many anime fans. 2009 saw the original KyoAni independent OVA Munto getting its own TV series, but it went under the radar compared to K-On! which released the same year. K-On! really started the tradition that KyoAni titles would tell the stories of normal people in beautiful ways, something the studio would begin to be known for. Many KyoAni titles are about normal people living in modern times, but even the simplest of stories are told in a way that entices the audience and helps make the stories that are fan-favourites even years later. But we will talk more about that in our next section of the article!
2009 remained a busy year for Kyoto Animation as the studio released the second season of The Melancholy of Haruhi Suzumiya and a movie for Munto. Before this, the studio had never produced a movie before. And the shockingly, their next release in 2010 was another movie – but this one was for Haruhi Suzumiya! It was a huge box office success in Japan and left fans of the original series feeling very satisfied as well as showing Kyoto Animation could have success at the cinema as well as on the television. K-On's own movie was released in 2011 in the cinema and was considered by some to be even better than the original television anime. The same year, the studio released comedy anime Nichijou, using an animation style unlike any it had used before.
At this time, KyoAni was mostly making sequels of its previous works for television, but in 2012, it finally released another new story. This was Love, Chunibyo & Other Delusions and well as Hyoka. 2013 began with Tamako Market by the same team that produced K-On!, but it wouldn't be the biggest KyoAni release of the year. In the spring of 2013, Kyoto Animation released a 30-second trailer for a new project featuring then nameless boys on a swim team. The commercial went viral on the internet, and fans produced an overwhelming amount of fan-created content based on this vague "swimming anime" they knew little about.
This even included making online petitions to Kyoto Animation to make the commercial into a full-length series. Of course, we can all guess now that this was the humble start to the massively successful series Free!, based on the light novel High Speed! and telling the story of a high school boys' swimming team. It was released in autumn 2013 much to the fans' delight. One final anime was also released in 2013 titled Beyond the Boundary, based on yet another light novel. 2014 was a year of sequels and movies for Kyoto Animation, with works produced for Tamako Market, Free!, and Love, Chunibyo & Other Delusions. Amagi Brilliant Park was the only new story that was released that year, but the sequels and movies of their previously successful titles were generally well-received by fans.
In 2015, both a recap and a sequel movie were released for Beyond the Boundary, and KyoAni's animation style began to slowly change from the style of K-On! which had been predominantly used until this point. That change in style became even more apparent with the release of Sound! Euphonium that same year. It has since been regarded by some to be one of the most beautifully animated series in animation history – at least so far!
In early 2016, the anime Myriad Colours Phantom World was released, and later that year Sound! Euphonium got a second season. 2016 was also another huge year for Kyoto Animation at the cinema with the box office smash hit release of a Silent Voice. It was second only to Kimi no Na wa., which is really saying something considering how popular that film went on to become even internationally. A Silent Voice won a few different film awards within Japan, and as the praise of the maker of Kimi no Na wa. as well. At the time this article was published, it was also nominated for an award at the Annecy International Animated Film Festival.
That finally brings us to 2017 and Kyoto Animation's only television anime release of the year, Miss Kobayashi's Dragon Maid, which again has developed a respectable fan base for itself. KyoAni also released several movies based on Free! as well as one for Sound! Euphonium this year as well. And of course, they have more plans for the future!
---
KyoAni's Legacy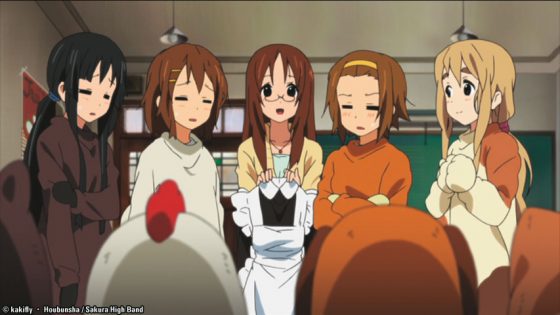 Kyoto Animation's anime have is their unique style, which makes KyoAni anime often easy to pick out as being from that studio. They are famous for having cutting-edge visuals, beautiful and thoughtful background animation, and deep characters. KyoAni is known for its attention to small details, from the realistic hair blowing in the wind to the symbolic changing of light as a character moves. These animation details are not necessary, but they add much depth to a story and are visually pleasing to watch. Even as KyoAni's base style changes over the years from the way K-On! was originally done, these small details remain. And each KyoAni piece is a work of art in itself.
As aforementioned Kyoto Animation is also known for making stories about simple lives, set in normal and modern settings. However, instead of being boring or mundane, the stories are told in a way that hooks viewers and keeps them coming back for more. You're not likely to see blood, gore, and horror in a Kyoto Animation title, but you will see normal people achieving extraordinary things in their daily lives. Even titles like Munto that take place in a fantasy world with magic keep things simple, and what happens seems believable. It's a trademark of KyoAni anime that has served them well so far and keeps its titles distinctly recognisable as being from the studio.
Also as mentioned throughout this brief history of KyoAni, the studio has a good habit of making hit anime. This is probably due to a lot to their critically acclaimed animation and story, of course! Many of the biggest titles they have made are still favourites of many anime fans around the world today, with their merchandise available to purchase and people still cosplaying from them even years later. It's an achievement that is hard to acquire, creating an anime that is loved after it finishes airing. But Kyoto Animation had managed it, and not just with one anime but with more than half of what they have produced.
Whether they're being watched in anime clubs or at home amongst friends, or even just enjoyed alone, titles like the Melancholy of Haruhi Suzumiya and Clannad remain popular. And what's more is that KyoAni can continue to make movies and OVAs based on their more famous titles - and people continue to not only watch them but enjoy them! The studio had developed quite a positive reputation for producing quality anime that is enjoyed by many people over the last 15 or so years. And with the massive success of recent titles like Free!, that doesn't seem likely to change anytime soon.
---
Kyoto Animation Studio Today

By 2009, Kyoto Animation was well on its way to huge success, even only producing an average of two anime a year. It was in this year that KyoAni began something new called the Kyoto Animation Award. This award offered the unique chance for the chosen original manga or novel to possibly become a full-length animation! Huge hit anime like Free! was originally honourable mentions in for this award, and later went on to become hugely successful. In 2014, the original novel Violet Evergarden became the first to win the grand prize. It went on to be published as a light novel in 2015 and is slated to air as an anime in early 2018. Considering it took five years for a work to be awarded this grand prize, it shows just how particular KyoAni is about the quality of the material they put their name on. It means their standards are high, and they are able to maintain their hard-earned reputation as producers of quality content. Of course, this award programme still continues today.
Kyoto Animation continues to grow as a studio today – and not just in Japan, but internationally as well. With more than half of its shows being licensed for a Western audience and sold abroad, its influence continues to spread. KyoAni has been a guest at Western anime conventions as of late as well, which helps it continue to gain more and more international fans and followers. Within Japan, KyoAni has achieved a similar level of success. The studio now has a head office as well as two additional studios and a merchandise store in Kyoto Prefecture, as well as another office in Tokyo. KyoAni may not produce as many anime as some of the other big anime studios make every year, but what they do put out is critically acclaimed and becomes a fan favourite more often than not. Quality over quantity seems to really be the driving force behind Kyoto Animation even nowadays.
Remember Hideaki and Yoko Hatta from the beginning of the article? The married couple that started Kyoto Animation still serves major roles in the company even now, thirty years later! Hideaki is the president and planning producer for all of KyoAni's biggest titles, which is an incredibly important role in the studio. Meanwhile, Yoko has a similar role as vice-president, but with animation works that have later been added to the KyoAni umbrella. They started the company together, and together, they continue to help drive it towards success in Japan as well as on an international stage.
---
Final Thoughts
Kyoto Animation has been responsible for both classic titles as well as new hits. But it does so much more than just make anime! Plus its relationship with the fans is second-to-none, listening to them and reaching out to them, and trying to be as accessible as possible. Of course, only time can tell if KyoAni's anime and other products can really become true classics and last over the course of generations, but they're doing well so far. And as it makes more and more anime each year, it's always only a matter of time before they make another smash hit like Free!. Whatever happens, Kyoto Animation is likely here to stay, and will continue to be a major player in the anime and manga world for years to come. Again, KyoAni proves that quality over quantity is a strong business model – they don't have to make countless anime just to get a good one. They only make the good ones.
What's your favourite anime or manga from Kyoto Animation? Would you like to visit their studio or physical shop, or have you been there already? Are there any other studios you would like to know more about? Let's talk about KyoAni and more in the comments below!
---