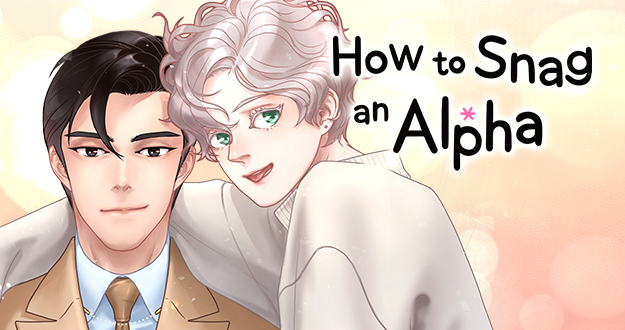 This year we had to say goodbye to a lot of stories that helped fill a hole in our hearts. How to Snag an Alpha is one of them… or at least, that's if you know Korean and are following the original run! The official English translation is way behind with the story, which means we still have a long way to go before we learn what we have to do in order to find ourselves an alpha.
The last time we checked, the relationship between Wooyoung and Kyungjoo was a bit unstable, much like Wooyung's heat cycle. Has something changed between them? Let's find out!
Going Steady

After living his whole life thinking he's an alpha, Wooyoung finds it hard to believe that he's actually an omega. He barely has any pheromones and he's never had his heat, but when he meets Kyungjoo, his body immediately reacts, producing a faint hint of pheromones that everyone in the room notices. Wooyoung is determined to conquer Kyunjoo, so he approaches him and tries to seduce him. It doesn't really work, but Kyungjoo decides to take him somewhere else more private.
Although they don't have a great start, soon the relationship between these two becomes more loving. It takes some time for Kyungjoo to realize his feelings for Wooyoung but, once he does, he refuses to leave his side. Even when Wooyoung's dad opposes the relationship, Kyungjoo goes to the house to try and convince his father-in-law. When it becomes obvious that Kyungjoo is not going to give up, Wooyoung's dad comes up with a plan to separate the two love birds: sending Wooyoung to the United States to study, hoping that will make Kyunjoo give up. Will that work?
Long-Distance Relationship

Wooyoung is not someone who gives up easily so when he finds out about his dad's plan, he tries everything to stay in South Korea. Soon, it becomes evident he can't go against his father's wishes and, reluctantly, agrees to go to the United States. Kyungjoo doesn't know anything about Wooyoung going to the States, so it comes as a shock when he learns that his boyfriend is already at the airport and about to leave. Without wasting any time, Kyungjoo hurries to the airport and makes it just in time to say goodbye.
Studying abroad is not for Wooyoung. He misses his boyfriend and finds it hard to concentrate because he spends his days thinking about Kyunjoo. What's even worse, after spending so much time with a dominant alpha, Wooyoung's pheromones are starting to show even more. Because of this, he attracts the attention of another dominant alpha at college, a guy so popular he's sure Wooyoung will fall head over heels. Think again, mister! Even though it's hard, Wooyoung and Kyungjoo make the long-distance relationship work somehow, their love for each other growing every day.
What Do We Need to Snag an Alpha?

Well, this question can't be answered just yet, but we can tell you a few things about this manhwa that has snagged our attention. The art style of How to Snag an Alpha is very appealing, portraying the characters in various ways. In one scene, Kyunjoo can be all sexy and dominant and, in the next panel, he'll appear as a chibi, round man with puffy cheeks. On the other hand, Wooyoung has a lot of expressions that go from happy and smiling widely to a crying mess with a runny nose.
The personalities of these two love birds are so different yet, somehow, they're perfect for each other. Wooyoung manages to make Kyungjoo lose some of his seriousness while Kyungjoo helps Wooyoung mature. And, more importantly, the sex scenes are s-p-i-c-y. We all love a good story with a plot but let's be honest, it's even better when the characters spend a lot of time naked and inside each other, right?
---
Final Thoughts

We know it's hard to wait for new chapters to come out; we want to know what happens with these two as soon as possible! But, as much as that bothers us, it's also a blessing in disguise. We don't have to find another story to fill in the hole that How to Snag an Alpha will leave in our hearts just yet. Wooyoung and Kyunjoo are here to stay, at least for a while longer.
---