Yeeeeeeeeeeeeeees Yes Yes Yes Yes!!! This is what I wanted!
I am QUITE satisfied with what I am getting this season.
Boogiepop is really scary and I love every minute.
There are so many pretty men this season too. I have to say I am going to be looking forward to seeing more.
Nailed It!
Okay so this week, we get the back story of what is going to happen this season. Apparently the student council president is not only in charge of the school, she basically rules Japanese society from afar. This woman...
Not content with what she has, we are now going to get a new group of family members to compete in an gambling-style election. So most of these losers are definitely going to be burn-off characters in the sense that they will either lose fast to Yumeko or gang up on her plotting to win, but get crushed. They are already tearing through the student council, so expect the members to also go insane.
We also get a juicy piece of gossip in the bit that Yumeko is a distant relative of the student council's family. Anway, finger fantasy loli loses and we move on. I kinda hope we get more of Midari x Yumeko because I love the intense and sharp mood swings Midari brings out in Yumeko. It makes everything so much more lively. I was also glad to see Meari come back as well as she and Yumeko have proven to be a terrifyingly brilliant combo. Maybe a three-way battle with Midari, Meari, and Yumeko on one team? One can only dream.
Yumeko is amazing! This season is off to a good start and I cannot wait to get more.
Leaders and Cuteness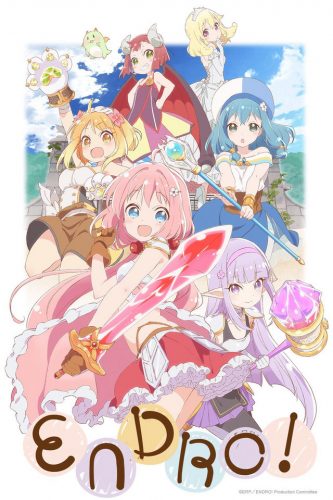 Today's episode of the week is Endro. For this week's assignment, the girls have to decide on a leader in their group, which is something that makes them hesitate greatly as they absolutely do not have the ability to decide. Indecisiveness is a problem I understand well. The girls battle with their inability to elect a leader that they decide to pick Chibi-chan as their leader, which is silly because Chibi-chan is more of a mascot. They even state that cuteness wins out over everything else. It is a little nonsensical, but they didn't want to elect a leader that badly that they elected a mascot character.
I think it's a bit funny that they really just did not want to make the decision. So many of us do not want to make decisions and so we choose a rather frivolous reason as justification for our decisions, which is just silly. Yet, we grew up in a society that made all of our plans for us until we were adults so when it's time for us to be adults and make life altering decisions, the consequences are a bit more than any of us are ready for. Maybe that's why I think this moment in Endro was so funny. I can relate to it so well, especially when my decision making may be based on not wanting to hurt anyone's feelings or not wanting to seem like I'm bragging. I'd rather if someone else made the decision and I can be along for the ride.
This is just what we've all amounted to, isn't it?
Love Advice
Considering Kaguya Shinomiya and Miyuki Shirogane are introduced to us like the gods of wit, one could think they are the right people to ask when it comes to love advice. However, even if Miyuki is the academy's most coveted bachelor, he's far from being an expert... and it shows.
Kaguya-sama: Love is War is an anime about hiding your true feelings, but the last story in the second episode is more about showing how you really feel. Too bad Miyuki has zero experience and he's only misguiding that poor soul! The funniest part has to be Miyuki's impersonation of the girls, an overly optimistic take on women's mind. Oh, and let's not forget he coined the term "kabedon" back in the day!
A few minutes later, Miyuki admitted Kaguya is indeed his ideal woman (taking some of her worst defects as if they were virtues) and apparently that means he lost the battle. But did he? If you ask me, he may have seemed like a fool but ultimately did some advance without actually confessing. Kawaii koto!
Wait? Did I just say that? Ok then, Miyuki definitely lost. At least the other boy had more luck!
Sometimes they make me dizzy but I love to watch them 'fight'...
---
Finale
Now that winter anime has started, what are you liking so far? Let us know in the comments below!