This season is a perfect mix of beautiful girls and lots of action. I love it!
Even shows like Ahiru no Sora have something for everyone. You don't like basketball? Stay for the brawling and the comedy!
The same goes for Honzuki no Gekokujou. I mean, an isekai about creating books sounds silly, but I really dig it.
However, our writers want to talk about some other shows. Let's see what they have for us regarding this week's anime episodes!
Three on the Bench
It was bad enough that Kisaragi got his heart shattered, on the same bench, by two girls who both confessed they loved not him but his best buddy Sun. The problems worsened when a stalker named Sanshokuin then claimed she loved Kisaragi not because he's a kind soul, but for his hidden darker side. Then everything complicates even more when Sun confesses to Kisaragi that he loves Sanshokuin! Now we have a giant love rectangle —or pentagram— and Kisaragi is trying his hardest to help these girls get with Sun, despite them getting quite mad learning his newly obtained piece of information. With the two girls hating on him and Sun almost hating on him too (nice save Sanshokuin), Kisaragi seems to have troubles hitting him every which way. Our second episode ends on a worse note when someone (you can guess who) gathered all of our love strained high schoolers into the library where Kisaragi and Sanshokuin wait. Poor Kisaragi… Do you have a plan to get out of this new bind?
Our Kisaragi has his work cut out for him in the library. What will be his next move...
Battle of the Captains: Obi vs. Benimaru!
As Asakusa begins the process of rebuilding, Special Fire Force Company 8 assists the community in any way they can. Their efforts start to earn the trust of Benimaru, but when he believes he hears Obi and Lieutenant Hinawa talking about a plan to create Infernals, he abandons all thoughts of working together and attacks! Lieutenant Konro eventually steps in to quell the fighting, but the seeds of doubt have been planted in Benimaru, and it looks as if the mysterious organization lurking nearby has more in store for everyone…
It feels like ages since we've gotten a new episode of Fire Force, even though it has only been a couple of weeks! This week's episode was definitely worth the wait. When Benimaru went all out against the combined efforts of Company 8, we were surprised by how little they were able to do against him. And then Obi steps up to take the brunt of his hits, again and again, despite not having any special powers at all! He even gets in a hit of his own, trying to literally knock some sense into Benimaru and prove their innocence. It's one of the many reasons we love Captain Obi, for his ability to stand at the frontlines with his team even though all he has to offer is his, albeit impressive, strength. His display seems to have shaken Benimaru a bit, so hopefully the two Companies can work together finally.
I'm nervous about what the Evangelist's group has planned next… I wonder if they were behind the incident with the demon and Konro as well?
Your Name is Ishigami Senku!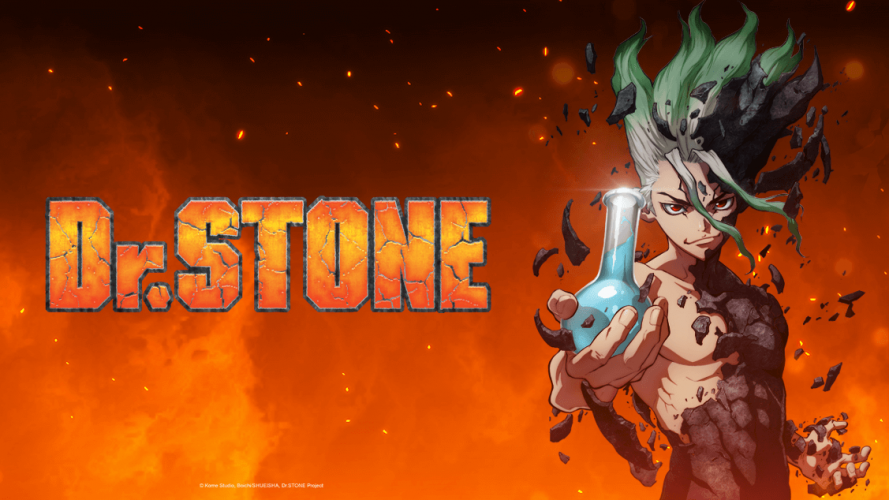 After winning the Grand Bout on a technicality and divorcing Ruri minutes after marrying her (because that's just the kind of guy he is), Senku finally has the chance to give her the cure-all sulfa drug that his team has been risking their lives to make over the past six months. Ruri's body reacts violently to the drug, which sends her father into a worried rage, and yet Senku can't help but be relieved. Her increased coughing means that her mysterious disease isn't the incurable tuberculosis, but instead a strain of pneumonia that the sulfa drug can easily handle.
A few more doses later, Ruri has been restored to perfect health and can run through the forest as she once loved to do. Her friends cry tears of relief and her father declares Senku as the worthy chief of Ishigami Vilage! Senku is shocked to learn the title of the village, and we soon learn why – Ishigami is also his last name! Ruri steps forward to tell him that she's known his full name for a long time... but what could this possibly mean? Does Senku have some kind of connection to the village that he never knew about? We'll have to find out next week...
And, of course, Gen finally got his cola! Happy tears for everyone!
Cockroach Poker
The girls play a new game along with their classmate Tanoue. After spending all day trying to talk to Aya, Tanoue finally gets his chance when he sees her alone after school with Miki. However, he gets caught by Midori who just so happens to be his childhood friend. Aya invites Tanoue to play games with them and the group plays some Cockroach Poker. Aya is terrible at the game and Tanoue spends most of the game trying to help her out, while Miki uses her years of watching others to her advantage and excels at the game. Once the game was over, Aya brings Tanoue out into the hall and tells him she knew all along why he wanted to hang out with them. Just as Tanoue thinks Aya is about to confess to him she tells him that she thinks he had a crush on Midori.
The second episode of Houkago Saikoro Club had so many great moments in it. It is quite fun watching the girls play these different games. Not only is it great watching the girls enjoy the games, but we also get to learn about these obscure games from around the world. What made this moment even better though was that along with fun card games, we also got this heartwarming subplot with Tanoue. He tries so hard throughout the episode to talk to Aya and when he finally gets his opportunity to talk to her, she gets the wrong idea about him and Midori. I can't wait to see what other fun games Houkago Saikoro Club has in store for us.
Just keep trying Tanoue! Your feelings will reach her one day.
---
Finale
That's all for this week, please check back next week and tell us what you're watching!