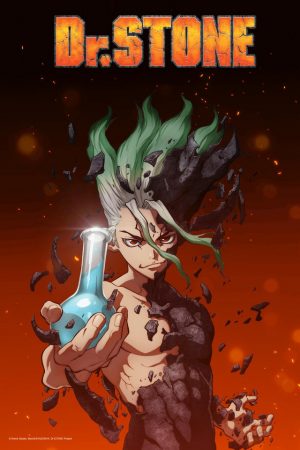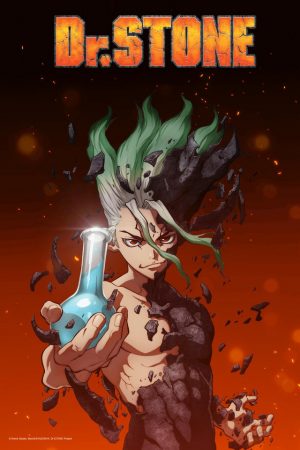 Dr. Stone

Genre:
Sci-Fi, Post-apocalyptic, Adventure
---
---
Studios:
TMS Entertainment
Honey's Highlights
A world in ruins and overtaken by wildlife and vegetation? This looks like Shangri-La sans the humans confronting each other.
But Honey-chan, THERE ARE humans confronting each other in here too! It's science versus brute force!
I just love the landscapes. TMS did a great job and it all looks beautiful!
This anime is gonna be AWESOME! I'm feeling Dr. Stone is going to be my go-to shounen anime this Summer.
Official Images / Key Visuals
Synopsis
All of humanity was, due to a mysterious phenomenon, turned to stone in a moment. Thousands of years later...
Senkuu, a young man who is a scientist at heart who possesses a superhuman amount of knowledge, wakes up.
From the stone age to the current civilization, more than 2,000,000 years have passed.
Driven into a corner, Senkuu searches for his friends deciding to save the world!
Three Episode Impression
Dr. Stone was a manga series we desperately wanted to see as anime. Finally, after a few years, our prayers have been answered and the few years we waited were worth it. Dr. Stone is doing an amazing job adapting the story of a world turned to stone and a few survivors trying to re-build the world but having to start from scratch. The first three episodes have begun to establish who our heroes are and who is the main protagonist, making it a thrill ride that is easy to follow but still filled with some mystery and intrigue. If you're sleeping on this series, you're missing out. Dr. Stone is the adventure series you needed in your anime viewing life.
Characters & Voice Actors List
Senkuu

Voice Actor: Yuusuke Kobayashi
---
Senkuu has a superhuman amount of knowledge and intelligence and has a strong spirit of inquiry through and through. In this new Stone World where civilization has ceased, he plans to bring back civilization from scratch. On the backside of his cool and logical thinking process, he has strong feelings and cares deeply for his friends. He often says 'this is stirring me up!'
Taijuu Ooki

Voice Actor: Makoto Furukawa
---
Taiju is Senkuu's childhood friend and is a high school student. He's honest, kind, and cares for his friends, too. He's extraordinarily stubborn and simple, but he supports Senkuu. He hates conflict and cannot deal with confrontation. He has feelings for his other childhood friend, Yuzuriha.
Yuzuriha Ogawa

Voice Actor: Kana Ichinose
---
Yuzuriha also has feelings for Taiju and is the childhood friend of both Senkuu and Taiju. As a member of the fine arts club, she is very skilled with her hands. She's so kind, that she will take petrified bird to the hospital because she is worried about them.
Tsukasa Shishiou

Voice Actor: Yuuichi Nakamura
---
Tsukasa is the strongest primate high school student. He is so powerful that he can threaten a lion with his bare hands. He's generally cool and logical. In the Stone World, believes that he should create the best world possible without a single vested interest for young people.
Chrome

Voice Actor: Gen Satou
---
Kohaku

Voice Actor: Manami Numakura
---
Kinro

Voice Actor: Tomoaki Maeno
---
Ginro

Voice Actor: Ayumu Murase
---
Episodes
24
Theme Songs

Opening Song: Good Morning World! by BURNOUT SYNDROMES
Sangenshoku by Pelican Fanclub
Ending Song: α(alpha) by Rude
Yume no You na by Saeki YouthK

Adaptation

Manga


Main Staff

Original Creator: Riichiro Inagaki
Director: Shinya Iino
Script: Yuuichirou Kido
Series Composition: Yuuichirou Kido
Character Design: Mayuko Iwada
Original Illustrator: Boichi
Music: Tatsuya Katou, Hiroaki Tsutsumi, Yuki Kanesaka
(Credit Honey's Anime when you use our description.)
---