2019 has officially kicked off, and that means it's the time when events get the ball rolling, with fans coming out of hibernation to enjoy all of the festivities. One of these events is Tokaigi Game Party Japan 2019, a fun and lively event run by the very popular Nico Nico Douga, catering to everything pertaining to games! This event made its first appearance back in 2015 and since then, it has continued to shine on and create an environment where people of all ages can congregate in a world full of gaming. From high-level competitive eSports like PUBG or Call of Duty: Black Ops 4, to just mashing your way through retro classics like Double Dragon for the NEOGEO, Tokaigi Game Party Japan is the event that any gamer must attend!
Basic Information
| | |
| --- | --- |
| Tokaigi Game Party Japan 2019 Website: | https://tokaigi.jp/ |
| Length of event: | January 26-27 |
| Location: | Makuhari Messe in Chiba, Japan |
| Admission: | 1,500¥ per person / 2,000¥ [both days] |
---
What to Expect
Tokaigi Game Party Japan 2019 is just as we stated earlier, an event that celebrates the illustrious history of the gaming world and brings every gamer together under one massive roof. Gaming is no longer a culture, it has become a lifestyle for many around the globe and especially here in Japan, where much of the gaming world was conceived. There's an abundance of things to participate in once you enter the event, such as spectating high level players combat against each other for the top prize, or simply relaxing and playing mobile games with friends. The event takes place in Makuhari Messe, which is an incredibly large venue, and so expect there to be cool activities for you to enjoy. You have the big hitters attending the event like Nintendo, Bandai Namco, among others, and they all help to bring a smile to every face in the venue with amazing content.
There's also cosplay areas where you're able to dress up and take photos, and also grab your own photos of your favorite cosplayers as they strut their stuff. It's every gamer's dream come to life and more, so if you're ever in Japan during the start of the new year, Tokaigi Game Party Japan is the place to be!
What to Bring in Order to Enjoy the Event
Like any other major event, you'll always want to make sure that you carry some extra cash in case you find the urge to buy something. Tokaigi Game Party Japan 2019 doesn't just have booths that are jam-packed with new and retro titles, but booths are dispersed all throughout the venue that sell fabulous merchandise as well. While they typically run on the more expensive side they're certainly worth the buy since some of the items sold at the event run in limited quantities, and what better way to remember the event than to have something no one else can obtain?!
Aside from the obvious things like money for food and merch, making sure to have a tote bag of some sort would be of great merit. A lot of booths at the event frequently hand out a lot of trinkets such as file holders, manga (if you're lucky), and even Monster energy drinks! So yes, having a handy bag at all times will save you the hassle of walking around with your hands full, and that wouldn't be very fun considering you're there to play games after all!
While going alone can have its perks, we most definitely encourage you to go with a group of friends, or perhaps even your romantic partner since it will help to spice things up more. Since a lot of the games at the event cater to multiple players, having a friend or two to play with and share your experiences is truly fulfilling. Tokaigi Game Party Japan 2019 is truly a place where you can have a plethora of fun and just let the hours melt away, doing what you love with who you love!
---
What to do While There / What is Available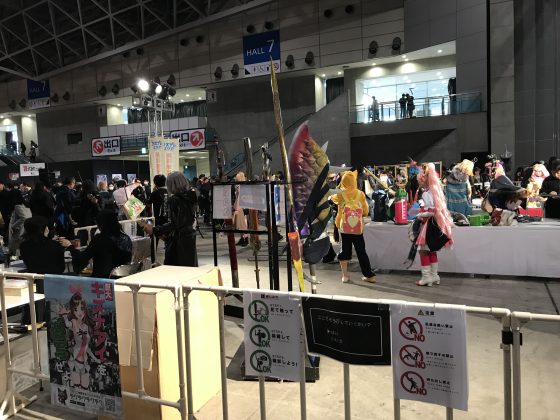 Admittedly, there's just so much at the event that we doubt you'll able to experience it all in one day. Fortunately, the event spans across two days, so you're able to come back the next day and pick up where you left off. As mentioned earlier, a lot of the industry leaders attend the event and if you're looking to participate and show off your skills, they're there to satisfy your competitive cravings. The first thing that we encourage you to try out is of course the retro gaming area, since there are plenty of setups available and you're able to fight against other visitors at the booth.
Fans of Splatoon could enjoy a major tournament and support their favorite teams, while for the first time Nintendo finally brought Smash Bros. Ultimate to the main stage as a national event. If spectating is your thing, then there's absolutely no need to worry because everything is catered to you wonderfully. A lot of booths offer small prizes as well for taking part in whatever event they're handling, such as posters and even cell phone cases! Many booths also had demo setups for specific games, so that visitors could try out the latest titles before the rest of the world does, which is always a plus.
This year, there was also a Smash Bros. Ultimate section, which allowed for players of all ages to sit together and simply duke it out for as long as they desired. The same for Street Fighter V as Taito unveiled their latest arcade cabinet, which will see its release in the near future. We had the opportunity to test Street Fighter V out on the arcade cabinet and while we personally feel that Capcom's decision to do this was quite late, it's still a glorious feeling especially since we grew up in the era of arcade gaming. Fate/Grand Order Arcade was also at the event, and so fans of the massive franchise could blow their hours away just staying in the booth!
Speaking of arcades, there were an assortment of retro arcade cabinets dispersed throughout the event, some of which had classics like Virtua Fighter 2, and small little tournaments took place. The great thing is that you don't need to pay a dime to play, as all of the cabinets have been programmed to allow for free play so you can pretty much grind out for as long as you need. Of course, if you lose then you'll need to be a good sport and let others get their shine!
We must say the amount of cosplayers seemed to have declined this time, probably because of the very cold weather, but it was a little sad for us. Fortunately, we were still able to gather a couple photos and videos of our favorites, so please look forward to the video when it's ready!
---
Final Thoughts
Tokaigi Game Party Japan 2019 is an event that helps to kick off the new year in a big way, by bringing everyone together to enjoy the wonderful gaming lifestyle. While it certainly isn't for everyone, there's still something positive to take from it, since it gets you out of the house and into an environment where you can share your passions with like-minded people. There are anime related activities at the event too, but they generally tend to sway more towards anime games more than just the anime itself. If you're looking forward to anime then please wait until Anime Japan! We'll be there! Until then, thanks for taking the time to read our field report. And remember: for all things otaku, be sure to keep it locked here on Honey's Anime!